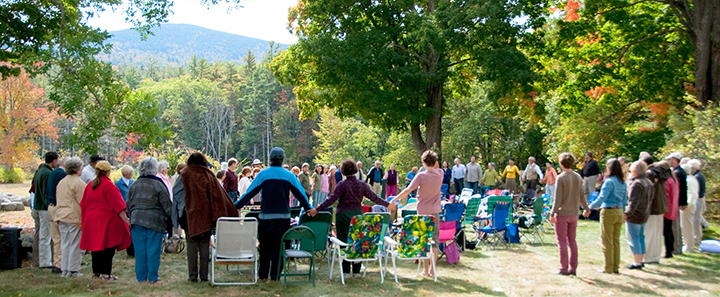 Our Sunday services are lively occasions that include music, caring rituals, social justice, intellectual and spiritual readings, and a sermon. While most of our services have common elements, we have recurring special services that celebrate seasonal transitions, life events, or special congregational talents. Our services regularly draw from many spiritual and religious traditions to help us celebrate a broad spectrum of beliefs. We offer these beliefs as part of worship in ways that can help us experience the beauty, spirit, and heart of traditions different from our own. Our Sundays services are at 10:15 am September through the third week of June.
ACCESSIBILITY
Our meetinghouse is wheelchair accessible. Enter through the ramped entrance at the rear of the building to the elevator to access the sanctuary and Parish hall. We have a wheelchair-accessible restroom downstairs. 
SAFETY PROTOCOLS FOR WORSHIP
Periodically these protocols will be reviewed in the context of current rates of infection and needs for Covid precautions.
PUUC Events in the Sanctuary & Parish Hall
(including worship and coffee hour)
w Masks are required of all in attendance.
          exceptions:
          (1)  Worship leaders will wear or not wear masks when they are speaking according to their own personal preference.
          (2)  The choir director will not be required to wear a mask when directing the choir during singing.
          (3)  Congregants may lower their masks when speaking at the floor microphone during the joys and sorrows part of worship, provided the microphone is sanitized between speakers.
w Congregants will remain masked while singing or speaking unison words.
w Choir and small singing groups will remain masked while performing.
w Musicians will wear masks unless it interferes with their performance.
w Wind instruments will be covered with special masks.
w Seating in the balcony is available for anyone who is uncomfortable with open seating in the sanctuary.
w Coffee will be served in the Parish Hall after worship on Sundays.  Masks will not be required.  Those who are uncomfortable with drinking and socializing unmasked indoors are welcome to the hallways, downstairs dining room or outdoors.
Puuc Small Group Meetings
w Small groups meeting in PUUC buildings may unmask if it is unanimously agreed to by those attending the meeting.
PUUC Public Events in the Sanctuary
w Masking protocol for each event will be determined by the host.
All PUUC Events And Meetings
w Use all air exchange and ventilation options available in the sanctuary and meeting spaces, ie, air filters, fans, window(s) and door(s).
w We respect social distancing.
w We encourage vaccination against the Covid virus.
Renters and Outside Groups Using the PUUC Building
w Covid protocols will be determined by each group using the PUUC buildings.
Common Elements of Regular Sunday Worship
Welcome & announcements
Minister's welcome
Prelude
Chalice lighting
Opening words
Unison affirmation
Two to three hymns during service
Candles of joys and concerns
Minister's prayer
Hymn #123 Spirit of Life
Time with children
Candle for social justice
Offering and offertory (choir sings every other Sunday)
One to two reading(s)
Musical interlude
Sermon
Extinguish the candles
Benediction
Postlude
Special services held annually

Special services are held throughout the year, such as the Water and Flower Communions at the beginning and end of the church year, intergenerational services such as the Winter Pageant, as well as Music Sunday and our annual outdoor service.
Lay-led Services
Lay-led services are a part of our shared ministry, and are created by the Worship Committee. The services include diverse areas of focus that are presented by congregants and by a variety of guest ministers/speakers.
In addition to creating collaborative, creative lay-led worship, we provide welcome and hospitality to ministers who come to PUUC via pulpit exchange with our minister as well as those seeking a neutral pulpit. When needed, we also support the minister in the preparation and delivery of regular, minister-led Sunday worship. The committee seeks and welcomes feedback and suggestions regarding all Sunday worship services.