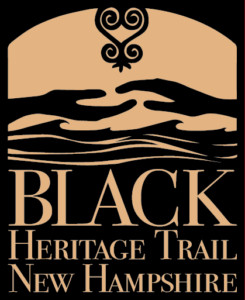 The Black Heritage Trail [BHT] of NH is the organization selected for our May Special Collection.  The BHT promotes awareness and appreciation of state-wide African American history in order to build more inclusive communities today. 
Africans and African-Americans have lived in NH's Seacoast and even in the Monadnock region dating back to the 17th and 18th centuries.  Hundreds of ships arrived in Portsmouth with kidnapped citizens of West African communities; families were broken up and the individuals were then sold as slaves.  Their escaped or freed descendants still managed to build communities and significantly contribute to New Hampshire's diverse culture.
The Black Heritage Trail sponsors numerous innovative events and programs that highlight the often overlooked history of African Americans in New Hampshire, thus celebrating their stories of courage, versatility and resilience.  They invite everyone to explore for themselves what our shared history means, encouraging residents of all ages to bring those insights into the present. 
To learn more, go to 
www.blackheritagetrailnh.org
   Upcoming BHT events include Guided Tours of Portsmouth (June - Nov.); Juneteenth Celebration (June 17th - 20th); Frederick Douglas Statewide Reading (July 1st); and Black Poetry events in the fall.
You may make a donation to this worthy organization by sending a check [marked as designated for the Black Heritage Trail NH] to Peterborough UU Church, 25 Main St., Peterborough, 03458 — or use the Donation tab on the PUUC website.  The PUUC Social Action Fund will match the total of each month's contributions to the selected Social Justice organization up to $500.  Thank you.