August 25, 2015
If pictures aren't displaying correctly, click here for the pdf.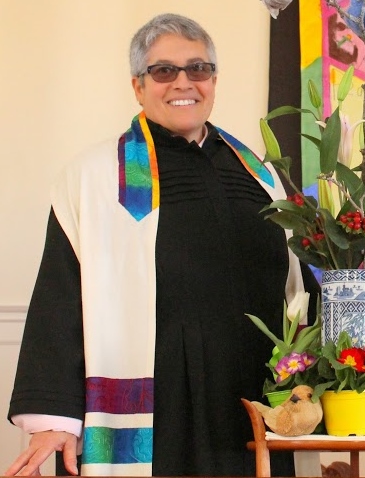 Mindful Meanderings……by Rev. Shayna Appel
Long days, soft nights, family gatherings, bar-b-q's, summer travels, time to lallygag about…these are the things I think about when I think of summer.  And yet, it seems there was precious little of any of this this summer.  To be honest, summer has been way too busy, it is over too soon, and way too many people I care about are in a huge amount of pain.  Regardless of the ideal images that come to mind when I think of summer, the reality this summer does not even come close.  And what's more, I know that the same is true for many of you.
I am also aware of how difficult it has been for me to be without religious community this summer.  There were so many times I wish we had had the chance to come together - to mourn difficult losses, celebrate hard won issues of social justice, to take time within this precious life journey to sit silently and just listen for whatever subtle blessing might blow our way. 
Church community has become, for me, the place where I get grounded.  It is the place I am reminded of my highest ideals, reminded of what matters, reminded that I am not alone.  When everything around me seems to be moving too fast and in the wrong direction, I come to church - to pause for a moment, on the forming edge of life, and catch my breath.
So, when I say I am looking forward to our ingathering on Sunday, September 13th, please know that I mean it from the deepest places of my soul! 
Know too that we have an exciting year ahead of us.  The Standing Committee met last Monday (8/17) for a retreat lead by our Interim Transitions Consultant, Rev. Olivia Holmes.  In the course of this retreat we were reminded again of why we do the work of the church that we do.  We rediscovered the underlying values that inspire this work.  And, we reconnected deeply to the notion of "beloved community" we are all committed to building in our homes, our communities, and in the world at large.  Firmly grounded in these values it is the hope of your church leaders, lay and ordained, to re-ignite the passion in all of you to build a world that works for everyone, with no one and no thing left out!
Beloveds, if your hearts are heavy and feeling like they have been away too long, if your summer has passed too quickly and failed to provide the rest and renewal you hoped for, if you are carrying burdens that, at times, are too much for you, come.  If your summer was awesome, come! If you are still undecided, come.  Just come…it will be good to be together again! 
With much love-
Shayna
Ingathering Service
Sunday, September 13 at 10:15, including water communion. Bring water from your travels or just from someplace special to you. We will pour them into a single bowl so they can merge. Water is a symbol of life, and in this ritual it is also a way to symbolize the rejoining of our congregation after being away for the summer. The combining of our water is also symbolic of our shared faith coming from many different sources. Bring yourself, bring some water and come together.
Music Soiree
It is that time of month again and Music Soirée is coming up on August 28th. If you play an instrument and would like to join us, please come. We meet at 7pm on the fourth Friday of every month in the Parish Hall at the Peterborough Unitarian Universalist Church.  We have music that everyone is welcome to read. If you have music you would like to share with us please bring it and we all will play along.
Sharing music by playing together is one of the best ways to get to know people. Come join us for this musical social activity.  Hope to see you then,  Mary Seaver  Ph #603-731-9476
PUUC Search Committee News
Detailed information on the UUA program, "Beyond Categorical Thinking" (BCT), will be in a September Cresset article.  The program is scheduled for Sunday, October 18th after church.  We hope you plan on attending.  There will be a light meal and childcare will be provided.
Cottage Meetings, more intimate discussions on our ministerial search with Search Committee members, have been set for September 20th and October 4th.  Others will be hosted in people's homes.  This will afford you an opportunity for a more in depth discussion about our ministerial search.  Again, more details will be coming in the September Cresset. 
We continue to analyze the Survey results.  Our church profile is becoming clearer, but there is much more to discuss.  We continue to appreciate your honest opinions and comments.
We started creating our Ministerial Packet and Website.  We will need your help, as it is a big task. Thanks in advance for your assistance.
We look forward to seeing you in September!
PUUC Ministerial Search Committee   
Work Party-Come help the Property Committee
On Wednesday, September 9 from 12:00 - 3:30PM we are going to have a "mini work session" at the church to do the following:
- install thermostat covers
- patch the shed roof over unit 9
- install a temporary patch on the large wooden fan over the center doors at the front of the
  church.
Pizza supplied by the property committee! Please contact Jim Fearnside at   jim_fearnside@juno.com
Fall Rummage Sale Cancelled
Dear everyone, a small group of UU rummage/White Elephant volunteers met recently and after a thoughtful discussion agreed that the fall rummage and white elephant sale has to be cancelled this year. So many other events are taking place that some of our key coordinators/volunteers will not be available. The Crop Walk is on Sept. 26, and people who normally take charge or play a large role will be gone that weekend or will be walking that Saturday.
There was one other possible weekend, Oct. 9 and 10 but that's the weekend of the area arts tour and it is the weekend of the Bond Wellness Center's annual fair. Some of our loyal helpers will be involved in one of these.
With so many people unavailable and with the multiple activities scheduled for the congregation during the search process Karen and I and the group at the meeting agreed that there were too many obstacles.
To those who responded that you would help, thank you, and keep the spring in mind. Coordinators do plan to hold one then as we did last May. We'll be planning throughout this church year for this sale and will keep you informed as we go along. Thanks very much.
Sincerely, Marsha Morrow and Karen Clement
Community
The Way of Tea:
History of Tea in the 13 Colonies
Date:   Thursday 27 August 2015
Time:   7:00 p.m.
Place:  Parker House Coffee, 50 Jaffrey Road, Peterborough, NH
Cost:    $10.00
Peggy Leedberg will be giving a talk on the History of Tea in the 13 Colonies, from Jamestown to the Boston Tea Party.  During the talk she will also brew up tea that would have been common in the colonies at that time, mostly Chinese black teas, for you to sample.  There will also be discussion about tea plantations in the colonies during this time, describing the terrior needed to produce good tea.
To register please contact:     Peggy Leedberg
                                                            Phone:  603-718-9298
                                                            e-mail:  mklel@earthlinknet
Fall in Singing with Two Rivers Community Choir
New semester starting, new and returning singers welcome. Interested singers are cordially invited to join
Two Rivers Community Choir in either (or both!) of two distinct sessions (rehearsals held in Peterborough, NH):
Sundays 3:00-6:00 PM, beginning Sunday, September 13, 2015.
Or
Wednesday 7-9 PM*, beginning Sunday, September 9, 2015.
RSVP to join either session.
Two Rivers Community Choir has become a well-known group of inspired singers creating community music for community causes.
Our music celebrates myriad cultures and diversity; our concerts benefit area non-profits.
This semester's program includes songs from South Africa, the Republic of Georgia,  gospel and American Shape Note traditions, as well as incredible arrangements from contemporary composers. Join us! 
RSVP to join either session.
This is a non-auditioned choir, note-reading is not required.
Two Rivers is a mixed choir (SATB), all voices (ages 17 and up) are welcome to join.
All that is necessary is a commitment to learn, grow, sing, share and attend weekly rehearsals.
See rehearsal schedule below.**
*These are two distinct sessions of Two Rivers Community Choir, each group singing their own repertoire, performing a combined concert at the end of the semester. Singers can join either Sunday, or Wednesday, or both sessions.
**Semester dates:
Two sessions to choose from (or join BOTH SESSIONS!...different music in each session)
Wednesday evenings 7 - 9 PM
September 9 - November 18
OR
Sunday afternoons 3-6 PM.***
September 13 - November 29   ***except Sunday, Nov 8
BOTH CHOIRS: Dress Rehearsal Saturday November 21, 3-6 PM
First concert Sunday Nov. 22, 6:30 PM   (2:30- 5:00 rehearsal prior)
Final concert Sunday, Nov. 29, 6:30 PM (2:30 - 5:00 rehearsal prior)
Fee:  $155 for semester, includes rehearsal space, and all music.
Senior and student discounts; discounts for family members!
Some scholarships available. Please inquire.
RSVP to join either session.
Sending smiles and song, for a sweet remainder of summer.
All my best,
Marybeth
Apartment available-studio rental
Quiet, neighborhood setting, central location - easy walk to town center and amenities; near bike path & trails. Easy access to Routes 101 and 202. $745 per month inc. heat, elec.. Single car parking only due to winter/snow accumulation.
No Pets. Photos available with email.  Contact: audrey.cass@gmail.com
---
Sometimes the best thing about us isn't what we're gifted with, but what we can make others feel
 just by our very nature of existing.
- Sarah Noffke -
 
---
Hello my good peeps. As I write this, water is pouring out of the sky and I have two lovely canine companions at my feet, snoring softly.  It seems that the summer is coming to a close and we are ramping up to a busy time with school schedules, church activity, and the beauty of autumn ahead. It's time to start thinking about how you can help be a part of our church community by helping out on Sunday mornings as a Sunday Morning Worship Volunteer. We need greeters, people to make coffee and make our church home feel welcoming to all. We need people to adorn the church on Sunday morning with flowers, perhaps as a remembrance of someone special in our lives, dedicated to their memory. Please consider helping out in this way. We need you. I will be sending out a new sign up chart online so look for that in your inbox. Enjoy the last juicy bits of summer, be loyal to peace, justice and the social good.  Vanessa
Contact Information and Regular Office Hours
Shayna:  Monday 2-6, Thursday 9-1; (802) 579-6066 
email: kshaynaappel@gmail.com  
Olivia: (603) 554-2294 
email: oholmes34a@hotmail.com
Vanessa:  My hew hours! Monday through Friday (yes, every day!) 8:00 am – 12:30 pm. 924-6245 
email: vanessa.amsbury@uupeterborough.org
Char:  Mon, Wed, Thurs, Fri 2-5 pm; 924-6245.  
Email: char.james@uupeterborough.org
Note* Actual times are subject to change dependent on individual schedules.