If you use gmail and the pictures are not displaying correctly, click here to go to the pdf.
For April 5, 2015           Easter Sunday
Sunday Service Volunteers
Greeters: Joel and Anne Huberman
Community Hour: It would be great if we had treats for Easter Sunday. Would you consider helping out or bringing something for the table to share?
Flowers: The flowers are given by the Woodbury Fund, in memory of Mary Elizabeth Day Woodbury.
(To sign up, go to:  http://www.signupgenius.com Log in with your login name and password, or click 'Find a Sign Up' at the upper right, use puuc@uupeterborough.org as the email to search. Or you can simply respond to this email. If you call me after 4:30 on Thursdays, I will not get the voicemail. Email is better.)
---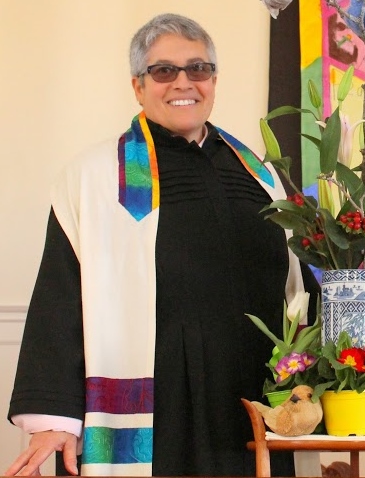 Mindful Meanderings…by Rev. Shayna Appel
I recently finished co-leading a workshop at Unitarian Universalist Church of Milford on Mindfulness and Loss.  The workshop was a 6-week spiritual gathering intended to create time and space for us to come fully into the presence of our various losses.  It was a precious 6 weeks for me and one of my big "take-aways" revolved around the lofty expectations society has for us to "get over" our losses.  Even the well- known model for loss created by Kubler-Ross -- which was never intended to be such a model, but that's another story – even that model moves in a straight line.  But those of us who have experienced loss (of loved ones, communities, jobs, places, physical abilities, etc.) know that grief doesn't move in a straight line.  It comes round, time and time again.  Yes, it changes…and it remains.
In his book Nothing Gold Can Stay, Rev. Mark Belletini quotes the poet Albert Huffstickler, who wrote: 
Let the pain be the pain
not in the hope that it will vanish
but in the faith that it will fit in.
This Sunday is Easter Sunday.  It is a time Christians around the world will celebrate God's victory over death in the resurrection of Jesus.  And while that story may not resonate for many of us, we can still give thanks for the many little victories we all experience in the face of loss.  Victories made possible by our tenacity, our faith, our beloved communities our friends and families.  Victories which, over time, offer us the courage to accept that the pain is the pain, and the faith that it will, eventually, fit in.
So may it be.
Shalom-
Shayna
Memorial-Joyce Belva
Maria Belva's mother, Joyce Belva, passed away on Friday, March 20th. Maria was with her mom during her last days, and through her passing. There will be a memorial service to celebrate Joyce's life at PUUC on Saturday, April 4th at 1 pm. In lieu of flowers, there is a Scholarship Fund set up in honor of Joyce for the Grand Monadnock Youth Choirs. If you wish, you may send a gift to: GMYC, PO Box 54, Peterborough, NH 03458.
Easter Bonnets and Egg Roll!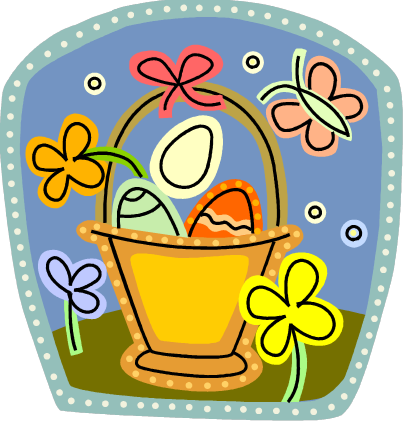 Can you believe Easter is this Sunday?  We will be having our annual Egg Roll and luckily you have all week to find your Easter bonnet (or create one) so that you can win a prize in our Easter bonnet contest.  There will be prizes for: Most Elegant......Most environmentally friendly....and....Most humorous.  Can't wait to see those millinery extravaganzas!  ~Char James, DRE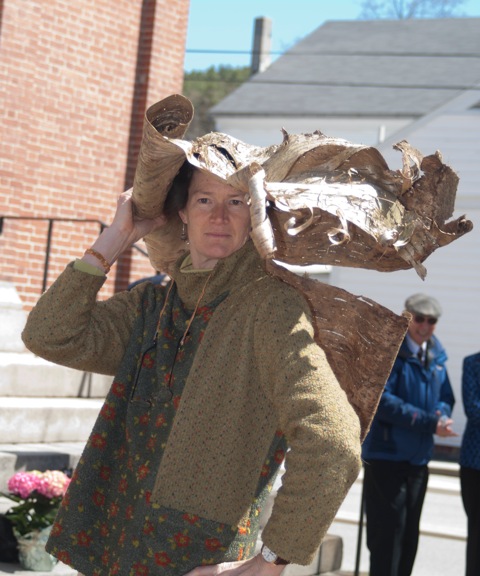 Photographers Wanted
We're trying to fill our bulletin boards with pictures of church activities and we could use some photographers' time and talents.  Bring your cameras or smart phones on Sunday and we'll start with the egg roll and Easter hat contest. After, you can email your pictures to Wayne Murray, or make another arrangement if you don't do email, and he and Marsha Morrow will select the most appropriate for display. Youth who like to take pictures are urged to take pictures, too.
Questions? Call Marsha at 924-6921.
Welcoming Tips
Try asking questions that allow your guest to say something in a way they choose.  For example, if they are wearing an interesting item of jewelry, say, "What a lovely necklace. Is there a story connected with it?"
Pancake Breakfast
Once again our wonderful property committee is hosting the pancake breakfast the morning of Children & the Arts. Save the date--May 16, 7 a.m. to 9:30. Also we will need donations of real maple syrup prior to the breakfast.
Spring Rummage Sale
Now Collecting Donations
It's time to drop off your donations. Clean, stain-free and presentable clothing, books, kitchenware, prints, dishes, toys, games -- it keeps going!
This is the way and the time to make room in your closets and drawers. Decluttering and de-hoarding feels like a major cleansing, a big weight off your backs, refreshing and sweet as a peppermint patty. Believe it!
Reluctant to donate valuable clothing?  Don't be. We're featuring a clothing boutique with higher prices. If we have no buyers, Karen Clement and I will take them to consignment shops and arrange to have the money sent to the church.
It's delightful to announce that silent auction services and original goods are continuing to come in. In addition to Jenny Brinsdon's painting and Marybeth Hallinan's offer of music lessons we have an offer of computer instructions from John Richards and an original print created by Joyce Fearnside. This is a great start.
Accepting donations Wednesdays between 4 and 6 (leave them downstairs on the tables against the wall adjacent to the Religious Education hallway), and on Sundays. Call 924-6921 if you need to make another arrangement.
Earn $$$ for the Community Supper!
We enjoy an affiliation partnership with TD Bank.  They will donate funds to the supper for these eligible TD Bank accounts:   checking, saving, CD's, money market, retirement.
The supper will earn $10 annually for existing accounts, $50 for new accounts, and .1% on savings account balances.
Speak to a teller or phone any TD Bank branch (Peterborough branch: (603) 924-4700).  Just say  "I would like to affiliate my TD bank accounts with the Community Supper."
Thanks are due Peggy Leedberg for discovering this fundraiser.  Contact Greg Scerbinski if you have questions:  gscerb@gmail.com.
Magic Success!
The March Magic show was a great success, with the Parish Hall filled to near-capacity. The magicians dazzled the crowd and fun was had by all. Total profit to the Church was just over $200. Thank you to all who helped with this magical fundraiser.
Community
The Citizens' Climate Lobby (CCL) is a well-organized, thoughtful, rapidly growing, lobbying group that is promoting the "carbon fee and dividend" policy to accelerate the transition from fossil fuels to non-carbon-dioxide-producing energy sources. The sooner that transition is accomplished, the smaller will be the effects of atmospheric carbon dioxide on our planet and the life on its surface. If you are interested in finding out more about the CCL, please take a look at its web site: http://citizensclimatelobby.org. Be sure to scroll all the way down to the bottom of the web page. Take some time to explore all the interesting links. Click on the red link in the upper right-hand corner if you wish to join. If you would like to volunteer to assist the CCL in its lobbying efforts, you can do so on this web page: https://citizensclimatelobby.org/volunteer-with-citizens-climate-lobby/. Our local chapter of CCL is the Monadnock chapter. To find out more about CCL and about the Monadnock chapter, please send an e-mail to the chapter's organizer, Gary Rucinski, at gary@rucinskis.com.
Used massage table for sale:   Dark tan, 8 yrs old, minimally used, adjustable height and portable. It is an Aurora model by Oakworks.  $125 or Best Offer.  (It doesn't have a face cradle, which can be purchased separately.)  This is a DEAL, new ones go for about $400.  Call Joy Flemming for more information.  603/533-3803 or joynmt@aol.com
Peter Mayer In Concert-  Saturday, April 11, 2015 at 7 pm
Unitarian Universalist Church Manchester
Tickets: $20 (Advance Purchase)
Available at www.eventbrite.com
$25 at the door-  Seating limited to 150
Peter Mayer writes songs for a small planet—songs about interconnectedness and 
the human journey; about the beauty and the mystery of the world. Whimsical, 
humorous, and profound, his music breaks the boundaries of "folk", and 
transcends to a realm beyond the everyday love song, to a place of wonder at the 
very fact of life itself. 

Peter began playing the guitar and writing 
songs when he was in high school. He studied Theology and music in college, and 
then spent two years in seminary. After deciding that the priesthood wasn't for 
him, he took a part-time job as a church music director for 8 years, while 
performing at clubs and colleges, and writing and recording his music. In 1995, 
he quit his job and started touring full-time. Since then, Peter has gradually 
gained a dedicated, word-of-mouth following, playing shows from Minnesota to 
Texas, New England to California. He has nine CDs to his credit, and has sold 
over 70 thousand of them independently.
For more information about Peter:
For more information about this concert or
the Unitarian Universalist Church of Manchester
669 Union Street, Manchester NH 03104
And now some quotes that speak to me in this moment:
"Many people lose the small joys in the hope for the big happiness." 
― Pearl S. Buck
"Happiness is not a goal...it's a by-product of a life well lived." 
― Eleanor Roosevelt
---
Be well, be loyal to peace, justice and the social good.  Vanessa
And now for a fun Rube Goldberg extravaganza for Passover
Contact Information and Office Hours
Shayna:  Monday 2-6, Thursday 9-1  email:    802-579-6066
Vanessa:   Monday & Th.  8 am – 4:30 pm. Tues. 8:00 am-12:00 pm
Char:  Mon, Wed, Thurs, Fri 2-5 pm 
Note* Actual times are subject to change dependent on individual schedules.