Tuesday, October 21, 2014
This Sunday October 26th
Greeters: We have no greeters as of yet for this Sunday. Can you help?
Flowers: Audrey Carvalho
Community Hour: Phil Jones and Anne Twitchell
Sermon:  Justice to do Lists, Rev. David Robins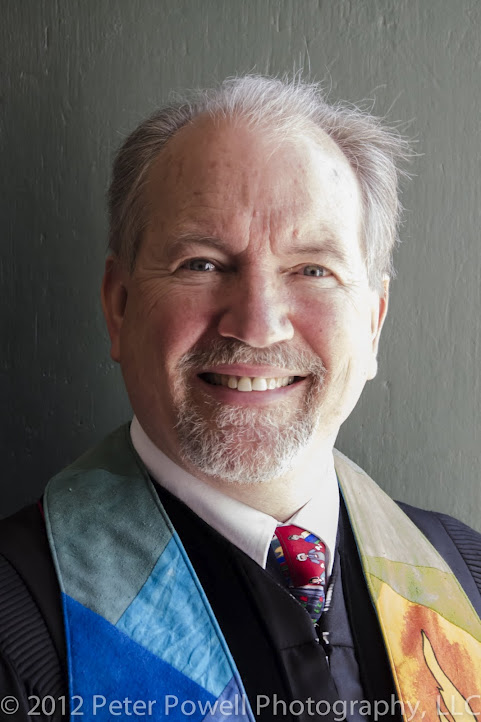 From David
I had not been paying attention to the world news until Jenny Brinsdon called me to say that there had been an avalanche on the Annapurna Trail in Nepal, and their son, Jeremy was hiking the trail. I was suddenly emotionally connected to people and places on the other side of the world. We were helpless to do much of anything other than to keep them in our thoughts and prayers.
The first news reports were gut-wrenching. Rescue missions to the area were bringing back bodies and survivors. After 3 days, only half the 170 people hiking the trail had been accounted for. Jeremy was hiking on his own with a sherpa and not part of a group.
Amazingly, a Facebook page appeared quickly with families posting names and photos of loved ones, and survivors reporting back that this and that person had been seen. I never imagined that Facebook could be so useful in an emergency.
Finally, news came that Jeremy was safe, and returning to Katmandu.
As Jenny wrote to me in an email:
"What a week, we are so relieved. How terrible for the family and friends of those who lost their lives and are still missing."
A Brief Introduction to Postmodern Thinking presented by Carolyn Saari
There are now only a few places left in this series.  Please make sure you have made a reservation with Carolyn if you want to come and have not already contacted her.
Postmodern theory is currently pervasive in academia and is very compatible with much of UU thought.  This offering will involve 5 presentations with discussion regarding some of the implications of postmodern philosophy.  This series is intended for people unacquainted with philosophy and will not require outside reading. We will meet in the Johnson Room above the UU church office on Monday afternoons 11/3- 12/1 from 2:30-4pm.
The five sessions are titled:
11/3    What's in a Story?
11/10  How Do We Acquire Language?
11/17  What Is the Truth of the Text?
11/24  Science and Religion: Do They Fit Together?
12/1    Internal Life and the Social Environment
Carolyn Saari, Ph.D. is Professor Emerita, School of Social Work, Loyola University Chicago.  Her published work includes 3 books and numerous articles that focus on the implications of postmodern theory for psychotherapy.  She served on several editorial boards and as the Editor of the Clinical Social Work Journal for 11 years.
Please contact Carolyn directly to reserve a space or if you have questions about the series:  carolynsaa@gmail.com
Holiday Stroll
Saturday, November 22 is the annual Peterborough congregation's Holiday Stroll. We join with the other churches in town in making holiday fun.
     Cookie Walk!
     Plant Tables!
     Arlene Dart's knitted items!
     More!
The PUUC Women's Alliance is not active at the moment and can no longer organize the Holiday Stroll.
The chairs of each committee are asked to arrange for one of their committee members to join in the organization of the event and to attend a meeting to make plans for our participation at 6.30pm on Wednesday October 22nd in the dining room immediately after the Community Supper.
Thanks you for helping to keep up the 21 year-old tradition in which churches in Peterborough join together for a fun celebration every year on the Saturday before Thanksgiving.  Would committee chairs please let Julie Flood Page know who will be attending the meeting?
Thanks for your help.
The Buddhist Meditation Group will be meeting at 7 pm this Thursday, October 23.  Come join us!  Following an hour of silent meditation (both walking and sitting), there will be refreshments followed by discussion of Pema Chodron's book, "How To Meditate: A Practical Guide To Making Friends With Your Mind".  This week we begin Part 4 Working with Sense Perceptions -- Chapter 19 "The Sense Perceptions" and Chapter 20 "The Interconnection of all Perceptions  If one hasn't read this material by all means join in the discussion.  Questions often lead in unexpectedly delightful directions. 
Meditation instruction is available for those who wish it.  All are welcome.  Our next meeting will be Thursday November 13.  NOTE:  We meet in the stage area at the back of the Parish Hall.  The Parish Hall itself is dark, so be sure to come to the back door next to the Kitchen in order to find us!  Though punctuality is helpful, you are welcome to join regardless. 
Feel free to call Nori Odoi or Rags Gilmore at 603 547-2650 if you have questions about this or any other issue.
Community Concerned for Justice, the Social Justice Committee's prison project with the Quakers, will have a soup and bread luncheon meeting at the Quaker Meeting House on Davidson Road in Jaffrey at 12:00 noon on Sunday, 10/26.  Please come if you are interested.
Emerson Discussion
On Monday 27, 6:30pm, we will share our thoughts and feelings about Emerson's essay, 'Self-Reliance'. Trust thyself. "Let a person then know their their worth, and keep things under their feet." What is your unique gift to the world?
Music Soiree
Here we are at the coming fourth Friday and it is time for another Music Soirée. Come join us. Bring your instruments, bring your voice. We have music, or bring yours and we'll see if we can play it.
When? Friday, the 24th, at 7pm. Where? In the church Parish Hall. Hope to see you there. Question? Call me at 731-9476.
Clean up Day-October 25
We will have a last work morning at the church on Saturday, October 25th 8:30-12:00.   Let's get the yard ready for winter, clean up the kitchen and finish stair painting.  Really good lunch for all.
Climate Change presentation by Joel Huberman
Thursday October 30, 7pm.
There's a lot of discussion these days about "the dangers of carbon pollution" and "why the burning of carbon-based fossil fuels (coal, oil and gas) is heating up the planet". But our use of fossil fuels has generated enormous benefits for humankind. In this talk, Dr. Joel Huberman, a retired biochemist, will explain why the burning of fossil fuels (which increases the level of carbon dioxide in the atmosphere) is something to worry about, whereas our breathing (which also puts carbon dioxide into the atmosphere) is harmless. He will also explain why it is that the methane generated by cows is less of a cause for concern than the methane released into the air by fossil fuel production. Finally, he will show why we will need to continue using fossil fuels for a decade or more into the future, in order to build the alternative energy infrastructure that will eventually allow us to stop using fossil fuels, thus saving the planet from potentially disastrous climate change.
A Celebration of Partsong
On Sunday, November 2 at the Peterborough Unitarian Church the Peterborough Chamber Choir will present a program celebrating the art of harmonized song, featuring some of the masterpieces of the genre loosely defined as "partsong". The concert will include works from England and Germany to France and the United States. Featured composers are Elgar, Stanford, Saint-Saëns, Parry, Brahms, Mendelssohn, Arthur Sullivan, and Richard Rodney
Bennett. There will also be a world-premiere from choir director David Vernier.
The Peterborough Chamber Choir, a select 18-member ensemble, is celebrating its 23rd year since its founding by director David Vernier in January, 1991.
Besides its aim to consistently present the highest-quality choral music to Monadnock-area audiences, the choir donates all the proceeds from its concerts to local charitable organizations, primarily the community suppers, food bank, and church music programs. Members of the choir come from Peterborough, Sharon, Temple, Jaffrey, Lyndeborough, Harrisville, Dublin, Fitzwilliam, and Keene.
In April 2011 the choir won first place prize in the Together in Song Choral Festival held in Springfield, MA. The festival, sponsored by public television station WGBY and featuring 47 participating choirs from Connecticut, Massachusetts, New Hampshire, and Vermont, was organized to "celebrate the choral tradition of Western New England." In the spring of
2012 the choir completed its first European concert tour, performing in churches and schools in Austria and Hungary.
The Peterborough concert will begin at 4 pm and will last approximately one hour and fifteen minutes. It is appropriate for adults and children age 12 and older. Admission is by free-will donation to the Unitarian Church music program.
Young Adult Group
Young adults (ages 18-35) are welcome to participate in a discussion with the UU Church of Nashua's Young Adult Group held at the UU Church in Nashua on November 13th from 7-8:30pm in the Youth Room.  The topic will be What Makes a Family?: A UU Guide to the Holidays.  Please contact Monica Staples, Young Adult Coordinator (monica.staples@gmail.com) for more information.
Welcoming Tips
When meeting guests, make some connection with them.  Find out at least one thing about them that you can mention when they are introduced to others in coffee hour.  Ask them how they found out about the congregation.
Community
Giant Indoor Yard Sale set for October 25
The Grand Monadnock Youth Choirs will hold a giant indoor yard sale at the Union Congregational Church, 33 Main St. Peterborough, on Saturday, October 25, from 8:00 am until 1:00 pm.
We have furniture—dining table, chairs, couches; lamps; glassware; household items; a weight-lifting gym; children's toys and books; some clothing in excellent condition; as well as a multitude of other useful items. And we might even have some non-useful items that you will absolutely love. Check it out!
Funds raised from this sale will support the youth choir programs. The Grand Monadnock Youth Choirs was founded in 1997 as a place for young singers to develop their voices while learning fundamentals of musicianship, music reading, performance, and the joyful rewards of singing the highest quality music.
GMYC is a non-profit community arts organization. If you would like information about this group please call Maria Belva at(603) 924-2055, e-mail mariabelva@gmail.com or visit the choir website at www.gmychoirs.org
Chuck Welch, Peterborough, NH Resident in MoMA Exhibition, NYC
On October 15, Chuck Welch, a resident of Peterborough, NH received word from MoMA that his art will be in a show Oct 1-Jan 5  titled Analog Network: Mail Art, 1960-1999. Reception will be at the Museum of Modern Art, November 14, 2014. The Show of 30 artworks is opening at the MOMA Library where there will be a private reception for 50 artists and friends associated with the International Mail Art movement. About two dozen artists have works in the show. One of Welch's artworks is a 'zine that documents the Networker Telenetlink (1991-1995), an international project organized by Welch at Dartmouth College Kiewit Computation Center where Welch linked mail art to the internet..an early form of net.art.
Welch, a.k.a. CrackerJack Kid in mail art circles, was involved in the avant garde international mail art movement and has written a couple of books about the subject: Networking Currents, Sandbar Willow Press (1985) and Eternal Network: A Mail Art Anthology, University of Calgary Press (1995)  Currently, he is writing three manuscripts about subjects pertaining to the art movement…artistamps, correspondence art, and an archival diary (600 pages) that documents artworks, correspondences, visual poetry and conceptual artworks from 1978-2000, years that Welch was very active in the network. Said Welch, " I corresponded and collaborated with over 1,500 international artists on five continents during that period of time….Mind you, this wasn't a FACEBOOK list of 1,500 friends. Rather, my archive of 75 boxes & library of 1,000 catalogued titles, traces the waning years of letter writing when artists and visual poets created correspondence and collaborative art projects through the "international mail stream" Welch has stated, "You don't make a living out of mail art, you make an art out of living".
Welch, and his daughter Lauryn were members of Ray Johnson's New York Correspondence School of Art, a kind of fan club that spoofed the New York School of Abstract Expressionism. Johnson, who with Warhol pioneered Pop Art, committed suicide in 1995. His New York Times obituary declared him the "world's most famous unknown artist". Johnson was schooled by Josef Albers, and was friends with Andy Warhol, John Cage, Robert Rauschenberg, Chuck Close and Joseph Cornell. Johnson fathered mail art in the early 60s. As an outsider art form, mail artists are fond of saying…Mail Art is not Fine Art, It is the artist who is fine". Cheers,
Chuck Welch
News from Sarah Franklin
Our new address is: 95 Adams Street, Keene, NH, 03431
We welcome visitors of the UU ilk. We love our house. It's an old Victorian in town with a fabulously private and beautiful back yard. Life is easier already with a 1 minute commute to MoCo. Sam rides his bike everywhere and there is an ice cream truck that comes to our street! What more could we ask for?
Please stop by anytime when you are next in Keene.
My love to all there,
Sarah
Wherever there is a human being, there is an opportunity for kindness.
- Seneca -
Be well, be loyal to peace, justice and the social good.  Vanessa
Vanessa's Office Hours:  Monday & Th.  8 am – 4:30 pm. Tues. 8:00-11:00 am
Char's Office Hours: Mon-Fri 2-5 pm
David's Office Hours: Mon & Th 9-4
---
To unsubscribe go here. 
Check the box marked Weekly Bits. Enter your email address in the box provided, and click unsubscribe. You will be sent an email to confirm your choice.