This Sunday- March 23
Music Sunday – Please join us for our annual Music Sunday.
Greeters: Joy and David Flemming
Community Hour:  Loui Welby and Marsha Morrow
Flowers: Rachel and George Billings in memory of their parents.
There will be a soup and bread Jim Crow prison reform discussion on Sunday at noon in the Parish Hall. Some of the Quaker Friends will be attending and anyone else wishing to get involved in any facet please attend.
---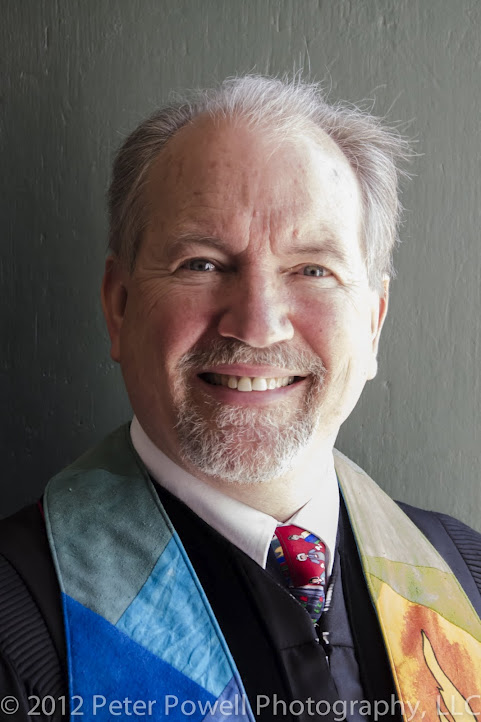 From David Robins
Here is an excerpt that touched my spirit: "What is it about Western culture that makes it so difficult to taste God? Why would we in the West rather prove theological propositions than experience the holy? ...at the heart of the issue, I have come to believe, lies the unmooring  of creation from its origin (in Mystery).When we look at nature with a calculating rather than a contemplative eye, we were, without knowing it, abandoning a sacramental view of reality." Paula Huston, author of "A Season of Mystery: 10 Spiritual Practices for Embracing a Second Half of Life."
Welcome to Anne and Joel Huberman, who signed the membership book on March 13, 2014. They live at 50 Timberpond Drive #1104, Peterborough, NH 03458-1780. 603-924-0842. Anne.Huberman@gmail.com  and  Joel.Huberman@gmail.com
Anne grew up in the Peterborough UU Church.
Welcome to Dwight Shelton who signed the membership book on the first day of spring, March 20. He lives at 49 Brian Road, Peterborough, NH 03458, 603-562-5111.
Informational Meeting
Sunday, March 30, 2014
Following the Morning Service (est. 11:45)
The Standing Committee will discuss plans for the Rev. David Robins' retirement, for the search processes for an interim minister and for a settled minister, and will answer questions from the congregation.
Child care will be available.
The temperature is rising, not just because it's Spring!
When you are in church, look for the "Green" church thermometer. You will see it has risen over the roof" to $85,000, reflecting pledges that came in at coffee hour, by mail, and from personal visits, since our March 9 launch.  We are looking forward to reaching the steeple, with a remaining balance of $30, 000, providing funding for our 2014-15 budget. If you haven't pledged yet, please consider what this congregation means to you. With everyone's generous participation, we'll have a very successful campaign.
Save the date: planning for our April 6 Community Hour celebration is in the works!!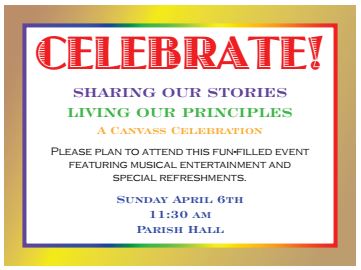 Sunday, April 6th at 11:30 am after the church service we will have a Canvass Celebration. Please plan to attend this fun-filled event featuring musical entertainment and special refreshments.
Welcoming
Think about the ways everyday language choices might make people feel excluded and unwelcome.  For example, saying "partner" rather than "spouse", using language that doesn't assume all children have a mother and father or even live with parents, saying "people of all genders" rather than "men and women", and practicing "people first" language such as "people with disabilities" rather than "disabled people."
Hiring Policy
To understand the procedure and process of hiring a new DRE, I thought you would want to know how it is done according to our policy. Currently, the RE Committee is putting together a search for a new Director of Religious Education. Our church policy requires that they advertise the job within the church as well as in the broader UUA, the district, and locally. The Personnel Committee will work with the church administrator to place the job posting. The hiring committee will set up and conduct interviews after all applications have been screened and will call at least 3 references. The hiring committee will verify the Employment history, performance, education/training and character of the applicant. The Standing Committee will approve applicant interview and set the salary range. All information on applicants will be available to the personnel committee and will be kept confidential. Stay tuned for the job posting.
Kirtan
The next Kirtan takes place Friday March 21, 2014 at 7:30 p.m. in the Parish Hall
Donations Welcome. This is a fundraiser that supports the operating budget of our Church, so please come and support PUUC.
Spring Cleaning Mornings Scheduled
Please join the Property Committee from 9:30 AM to 12:00 Noon on Saturday March 22, 2014 as we spring clean the Sanctuary. From time to time we strive to vacuum and scrub everything clean all the way back to the paint, varnish, and wood.  We will quit at noon for pizza or sandwiches, and if we do not get it all done in March, we will resume the effort on April 19th and again on May 24th. We did this last year and it was a rewarding, feel-good, thing to do. We provide the equipment, supplies, etc. but do feel free to bring your own vacuums and dusters, too. Come lend a hand. ~Property Committee.
PS.  Sarah and Wayne will be happy to work in the PM with anyone who wishes; just let them know at waynemurray100@gmail.com.
Community
Welcome to the Finding Faith Today Project
How do persons come to faith in our time? How do they adopt a religious faith as their own? Or does the faith adopt them?! Is it a journey? Or is it more like a sudden conversion? Are friends and relatives most important to the process? Do clergy matter? Are books, television, or films significant factors? What sorts of values, practices, and lifestyles tend to change for those who newly come to faith? What, if any, are the substantial differences in how one comes to faith among Christians, Jews, Muslims, Buddhists, Hindus, and persons of other religious traditions? The Finding Faith Today Project is a nationwide research project that attempts to answer these and other questions.
If you have come to faith since January 1, 2011 and you are an adult (age 18 and over), please take the survey below. The survey is directed toward adults who in the last few years made a new declaration of faith or otherwise signaled that they have adopted a religious faith as their own (or "converted," or "become a member," depending on the appropriate language), even if that happens to be a "return" to faith from an earlier commitment in one's life. The survey is available in multiple languages.
www.bu.edu/cpt/fft/survey/
Petitions all over New Hampshire are calling for an amendment to overturn Citizens United, aimed at slowing down the big money in politics.
Please come to hear David Cobb of Move to Amend on Saturday, March 22nd at the Peterborough Library at 6:30 (NOT 6 pm as was reported in the news article).  Pizza and other refreshments will be served.
When Granny D learned about a $50 billion tax break for the tobacco industry, she was shocked into dedicating the rest of her life to dealing with this kind of corruption, and to draw attention to it she walked across the country to spread the word about it.
Already 56 towns in New Hampshire have voted on an amendment to overturn Citizens United and to remove personhood and freedom to give freely to political campaigns.  44 have voted in favor of the petition article, 12 have voted against it.  Peterborough will vote on the warrant article in May.
The Peterborough Woman's Club is committed to service benefitting our wonderful Community.  The PWC will be hosting their 4th Annual Basket Bingo fundraiser Sunday, March 30th at the Monadnock Country Club from2PM to 4PM.  Tickets are on sale now at Steele's in downtown Peterborough: Adults: $25 for 2 cards and 1 door prize ticket, Students under 12:  $15 for 2 cards and 1 door prize ticket. Tickets purchased at the door: Adults: $25 for 1 card and 1 door prize ticket, Students under 12: $15 for 1 card and 1 door prize ticket. In the previous 3 years the bingo event was a "sell out event" and a huge success.
This year the bingo event will benefit Monadnock Area Transitional Shelter (MATS).  MATS will use the proceeds to have a fence built and installed around an outdoor play area to serve the many young children who call MATS home for a short time.
Be loyal to peace, justice and the social good.  Vanessa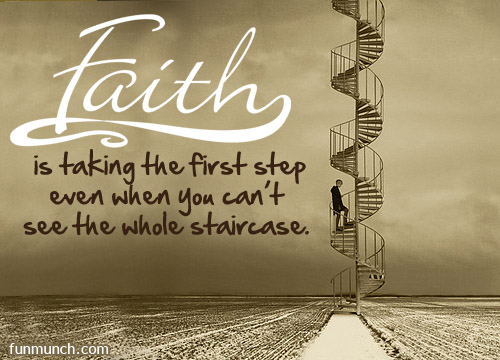 Times you can usually find someone in the church office
Monday 8:00 to 4:30 pm
Tuesday 8:00 – 10:30 am 
Wednesday mornings you can find John Richards in the office helping out while David is taking sabbatical days.
Thursday 8:00 – 4:30 pm
Friday ….…..closed
-------------------------------------
To unsubscribe go here. 
Check the box marked Weekly Bits. Enter your email address in the box provided, and click unsubscribe. You will be sent an email to confirm your choice.
Thanks!