This Sunday- March 9
Sermon: Celebrating Our Stories, Living our Principles – Rev. David Robins
Greeters: Barbara Harlow and Peggy Brown
Community Hour:  Karen and Bob Dudra
Flowers: Suzy McDonald and Ed Chaney
Don't forget Daylight Savings this weekend. Clocks go forward one hour!  How many clocks will you need to reset?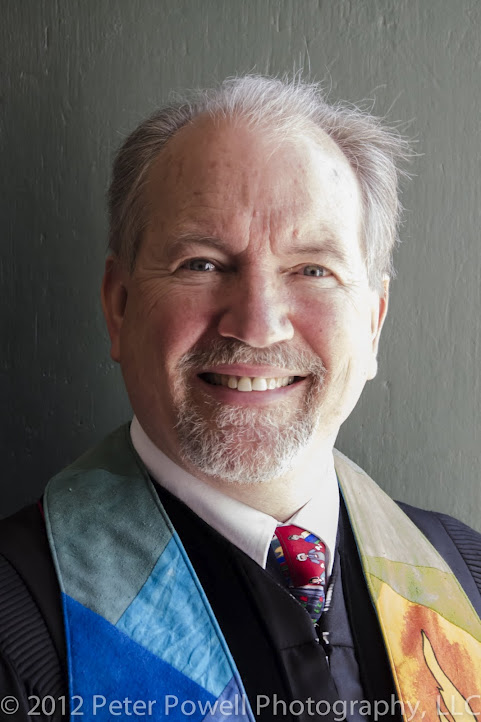 From David Robins
Chancel Committee
The Chancel Committee was created by the Standing Committee to review possible decorations for the area on the wall behind the pulpit in the sanctuary. The members of the committee  include: Suzy McDonald, Margret Kolbjornsen, Sarah Franklin and myself. We plan to rotate several banners and items into the space during the year. Currently, there is a lovely religious symbols banner made by several women in the congregation. Suzy McDonald made the brown felt backdrop that frames the banner. We hope you enjoy it!
On-the-Spot-Pledgers to Claim Sweet Rewards This Sunday!
The 2014 Stewardship Campaign kicks off Sunday with the theme "Sharing Our Stories; Living Our Principles."  In order to push the mercury to the top of our steeple thermometer and meet our funding goals, we will launch our campaign with a "Fast Start" pledge opportunity. That means you'll be able to pick up campaign information and the all-important pledge card at coffee hour and complete it on the spot. Once and done. Sweet. So sweet that we will recognize every Fast Start pledger with a special "I Pledged" cupcake.
Directory Photo Time
Before and after Sunday's service Marsha Morrow and Sarah Sherburne will be on the prowl with their cameras. They are taking pictures of members and friends upstairs and down. They plan to do this on Sundays through June, or until they get everyone's photo for next year's church directory.
Food Preparation Volunteers Needed for Community Supper
We could use 2 to 3 food preparation volunteers who could either come on a regular basis or be on call for Wednesdays from 3:30 to 5:30 PM. Having dependable volunteers makes all of the difference in being able to prepare quality meals for members of the community who are in need.
Please call Peter Powell at 603-759-0084.
Open Stage
Peterborough's Richard Backes, Instrumentalist, Friday, March 7th
Peterborough's own, Richard Backes is a fine, eclectic instrumentalist who will perform this Friday March  7th at the Unitarian Church's Parish Hall Open Stage. Area residents, friends, and musicians can attest to Backes' frequent, excellent performances at contra dances presented by The Monadnock Folklore Society.
Richard Backes' original style can best be described as an interesting mixture of Irish, old time, and New England folk music performed on accordion, mandolin, fiddle and guitar. Besides teaching music lessons at the Peterborough Music Company, Richard is also an exceptional craftsman whose specialty is making violins.
The Parish Hall Open Stage is a listening room that is open to the public each month at the Peterborough Unitarian Universalist Church.  In its fifth season, Parish Hall Open Stage is a regular performance site listed by the Peterborough Chamber of Commerce's monthly First Friday celebrations. All musicians and poets wishing to sign up and perform at the stage can do so between 6:30-7:30 PM, or by contacting the show host, Jack Kid at jackkidmusic@gmail.com.
Slides and Sides-March 8th
Slides and Sides Returns: Saturday, March 8, 2014. Take a trip down the Amazon River with Carolyn Saari and her cousin. Bring a dish to share, a beverage, and your own table setting. 6 pm in the dining room.
Music Alert
Our annual Music Sunday is coming up on March 23, so here's your chance.
If you have a song you'd like to sing, an instrumental piece you'd like to play, a dance you'd like to do, sign up to participate in this popular inter-generational service. A sign-up sheet will be available in the Parish Hall after service on February 23, March 2, and March 9, or you can contact Margaret Warner at mwarner@tds.net (phone: 588-2097) to sign up or get more information.
Circle Suppers Return
Circle Suppers will be Friday, March 21, Saturday, March 22 and Sunday, March 23.  Carolyn Saari will be asking for both Hosts and Guest at Community Hour on Sunday or you can contact her.  Sign up now!
GENERAL ASSEMBLY REGISTRATION AND
HOUSING RESERVATIONS OPEN MARCH 3
LOVE REACHES OUT
A core purpose of our faith is to help people grow in spirit and in service. We believe that our faith provides a path for each of us to unlock our transformational capacity to serve the world with love. We will gather in 2014 to help our association live into a future where Love Reaches Out - to share our faith both within and beyond our congregations' walls.
The 2014 Ware lecturer will be Sister Simone Campbell, a religious leader, attorney and poet with extensive experience in public policy and advocacy for systemic change. In 2012, she was instrumental in organizing the "Nuns on the Bus" tour.
PROVIDENCE, RHODE ISLAND
With a thriving arts community, vibrant and diverse neighborhoods, available university housing, and a renowned restaurant scene, Providence is a fitting spot for us to gather.
On Saturday, June 28, the UUA will cosponsor WaterFire Providence®, a community event and public art phenomenon. This is an amazing opportunity for us to participate in the local culture of our host city while simultaneously witnessing our faith.
AVAILABLE MARCH 3
GA Registration opens (at 9 a.m. EST)
GA Housing Reservation System opens (at 9 a.m. EST)
GA Tentative Agenda
FINANCIAL AID INFORMATION
The following opportunities for financial aid are available:
Become a Volunteer - Full-time General Assembly registrations can be earned in exchange for 24 hours of volunteer work at GA. Applications for volunteer positions must be submitted by March 31.
Apply for a Scholarship -  Secure a pledge of support from your congregation and apply for a GA Planning Committee scholarship. If your application is accepted, the Planning Committee may match your congregation's pledge (up to $250) and also fund your full-time registration. Apply by March 31. The Office of Youth and Young Adult Ministries also has scholarships specifically for youth and young adults planning to attend GA.
The Davidoff Fund Scholarship serves to subsidize the attendance at GA of Lay Leaders from congregations who have not been represented by Lay Leaders at General Assembly in the last three years. Such eligible congregations are encouraged to send two Lay Leaders to General Assembly and scholarships can be provided for both attendees. Apply by April 30.
The UUA Board of Trustees is delighted to offer an opportunity for the senior elected leader from each of our congregations to participate in the joy of General Assembly - at a discounted rate!  Each congregation's highest elected president/lay leader will be eligible for a $100 registration rebate. One per congregation. Individuals should register at the regular rate; rebate instructions will be provided at General Assembly.
Community
The Carbon Conundrum--Carbon as Energy Source and Climate Regulator
At Mariposa Museum. Thursday March 13 at 7 pm. Co-sponsored by PUUC Adult Education.
This talk will speak to one of the most urgent issues of our time. We know that carbon-based fossil fuels have helped us achieve an unprecedentedly high standard of living, but we also know that the carbon dioxide that's released when we burn fossil fuels is warming our climate, with potentially disastrous consequences. Fortunately, this is a solvable problem. There are pathways by which we can continue to obtain the energy we need while simultaneously protecting our environment.
During his professional career, Dr. Joel Huberman conducted basic research at Roswell Park Cancer Institute in Buffalo, NY, on the mechanism and regulation of the process by which cells make new copies of their DNA molecules. After retiring, he and his wife moved to Peterborough, where they now live at RiverMead. There Dr. Huberman attended the Self-Taught University, majoring in climate science and minoring in energy policy. Last fall, he gave a well-attended series of 10 lectures on climate science to his fellow RiverMead residents.
The Peterborough Woman's Club is committed to service benefitting our wonderful Community.  The PWC will be hosting their 4th Annual Basket Bingo fundraiser Sunday, March 30th at the Monadnock Country Club from 2PM to 4PM.  Tickets are on sale now at Steele's in downtown Peterborough: Adults: $25. for 2 cards and 1 door prize ticket, Students under 12:  $15. for 2 cards and 1 door prize ticket. Tickets purchased at the door: Adults: $25. for 1 card and 1 door prize ticket, Students under 12: $15. for 1 card and 1 door prize ticket. In the previous 3 years the bingo event was a "sell out event" and a huge success.
This year the bingo event will benefit Monadnock Area Transitional Shelter (MATS).  MATS will use the proceeds to have a fence built and installed around an outdoor play area to serve the many young children who call MATS home for a short time.
---------------------------
Be loyal to peace, justice and the social good.  Vanessa
Sorry, very few pictures this time around and no quotes. Feeling under the weather so all my creative juices have dried up, like that mystery container of dessicated something in the back of your refrigerator. Yep, that's what I feel like.
Times you can usually find someone in the church office
Monday 8:00 to 4:30 pm
Tuesday 8:00 – 10:30 am 
Wednesday mornings you can find John Richards in the office helping out while David is taking sabbatical days.
Thursday 8:00 – 4:30 pm
Friday ….…..closed
--------------------
To unsubscribe go here. 
Check the box marked Weekly Bits. Enter your email address in the box provided, and click unsubscribe. You will be sent an email to confirm your choice.
Thanks!