Thoughtful tidbits for every week.  You know…to keep up your spiritual blood sugar.
------------------------------------
It always seems impossible until it's done.    - Nelson Mandela -
------------------------------------
This Sunday
Earth Day: Worship Committee- See below.
Greeters:  Mark Beal and Sarah Dengler
Community Hour: Suzy McDonald and Ed Chaney
Flowers:  Jean Herron in memory of her husband, Jack.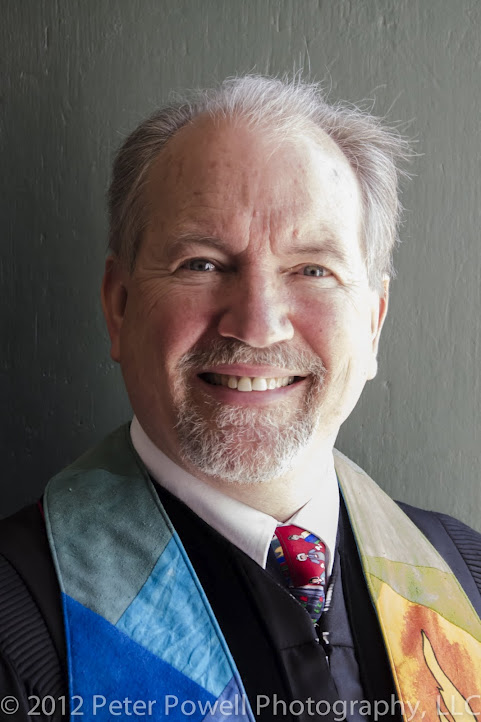 Minister's Schedule: I will be taking study leave on Sunday April 21- Thursday April 25. I usually take study leave during August, but since last August was sabbatical time granted to me by the congregation, I have been spacing study leave out during the church year on days that would have the least impact on the congregation. In the event of a hospitalization or death, or urgent matter, please call me on my mobile phone, 603-933-0793 or at home, 924-7036. David R
Dear Friends,
Thank you for your warm reception of Rev. Olivia Holmes who led worship last Sunday. We were engaged in a pulpit exchange, and I was preaching at her church in Nashua. Many thanks to Sarah Franklin, Barbara Harlow and all who assisted Olivia. 
I will be gone again on April 21, while the worship committee will be leading an Earth Day service. My plan is to drive to Voorhees, New Jersey on Thursday following my visit at Rivermead. I will be visiting my brother, Scott, who has developed a new set of medical problems. I can be reached on my mobile phone at 603-933-0793.
Thank you. 
In Our thoughts:
Audrey Carvalho has been recuperating and doing physical therapy at Pheasantwood.
Phil Woodbury was in the hospital over the weekend, but is probably home by now. 
The memorial service for Rev. Cory Richardson will be June 1, 11am at the Unitarian church in Wilton Center. 
FREE FILM-Tonight
The Last Mountain-How Mountaintop Removal Damages the Environment
You have probably been following closely the news on Northern Pass and how it might change our White Mountains.  This Film, The Last Mountain, a Sundance Winner, shows what has happened to the West Virginia mountains as a result of mountain top coal extraction and how the people are finally resisting. A passionate and personal tale that honors the extraordinary power of ordinary Americans when they fight for what they believe in.
Thursday, April 18, 2013, 7 - 9 pm---Discussion following film
Sponsored by the Peterborough Unitarian Universalist Social Justice Committee (603-899-9759) and by Monadnock Citizen Issues Project (603-924-3037)
Sunday, April 21 ~ Earth Day
ONENESS
Come on Sunday, April 21, Earth Day, and join the Worship Committee in ritual, song, dance and a grand intergenerational activity as we worhip our oneness with the Universe, the Earth, one another, all beings. 
Everyone is invited to BRING RATTLES—baby rattles, maracas, rain sticks, gourds— any and all kinds of rattles.  There will be a supply of rattles in the sanctuary, so don't fret if you come to church rattle-less.
Questions?  Call / email Barbara Harlow:  784-5211 / bds1222@hotmail.com
And . . . as you walk the days of your life . . . kiss the Earth with every step . . . worship the union and communion that is the Universe, that is Earth, that is you.
From Joe Sullivan, executive, NNE District, UU congregations
Our prayers go out to all casualties, physical and emotional, of Monday afternoon's explosions in Boston. We know that the trauma of this horrific event will affect far more than those on the scene, including in our congregations and communities of Northern New England. We pray for the strength now and resolve hereafter to carry healing love for all in our hearts and actions. We are in touch with our neighboring district office and UUA headquarters about any specific needs of UUs and UU congregations in the aftermath of this disaster, and will post information on our Facebook page as we receive it.  If your congregation is planning a vigil or event in response, please feel free to share it on our Facebook page.
We encourage you to visit our Mass Bay and Clara Barton Districts Facebook pages for additional information. 
Trauma response resources for families and congregations can be found here: http://www.uua.org/safe/response/117164.shtml
From Peter Morales, UUA President
My fellow Unitarian Universalist, 
Sadly, we are once again witnesses to senseless violence. New images of suffering, panic, and heroism burn themselves into our memory. Shock mixes with grief, disbelief, compassion and anger.
Monday's bombing at the finish line of the Boston Marathon occurred just blocks from the Unitarian Universalist Association headquarters.  Our prayers go out to the families of those who were killed and to all who have been injured. Beyond the physical injuries, many have been traumatized here and across the country.
At times like this our spiritual communities are more important than ever. This is a time for being together, for giving and taking comfort from one another. This is a time for reaching out-both to be comforted and to offer kindness.
At this time we do not know who did this or what twisted thinking produced this horrific act. We do know this: everything we do to spread compassion, understanding, acceptance, and peace matters. It is literally a matter of life and death.
May each of us find comfort and healing. May each of us find ways of letting our pain be transformed into acts of love and healing.
In Faith, Peter Morales
President, Unitarian Universalist Association
Welcoming Congregation
Stay after the service on this Sunday for a final Social Justice Committee Soup and Bread lunch at which we will have a discussion regarding the programs this year and what more the group would like to have/do in the future.  All are welcome.
Tip# 4 for Being Welcoming
What are some of the best way(s) to stop shooting ourselves in the foot in terms of being un-welcoming of spiritual seekers with different beliefs than ourselves?
Make opportunities to explore theological diversity. Take time to practice dialogue that is respectful of theological pluralism. Find ways to call us back to our best selves—respecting each person and honoring diverse sources of truth. Find ways to create and nurture a culture of consideration for the stranger.
Reminder.
Tis the season for giving...
...no not Christmas or the IRS, but our annual request for your pledge for our next church year.

At of this date, about half of you have responded with your financial commitment toward sustaining PUUC.  We can't plan a budget at this time.

Please, if you have the pledge card on your desk, fill it out, mail it in or drop it off.  If you don't have the information, call or email Vanessa, mornings.  924 -6245, puuc@uupeterborough.org.

Or go to our website to pledge online.  It's easy.  www.uupeterborough.org
Spring Cleaning Time!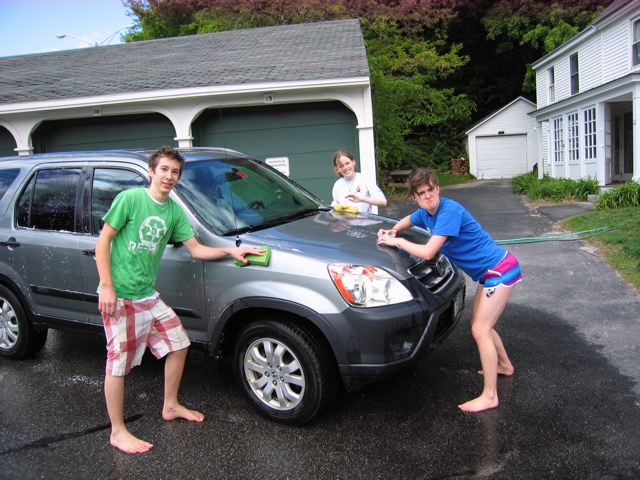 The Youth Group will be running a car wash on Saturday, April 20, from 9 - 12. Drive on down and get your car or truck spiffed up. By donation; proceeds will go to Free the Children. Call/e-mail Laura Gourlay for details at 924-6443 or lkgourlay@gmail.com.
Spring Outside Clean-up Day is scheduled for Saturday, April 27, 2013 from 9:30 AM to 11:30 AM.  Be ye young or old, please consider helping this year (families welcome) because last winter brought much more sand and mess than usual.   It needs to be cleaned up before the summer.  Please help.  Property Committee
BBQ & Blues 2013: Save the Date!
June 15 it is. This year's BBQ & Blues will be just as great, but a little more affordable and earlier in the evening, so as to entice people of all ages to attend. Here are the preliminary details:
Place: Church Parish Hall (with grilling outside and buffet in dining room). Dining and dancing upstairs throughout the meal!
Time: Serving food 6:30 to 8; music until 9 or later
Menu: Ribs, chicken, cole slaw, dirty rice, cornbread, brownies. Lemonade, iced tea, water. BYOB. Food is to be local, natural and organic as much as possible.
Ticket pricing: Tickets will go on sale April 1. $20 in advance. 5 to 11 year olds are $10 in advance. Under 5 free. From May 15, tickets go up to $25. Children 5-11 are $15. Under 5 free. At the door pricing: $30 adult, $20 child. 
From the Rev. David Usher
Dear Family, Friend or Colleague

This news will come as a shock to most of you, though a few have had a forewarning that I was dealing with a significant health issue.  I learned today much more about my diagnosis and probable course of treatment.

I have a malignant tumor in my transverse colon.  I still do not have the results of the CT scan (I will know by Thursday) which will tell me whether or not the cancer has spread to any of the neighbouring lymph nodes, muscles or organs, but the early indications are favourable that it has not.  In any case, I will have surgery at Maidstone Hospital on Friday 26th April to remove the affected section of the colon, they will have a little root around while they are in there to see what else they might find, but then they will stitch me back up again and tell me to lay off the double pepperoni pizzas for a while.  I will be in hospital for around a week, and then will require an extended period of convalescence at home while I build my strength back up again.  I will be able to do computer work, but no driving or travelling, and it will be around six weeks until I am fully back in action.  In other words, some time around mid June.  It is possible I will need chemotherapy and/or radiotherapy once I have regained my physical strength post-op, but I will not know that for some time yet.  I am hopeful I will not.

I have known about the tumor for the past two weeks, but until today did not know as much as I do now.  It has been an anxious time, as you can imagine, but I have been richly sustained by many things, not least the knowledge that I have had a very blessed life so far, sixty years of good health, much love and many advantages and blessings.  My Unitarian faith has been a rich part of my life throughout all those good times.  I am pleased to say it has now proven itself a solid rock during this testing time.  I have told very few people, but those I have told have been unfailingly generous in their good wishes and kind thoughts, and I am most grateful.

I am in good spirits.  I really am.  More than anything else, during these past two weeks I have been very aware of what a blessed life I have had, and that would have remained true even had the news today been much worse than it was.

Sincerely and with love,

David

___________________________

Rev. Dr. David Usher
District Minister for Unitarians in London & the South East
10 Bradbourne Road
Sevenoaks
Kent TN13 3PY
Tel.: 01732 455143
e-mail: davidusher@ldpa.org.uk
www.unitarians.org.uk/pulse
From Jill Shaffer Hammond: Char Russell James did the flower arrangement, honoring my parents, that I supplied for the 4/14 service. Char does lovely arrangements, often using many natural materials, as well as cut flowers. She's done this arrangement for me for the last several years, and every year I've just loved it. Please consider her for doing floral displays if you need one.
Community
Cornucopia Project Community Potluck-tomorrow
The Cornucopia Project is happy to announce a potluck to celebrate the Community Garden at the Community Center tomorrow, April 19 at 5:30 pm. The community has come together in a special way, and this garden supports the food pantry, run by volunteers, kids, community members. Let's celebrate the return of spring and planting season by enjoying a meal together! If you are a financial supporter or volunteer, then you get to be treated and don't have to bring a side dish. 
Nubanusit Neighborhood & Farm
Spring Yard Sale
(Multi-family)
Saturday, April 20th, 8 am - 2 pm  
(rain date April 21st)
Clothing, Sporting Goods, Kitchen Stuff, Home Decor, Toys, Kid Gear, Books, Furniture, Small Appliances,
And much more . . .
Enjoy delicious home-baked goods while you shop!
Educated Flea Market & Arts and Crafts
Looking for fun thing to do this Sunday afternoon after church?  Discover Attic Heirlooms, Useful Things and Arts & Crafts this Sunday, April 21st from noon to 4 p.m. at the Peterborough Community Center.
Attend the EDUCATED FLEA MARKET & ARTS and CRAFTS, for a unique and entertaining shopping experience.  Local artisans and crafters will join eager flea marketers to offer a serendipitous assortment of goods!
The new Peterborough Community Center is located at the old armory building, across from the Bowling Acres Bowling Alley on Elm Street in Peterborough.
Birds do it, Bees do it, Even Educated Fleas do it, Let's do it, Let's shop at the Educated Flea Market, this Sunday from noon to 4 pm!
Space for a car
Ed Chaney is looking for a place to leave his small car from May1 until he returns November 15. He would prefer inside but a safe outside place would do. He would be happy to pay for use of the space. Please contact him at ed_chaney2002@yahoo.com.
From Eliza Dery
Dear members of the Peterborough Unitarian Universalist Church,

     I am once again embarking on a journey to Rowe this year. For those of you who are unaware Rowe is a UU conference center in Rowe Massachusetts that has a variety of camps offered to kids and teenagers of all ages. For the past two summers I have be welcomed warmly in the Rowe Jr. High camp community. This year I am proud to declare that I have been chosen along with seven other people to be a CIT or counselor in training at Rowe Jr. High camp.  This brings me such pleasure to help contribute to such a loving community and be able to help it grow.
     
    I am forever grateful for the support this community has given to me these past two years in helping to send me to Rowe. I am however asking for your support again to send me back to my home away from home. How it works is simple if you need a job or task done that you need help doing I am your girl. All the money I make goes toward my trip which is three weeks long and I spend the whole time there. I need to raise roughly 800 dollars with the overall cost being 1,000 dollars. I have done a variety of jobs in the past with this fundraiser anything from babysitting, to painting, cleaning, organizing, gardening, to pet care. I am always up to the challenge of any new unique job that I have not done before. I am hopeful to raise all of the money by the end of May or beginning of June. I have been paid a range of 5-10 dollars an hour; I am pretty laid back when it comes to pay, every little bit counts.

    You may wonder why I write a similar letter every year asking for your support. I do this because I love Rowe. Rowe is a place that brings me such happiness and where I feel people like myself truly belong. It is hard work raising the money but I enjoy every minute of it because it brings me closer to going back to my kingdom. So please help me by letting me help you, so I can reap in the splendor of going back to Rowe.
                                           
                             If you have any questions or job opportunities for me you can:
                             
                             - talk with me at community hour
                             - email me at poetrygirl97@myfairpoint.net
                             - messenge me on facebook
                             - or call me at 827-3224

            Thank you so much for your contributions they mean a lot! :)
                           Eliza Dery
Travel On:  Songs on the journey to peace, love, liberty, and freedom. 
Two free benefit concerts in Jaffrey and Peterborough

Sunday, Apr 21, 2013
6:30 PM
United Church of Jaffrey
54 Main St, Jaffrey, NH

Sunday, April 28, 2013
6:30 PM
Union Congregational Church
33 Concord St
Peterborough, NH 

Travel with us through England, Italy, Spain, Estonia, Georgian Republic, South Africa and back to the United States!
This intimate and energetic choir sings songs from myriad cultures and times, weaving music, poetry, and audience participation. 

 Audiences respond to Two Rivers concerts:
"Oh it was so fun to hear Two Rivers sing, to hear the blend of voices...
Every single song was a jewel, and you all held up each one, showing its sparkles!"  A. Cook

Concerts are free; donations accepted for Shelter from the Storm (Jaffrey)
and Monadnock Area Transitional Shelter (Peterborough).


For more info:  keysofmb@gmail.com  603-924-9527
Developing New Ways of Perception
Wednesday, February April 24, 6:30 PM (and monthly on the fourth Wednesday) in the Johnson Room (in the office building behind the church) of the Peterborough Unitarian Universalist church.
Have you ever wished that you could "see" energy? Or maybe you'd like more vivid dreams? Or perhaps you'd just like a clearer sense of purpose and of your own heart?  
We all possess the ability to see, sense and understand, and it manifests differently in each of us. Clairvoyance, Clairaudience, Clairsentience and even common sense are among the gifts we may possess -- gifts that lie dormant until we choose to use them. 
At this ceremonial gathering, you'll receive the Rite of the Seer.  Known in the Andes as the "Kawak" rite, it is named for an ancient tribe said to carry the gift of actually seeing energy. The rite is an installation of extrasensory pathways of light, pathways that initiate new abilities to see, sense and understand. These pathways are connected to the Heart Center of our luminous bodies, helping us to perceive through the state of unconditional love known as "Munay" to the Andean peoples. 
A short experiential teaching piece on Levels of Perception will be offered after the ceremony. These "levels" are accessible to us all; through them we begin to interact with the world as the shamans do.  
Your contribution of $10-20 will be accepted as "Ayni" (right relationship) and will serve the sustainability of these gatherings.  We cherish your participation, your trust and the energy you bring to the "Ayllu" (community/extended family in the Quechua tongue).
Hospice Choir
I am pleased to announce the first rehearsal of a new hospice and palliative choir serving Peterborough and the surrounding area.
Traversing is dedicated to providing ease and comfort to those traversing the boundaries between this life and the next. We provide a calm and gentle presence at the bedside, singing simple songs from many traditions, which offer solace and peace to clients, families, and caregivers alike.
We will rehearse on the 4th Thursday of each month, from 7:30 - 9:00 PM,
in Peterborough, beginning Thursday, April 25, 2013.
All are welcome, although you should be comfortable with the following:
·         be able to match pitches and learn music easily
·         holding your part in a small ensemble
·         a willingness to learn and grow in an intimate setting, and to give of ourselves to others in a healing environment
·         to be able to blend your voice gently with others, and to communicate kindness with your voice.
·         to be willing to grow together, towards the common goal of using music as a way to assist and affirm life's transitions
·         be willing to attend a short orientation meeting with the local hospice volunteer coordinator (these orientations will occur during a rehearsal time)
Membership is on a volunteer basis. I ask members simply to cover the costs of the music ($5 - $10 at MOST*), and to be responsible for keeping their music organized and ready for rehearsals. I provide initial first copies of all the repertoire, and binders. 
This choir is an outreach project of Two Rivers Community Choir, directed by Marybeth Hallinan. 
For more info about Two Rivers, or Hallinan, see websites below. 
Please feel free to contact the director if you have questions, who can be reached at keysofmb@gmail.com and 603-924-9527.
Rev. Dr. David Usher's New book
Dear Friend,
I am delighted to tell you that my book Twelve Steps to Spiritual Health, has now been published by Lindsey Press and is available through Unitarian Headquarters at Essex Hall, any good book shop, or online.  As the title suggests, the book is a compilation of twelve things you can do to enhance your spiritual health, and is written in easily accessible non-theological language.  It is designed for personal reading, but each step concludes with a set of questions so it is also a good resource for a study group.
The price is £8.00 + p&p via Essex Hall (tel. 020 7240 2384; e-mail: alonghurst@unitarian.org.uk). Here is the link for Amazon purchases: http://www.amazon.co.uk/Twelve-Steps-Spiritual-Health-David/dp/0853190836
I hope you will buy a copy for your own use, and perhaps for a study group with your congregation.
With best wishes,
David
------------------------
Broke Is not Broken  from Belief.net
Being broke is not the same as being broken, losing money is not the same as being lost, and finding your balance is not something you can do on a balance sheet.
----------------------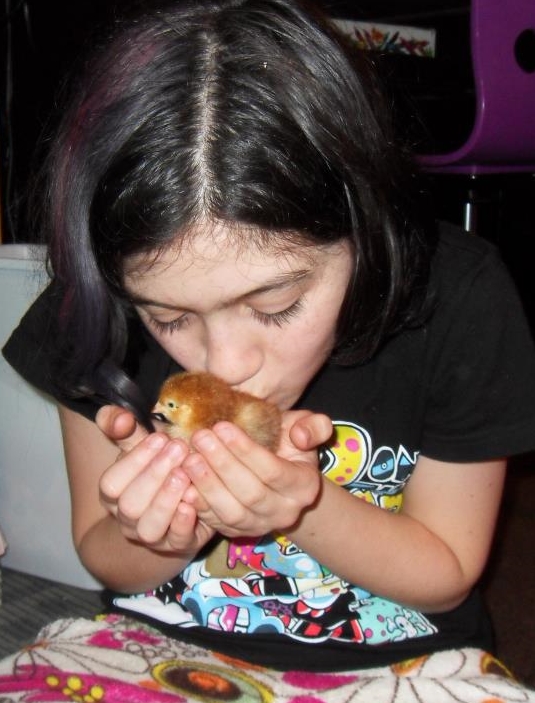 Whoa Nellie!  This may be the LONGEST Weekly Bits yet! Well, if you hung in there and read through this whole thing, you can be rewarded with this darling picture of Catharine and one of our new babies.  How pure is this love?  It's all sweetness and fuzziness, purity and joy.  Our family  has grown by five little fuzzies and once Becket and Morgaine return from Washington D.C. they'll all have names, but until then here is Creamsicle who is currently living with her 'sisters' Bobolina, Satana, a buttermilk colored chick and a ginger colored chick in a cardboard box in our basement.  They emit the sweetest musical peeps of joy and seem to love each other as much as we love them. Isn't that the way life is supposed to be? 
Be loyal to peace, justice and the social good.  Vanessa