Nothing in life is trivial. Life is whole wherever and whenever we touch it, and one moment or event is not less sacred than another. it. You've got to really look after it and nurture it.  - Vimala Thakar -
This Sunday
Kirtan service: Heather and Ramsay Thomas and their band, Manasaa, lead an introduction to the devotional, call and response chanting practiced by several religious traditions in India known as kirtan.
Kirtan is a singing devotional style that is becoming very popular in UU congregations.
Community Hour:  Linda and Greg have agreed to bring in some food but cannot help to set up or to clean up; can someone help this Sunday?
Greeters: Tammy and Shaun O'Connor
Flowers:  Doug and Sue Copley in memory of their parents, DeWitt and Mary Smith and Ralph and Annie Copley.
Needed for Easter Sunday: warm smiles and Easter treats.  Bo Dean has agreed to greet on Easter Sunday, can someone help him with greeting that day?  Also, we need Community Hour hosts to help set up and people to bring in treats for the table.  Please email or call the office to sign up. Thank you!
From David
UUA General Assembly---if you are planning to attend the general assembly in Louisville, KY, and would like to be a delegate, please contact David Robins. 
Possible Address Change for David and Jean Robins
On our second date in 1976, we talked about our dream of building a house someday. That dream is still alive. We have found a nice 2 acre lot on the far eastern edge of Harrisville on Sargent Camp Road, where we hope to build a modest cape. We will be placing our home on Old Dublin Road for sale in April. we love the Monadnock area, and we love our employment----we are just shifting residences.
The Care Committee discussed the growing number of telephone and email scam notices. Please do not give out bank account numbers. Take the telephone number and report it to the police.  Senior citizens are being targeted in particular.
Next Care committee meeting-Monday, April 8th at 9:15 am.
Book Donations
I forgot to add the most important part during my Sunday talk on book donations to the House of Correction - where to drop off the books. I will leave a box in the Parish hall with the label, "non-fiction book donations". Also, I mistakenly stated that I was looking for fiction titles. I prefer nonfiction, please, to round out the collection. Limit is one book per donor – three max if you have three "great read " titles directed to a mostly 19 – 21 year-old (one fourth women) audience. A Great read fiction title can be squeezed in. Remember, one book passed around and read 30 times is far better than 30 throwaway titles that are not read it all. I encourage you to write a personal note on the inside cover, like, "great story about a young woman overcoming all odds." I already have received some great donations.
Thanks in advance, Joe Byk 
Buddhist meditation
Come join the Buddhist Meditation Group tonight, March 14th, at 7 pm!  Following an hour of silent meditation (both walking and sitting), there will be refreshments then a discussion of chapter 13 "Into Action" from Tsoknyi Rinpoche's book "Open Heart, Open Mind".  Reading the chapter beforehand is not necessary. 
Meditation instruction is available for those who wish it.  All are welcome.  Contact Nori Odoi or Rags Gilmore (603) 547-2650 for more information.
Wait, Wait, Don't Tell Me Who Wants to Be a PUUC Jeopardy Millionaire!
Find out when you come to the 2013 Canvass Kickoff Party!  Join members and friends, newbies and old-timers, young and young- at- heart for the kickoff of our annual stewardship campaign!   
When?  Saturday, March 16 5:30 – 8:00 p.m.
Where:  PUUC Parish Hall
Social Hour 5:30 – 6:30 Soft drinks, wine, hors d'oeuvres, live music by the UUMs, children's crafts, and a game show with host Lisa Beaudoin and our very own Vanna White, Vanessa Amsbury-Bonilla!
Immediately followed by our famous Potluck Dinner  6:30 – 8   
Potluck Suggestions
If your name begins with … please bring …
A-I    - an   Entree       J-P    - a Salad    Q-R   - Bread      S-Z - Desserts    
Want to be a contestant in our first ever PUUC Game Show?  Send Vanessa an email asap!
Want to nurture your spirit, get involved, get to know a fellow UU better over some suds?  Contact Sarah Dengler at 899-6870 or pop into the kitchen to help with clean up.
Welcoming Congregation Programming Soup and Bread Lunches:
Sunday, March 17: We will show the film, "Love Free or Die," which is about the experiences of openly gay Episcopal Bishop Eugene Robinson.
Sunday, March 24: Dr. Deborah Fabian's talk has been rescheduled.   This will feature "Sharing the Path to Wholeness," by Dr.Fabian, who describes her presentation, "I am currently an orthopedic surgeon in Gardner, MA and transitioned to female in October 2011.  I am delightfully happily married to Leslie who is in the final stages of writing a book entitledIt's My Transition Too: a shared journey of love.  I have experienced a deep sense of shame about myself for most of my life, living with depression for much of it.  Two or three years ago I could no longer tolerate my life and with the deep support of my wife and the Gardner UU church, I transitioned to female and have experienced the deepest joy imaginable.  I wish to share that journey with you."
Craft night
It's our last craft night for the winter season!  Join us for one last stitching session at Vanessa's house at 20 Winter St on Monday, March 18th at 7 pm.  It's been delicious, wooly, and warm!  
Social Justice Film
The second film in a Spring series being presented jointly by the Unitarian Universalist Church Social Justice Committee and the Monadnock Citizen Issues Project will be shown next Thursday, March 21st at 7 pm in the Church Parish Hall onMain Street in Peterborough.  Attendance is free, donations are appreciated.
The End of the Line, the first major feature documentary film revealing the impact of overfishing on our oceans, had its world premiere at the Sundance Film Festival. In the film we see first-hand the effects of our global love affair with fish as food. Filmed across the world and featuring top scientists, indigenous fishermen and fisheries enforcement officials, The End of the Line is a wake-up call to the world. Scientists predict that if we continue fishing as we are now, we will see the end of most seafood by 2048.
For questions, call 924-3037 or 899-9759.
Circle Suppers
Mark your calendars! Circle Suppers will take place on Friday evening, April 5th, Saturday, April 6th, and Sunday afternoon, April 7th.  For newcomers and those who haven't yet attended one, a Circle Supper is a potluck that takes place at members' homes (Friends are welcome to be hosts, too!).
An intergenerational event, Circle Suppers offer the opportunity to socialize outside of church, to share a meal, and to get better acquainted with other PUUC members and friends.
Sign-up sheets will be available on Sunday during the community hour.
Membership Ambassadors Needed
Do you remember the first time you came to PUUC?   Perhaps someone greeted you warmly and introduced you to others or perhaps you were left to fend for yourself.  While no one at PUUC sets out to ignore visitors, it is possible that in extending warm greetings to those we already know, we overlook those we do not know as well.  It is also possible that in our rush to conduct church business, we forget to slow down enough to simply enjoy being part of this church family. 
The membership committee will be offering weekly "Membership (re) Minders" in each issue of Weekly Bits.  We ask everyone to become membership ambassadors and apply the tips when you see someone who is new or simply new to you.  As Unitarian Universalist, we have a faith tradition that is transformational.  Our lives and the lives of those we welcome into this church family will be enriched as our membership grows.  So consider yourself a newly appointed Membership Ambassador and help the membership committee carry out our membership ministry.
Hundreds of thousands of people will visit our UU congregations this year. They are looking for a religious home, for spiritual sustenance. They want to be accepted, to be engaged, to be loved. Smile. Say good morning. Start a conversation. You are about to meet some wonderful people.
 The RE Committee is organizing a Read-a-thon as a fundraiser for RE at the church.
  We have collected a wonderful selection of books that will be available in the RE main room throughout April and May for kids to borrow each week and read to others.  Aside from being a fundraiser, we hope the kids will feel great satisfaction in being able to give someone else the gift of being read to as well as deepen their own spirituality and reading abilities by reading the selected books. We are also looking to strengthen intergenerational connections in our church and community.  We carefully chose books that have a spiritual message or reminded us of one of the UU principles.  We hope all that are interested will enjoy taking part in this.
Children could be reading to: a grandparent or older relative ,a younger child, a neighbor, a resident in a nursing home, a pet or someone who can not see well.
We will have a sign-up sheet for sponsors.  Sponsors will pledge to give $1 for each book that the child reads to another person.  A sponsor might also like to have someone read to them, but the people being read to will not necessarily be sponsors. (We will have a $20 cap on the amount each sponsor could end up giving.  Sponsors are free to donate more if they would like.)  We will also reserve a Sunday in May during church to take the kids to Summerhill to read to some residents there.  If you have any questions feel free to contact Char Russell James, Meredith Martin or Linda Scerbinski.  Keep your eyes and ears out for more information about this fun fundraiser in the weeks ahead!
Community
Plowshare Farm warmly welcomes back electric earth concerts and invites you to join us in welcoming THEBORROMEOSTRING QUARTET
Saturday, March 23rd at 3:00 p.m. for a performance by one of the most sought-after string quartets in the world as they bring us the music of Beethoven.  Featuring Nicholas Kitchen, Violin; Kristopher Tong, Violin; Mai Motobuchi, Viola and Yeesun Kim, Cello.
~ Courtesy of Music for the Mountain:
Electric Earth Concerts' mission is to share music's enlightening and healing
power.  One aspect of that is to bring music into communities, like
Plowshare Farm, where it can make a difference.
Donations are welcome, but not required --- Please just come and enjoy!
For more information, call Plowshare Farm, 547-2547 visit
www.electricearthconcerts.org or www.borromeoquartet.org
(Rain or shine) We look forward to seeing you--
Plowshare Farm Lifesharing Community
- sharing joy, work and meaningful lives
32 Whitney Drive
Greenfield, NH 03047
603.547.2547
A statewide gathering for hospice singers.
Saturday, March 23, 2013.
9 AM - 4 PM
Exeter Congregational Church.
I will be leading an afternoon session, introducing a song to the group,
and networking with other hospice groups in the state of NH.
I will also be introducing (an outreach project of Two Rivers Community Choir), 
a hospice and palliative chorus now forming in Peterborough.
This wonderful day-long workshop will include time for other state hospice choirs to share some of their music,  a reading session (a chance to join your voices with others in new songs), and a chance to see how other groups engage in this unique musical offering that is hospice and palliative singing.
I have room for 3 in my car, and would love to carpool.
Admission is free; pack a brown bag lunch.  I suggest packing water.
Coffee, tea, and treats provided by the folks in Exeter.
RSVP to me if you are interested; contact me with questions or for more info!
Please forward this invitation to anyone who may be interested!
Cheers, solace, and song,
Marybeth
-----------------------------------------------
 The doors we open and close each day decide the lives we live.

- Flora Whittemore -
------------------------------------------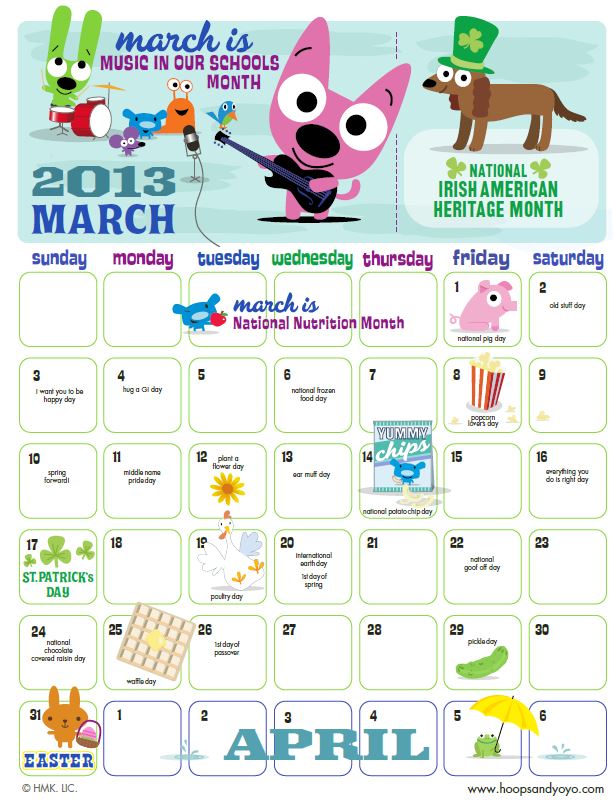 Howdy everyone.  Today is national potato chip day!  I suggest not going overboard on those chips however. I know... you can't eat just one…but try!  (In case you didn't know, they're not good for you...)
Yesterday was 'ear muff day'.  I'm thinking today would be a better day for ear muffs as it's cold again….brrr!
How do I know these things, you ask?  Because I have my handy-dandy-rootin'-tootin' Hoops and YoYo calendar.  These guys are just my style: small, colorful and silly.
I'm looking forward to 'everything you do is right day!' How's that for validation?  
Be loyal to peace, justice and the social good. (And have some fun while you're at it!) Vanessa