The Social Justice Committee of PUUC is involved with initiatives to help feed those in need in the Monadnock Region.
Monadnock Hunger Walk
The 2021 virtual Mondanock Hunger Walk is being held throughout the month of April to benefit our local food pantries and food programs.  Ask your friends and neighbors to walk with you any time during April.If they can't walk ask them to sponsor you!  Walk between April 1 and May 1 in your own neighborhood or favorite trail. Distance is not the issue; commitment to raising money to serve our neighbors is. 
Download Sponsor forms, and a List of addresses for pantries and programs which may also be found on the Monadnock Hunger Walk 2021 Facebook page. 
On Saturday, May 1st, The Monadnock Hunger Walk will happily celebrate its 5th year - we hope you join The Walk to support our local food programs in these times of need.  For more information, call Julie  at 899-9759 or email.
Some of the organizations that we support:
End 68 Hours Hunger
The Peterborough Unitarian Universalist Congregation supports End 68 Hours of Hunger, which is a public not-for-profit effort to confront the approximately 68 hours of hunger that some school children experience between the free lunch they receive at school on Friday afternoon and the free breakfast they receive at school on Monday morning. This weekend program, established in New Hampshire in 2011, puts nourishing food in the hands of school children to carry them through the weekend. PUUC collects vegetable soups that we donate to the organization. For more information go to the End 68 Hours of Hunger website https://www.end68hoursofhunger.org.
Community Supper
Free Community Suppers, every Wednesday evening from 5:30 to 6:30 p.m. (Suspended until the COVID pandemic is over.)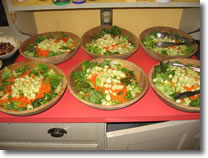 Enjoy fellowship and a good meal.
vegetarian or meat marinara spaghetti

fresh garlic bread 

fresh salad

desserts

juice, milk, coffee, tea
Help in the kitchen is always appreciated. ConVal High school students are encouraged to volunteer for Community Service hours!
Since 2003, a free spaghetti supper has been served to as many as 100 people each week. Originally supported by the Peterborough Unitarian Universalist Church, the supper is completely volunteer-led (by volunteers ranging in age from 10 to 90) and has received small grants from organizations such as NH Charitable Foundation and other area foundations.
The mission is to provide dinner in a social setting for a diverse cross-section of Monadnock area residents; to feed residents for whom the cost of food is a challenge; to provide an opportunity for community service and training for ConVal and Conant students where they interact with a diverse population that they might not otherwise know. In addition, the supper has enabled participants to practice their principles: respect for our local community and the environment by buying local foods (organic when possible/affordable), using real china, silverware and glasses rather than disposables, and teaching and mandating recycling.
Community Meals to Go
Community Meals to Go is a collaborative project that seeks to feed our community while supporting local restaurants. It began, in part, as a way to fill the COVID-necessitated cancelling/altering of our community's amazing free church suppers (including our own Wednesday night Spaghetti Suppers) and to respond to the needs of our neighbors who have been adversely affected by the current economic disaster.
Donations are being raised to support the program. Meals are purchased from local restaurants and distributed to anyone who comes to South Meadow School on the distribution days. (Note: there is NO vetting procedure to receive free meals.)
In February 2021, PUUC's Special Collection went to Peterborough Community Meals, and it will be matched with funds from the PUUC Service Fund. Members of the Social Justice Committee are looking into ways we can help the program use sustainable packaging.
More information can be found on their Facebook page, https://www.facebook.com/communitymealstogo