Fri 12/21/18

7:00pm

to

8:00pm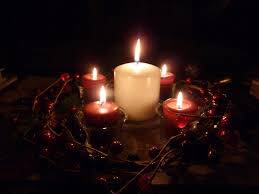 Marybeth Hallinan, Music Director 
and 
Peterborough Unitarian Universalist Church
present:
A Winter Solstice Singing Ritual
Friday, December 21, 2018  
7 - 8 PM
UU Church Sanctuary
25 Main St. Peterborough, NH 03458
A community-wide choir celebrate the winter solstice through song and 
spoken word. This beautiful work written by Julie Forest Middleton and Stasia Morgan-Appel combines original and collected contemporary songs which celebrate the longest day, and welcome the return of the light. Suitable for all ages.
Audience participation encouraged!
Concert is free and open to the public. Peterborough UU Church is accessible. 
For more information, contact Hallinan @ marybeth.hallinan@uupeterborough.org