This Sunday- June 15
Animal Friends Blessing
Sunday, June 15 at 10:15 AM, on the front lawn of the church (in the Parish Hall in the event of inclement weather).  All animal friends are welcome.  Bring photos of animals you want blessed, but can't bring in "person."  We will also have a time of remembering animal friends who have passed on.
---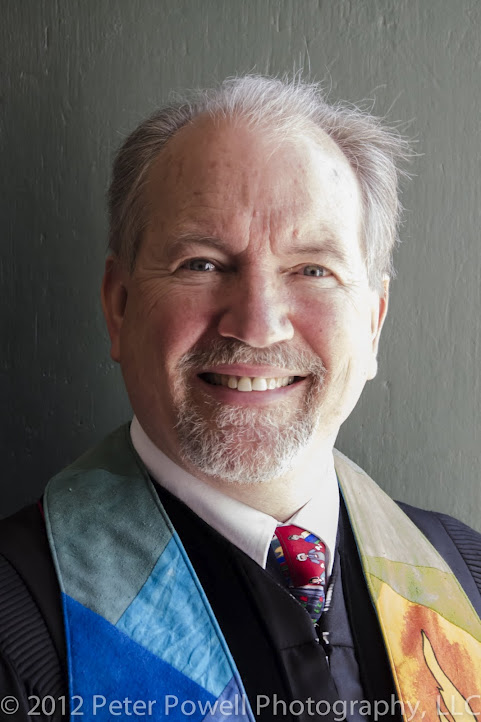 From David
TRANSITION---I make plans, the gods laugh…#2
I have transitioned from two other congregations, Franklin, NH and Bloomington, Illinois. I have never retired from a congregation while planning to live in the same area. Jean and I plan to live at 6 Sargent Camp Road, Harrisville, NH for as long as we are able. As of this writing, I do not plan to preach at other churches nor do interim ministry at other UU congregations. Still, I may preach occasionally for colleagues or congregations if they ask. I love the ministry, I love being a minister, I love being your minister…time to recalibrate for a new adventure.
            I have a few modest goals for the first year of retirement: unpack boxes; creative writing; build a canoe; gather the family for a week at a warm place by the water; enjoy weekends with Jean; do more hiking; gardening.
Join us for a clean retreat!
Beginning June 19th we are starting a "Thursday morning" cleaning retreat from 9:30 to 11:30. Every "Thursday morning" we will meet throughout the summer as we continue to clean our church home. Whether your attendance is one session or more your help will be appreciated.
Sarah Sherburne, Property Committee
Haskell Small Piano Concert - June 14 at 7:30
Pianist & Composer, Haskell Small: Praised for his "dazzlingly prodigious technique", pianist and composer, Haskell Small's illustrious career has spanned the globe. Currently he is touring the United States and, lucky for us, one of his stops is right here in the sanctuary of our Church where he will perform a program called "Mostly Mountains," playing music of Alan Hovhaness inspired by mountains, including New Hampshire's Mount Chocorua. The concert will take place on June 14 at 7:30. This is our final fundraiser for this year, going to the operating budget of PUUC, so please come, bring friends. Admission is by donation.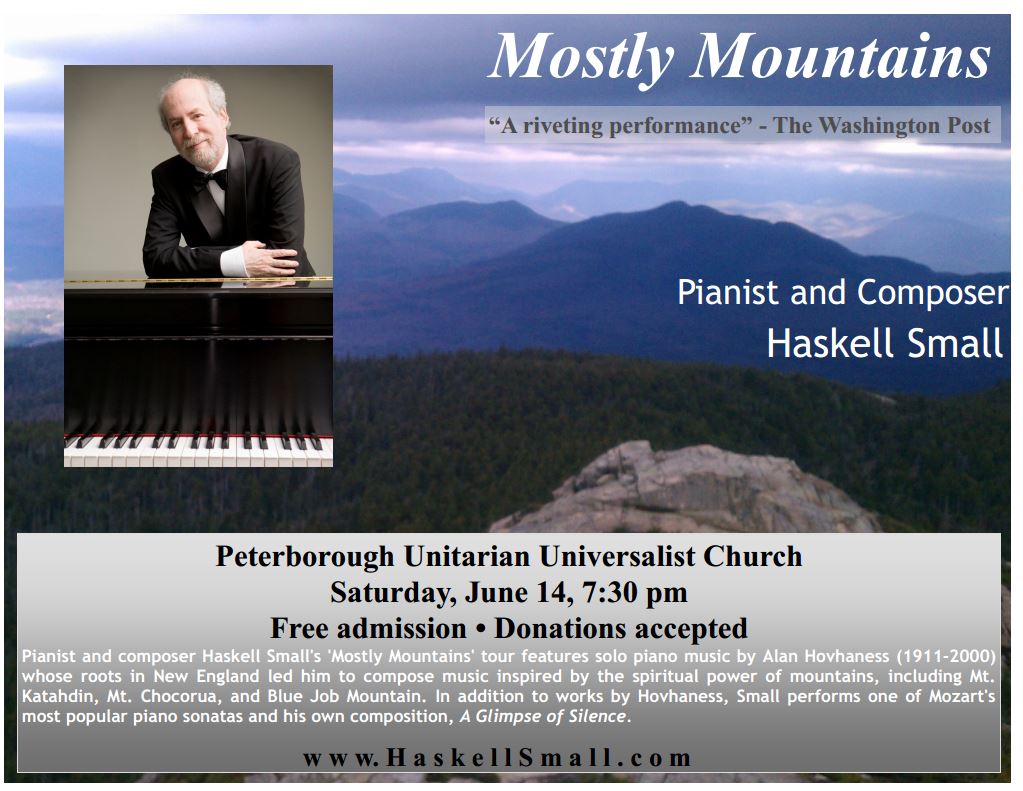 Monadnock Summer Lyceum
Sundays at 11 am in the sanctuary
June 29 – Susan Maushart---The Winter of our Disconnect: Reflections of a Digital Fugitive
July 6 – Marianne Donnelly—Louisa May Alcott: Beyond Little Women
July 13- Dr. Willy Shih—Are We Seeing a Manufacturing Renaissance?
July 20-Dr. Gail Dines—Growing Up in a Porn Culture
July 27-Dr. Bill Banfield—The Crisis of Music Culture Today: What Are the Songs We Need to Hear?
August 3-Dr. Bernd Heinrich—Nature: A Panacea to Our Problems?
August 10-MacDowell Day-No Lyceum
August 17-Dr. Lori Alvord—From Navajo Healing Ceremonies to Twenty-first Century Medicine
August 24-Lois Lowry—One Writer's Journey
Be loyal to peace, justice and the social good.  Vanessa
Summer Office Hours starting June 16:
Monday & Thursday  8 am – 1:00 pm
------------------------------
To unsubscribe go here. 
Check the box marked Weekly Bits. Enter your email address in the box provided, and click unsubscribe. You will be sent an email to confirm your choice.
Thanks!