Thoughtful tidbits for every week.  You know…to keep up your spiritual blood sugar.
---
When we show our respect for other living things, they show respect for us.  - Arapho Proverb -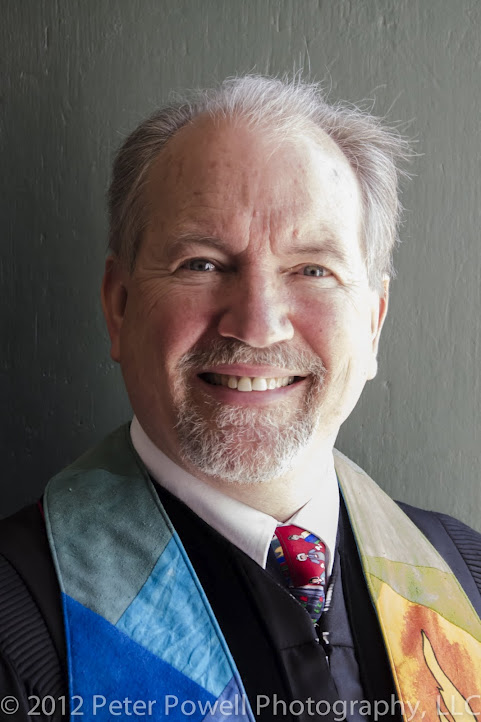 From David Robins
We are saddened to learn of the death of Fred Gillis who served PUUC as minister in 2005.
Obituary:
Reverend Frederick E. Gillis (1940 - 2013)
The Reverend Frederick E. Gillis died Sunday, July 14, 2013, after a long battle with Lewy Body disease. Fred was born in Cambridge, Mass. on Dec. 12, 1940, to Raymond and Amy (Mann) Gillis. He attended Boston Latin, Tufts University and Harvard Divinity School before his ordination and installation as the Minister at the Channing Unitarian Universalist Church in Rockland, Mass.
Fred also served as minister in Halifax, Nova Scotia, before being called to Westminster Unitarian Church in East Greenwich, R.I. in 1977, becoming Minister Emeritus in 2003. He and Judy then retired to Concord where he continued to serve the church as an interim minister in Rutland, Vt. and then Peterborough.
An active member of the Unitarian Universalist Association throughout his career, Fred was also a member of the Greenfield Group, a ministerial study group, for 42 years. Throughout a long and distinguished career he served the church in a multitude of ways. His ministry and his writings continue to be an inspiration to colleagues and congregants alike.
Fred was passionate about music, especially organs and organ music. An accomplished woodworker, he designed and built his own organ, and took particular pride in his part in helping to design and construct the Westminster Church organ. He was an avid outdoorsman and spent many happy days with his family at their camp at Newark Pond, Vt., kayaking, hiking and bird watching. Fred also greatly enjoyed building model trains and riding railways wherever he could.
He is survived by his wife, Judy Stewart Gillis of Concord; his former wife, Kate Gillis of West Warwick, R.I.; two sons, Andrew Gillis (Karen) of Bedford and Duncan Gillis (Vanessa) of Portland, Ore.; three step-daughters, Tracy Terry (Marc) of Ashland, Mass., Gillian Edeus (Leif) of Vevey, Switzerland and Erin Stewart (Jeff Fetter) of Concord; and 10 grandchildren, Meghan, Bailey, Fiona, Lizzie, Caroline, Maddy, Matthew, Cate, Philip and Henry.
There will be a service in Fred's honor Sunday, September 29, at 10:30 a.m. at the Concord UU church.
In lieu of flowers donations may be sent to The UUA Living Tradition Fund, PO Box 843154, Boston, MA 02284-3154 or to Lewy body research, MGH development office, Attn: Shawn Fitzgibbons, 165 Cambridge St., Suite 600, Boston, MA 02114.
The Bennett Funeral Home of Concord is in charge of the arrangements. Messages of condolences may be offered at bennettfuneral.com.
- See more at: http://www.legacy.com/obituaries/concordmonitor/obituary.aspx?page=lifes...
A Moral Imperative:
We've been told we're in the middle of an economic recovery. But as we approach July 24, the National Day of Action to Raise the Minimum Wage, we face the reality that workers who make minimum wage arenot recovering — they're barely putting food on the table. 

This is an outrage that our moral values insist be remedied. And there is a simple common-sense solution: we must raise the federal minimum wage to a living wage. 

Because the problem of income equality is so central to our moral commitments, we have together written and signed a statement in support of raising the minimum wage. Now we are asking people of faith throughout the country to join us. Sign our statement today and urge that workers be paid fairly. 

Millions of low-wage workers in our country work full-time and still can't afford life's basic necessities. How can we expect hardworking people to support themselves and their families on $7.25 an hour? That's just $15,080 a year for a full-time worker — $3,000 below the poverty line for a family of three. And income inequality is at an all-time high: the CEOs of the 500 largest U.S. companies make an average salary of $10.5 million. 

Everyone should share in corporate success, not just a handful of executives. On July 24, people from all walks of life — restaurant workers, activists, business owners, politicians, people of faith — will come together and take action to raise the minimum wage. Join us by signing our statement.

The U.S. Congress is currently considering the Fair Minimum Wage Act of 2013, which would make the following vital advances:
Raise the minimum wage to $10.10 per hour by 2015

Index the minimum wage to inflation

Anchor the minimum wage for tipped employees — currently an abominable $2.13 an hour — to 70 percent of the regular minimum wage
We ardently support this legislation, but it's just a starting point, and we have a long road to travel. As leaders in the Unitarian Universalist faith, we see this as much more than a political issue — it is a moral imperative. We must act as our faith dictates; we must be true to the values that we hold dear.Join the movement to raise the minimum wage and support low-wage workers. 

We believe that all working families should be able to meet their basic needs with dignity. We believe in an economy that is strong because workers have enough to live on and create demand for business. Better wages mean a real recovery: sustainable jobs, thriving families, and flourishing economies. 

Sincerely,
Rev. Bill Schulz
President
Unitarian Universalist Service Committee  

Rev. Peter Morales
President
Unitarian Universalist Association
PS. Stand with us — and millions of workers throughout the country — by signing our moral statement today.
Monadnock Summer Lyceum
Keep 'em coming.  Go to http://www.monadnocklyceum.org/ for more information.
Jul 28  Gary Kowalski Celebrating Our Kinship with All Creation 
Aug 4  August Watters with Audie Blaylock and Redline   Bluegrass: Celebrating an American Musical Art 
Aug 11  MacDowell Day  NO LYCEUM 
Aug 18  Judy Wicks   Good Morning, Beautiful Business: The Unexpected Journey of an Activist Entrepreneur and Local-Economy Pioneer 
Aug 25  Susan Snively  JUMBO AND LITTLE PHIL: Emily Dickinson's Romance with Otis Phillips Lord 
Music Soiree
What better way to spend a warm summer evening than reading some good music with friends.  The Music Soirée is on the fourth Friday of every month.  This month it is July 26, 7pm.  Come join us.  Bring some music, bring friends who play.  Let's have fun.

If you have any questions about this event please call Mary Seaver, 731-9476

Thank you,
Mary
Community
Snatam Kaur-Sacred Sound of the Soul
A Yoga and mantra workshop with Snatam Kaur
Within each of us is the Sacred Sound of the Soul. Through Kundalini Yoga, Mantra recitation, and Meditation we will resonate in this Sacred Sound. In this way of resonance, we can recalibrate our inner vibration to be in alignment to the positive life flow energy or Prana, that is at our fingertips.
Saturday, August 24th, 7 pm $30 advance, $35 at the door
Tickets available online: SpiritVoyage.com/Snatam and ArtandYoga.com
Local Tickets available at the church office, Peterborough Chiropractic, & SOUL Yoga, Healing and the Arts.
Andy's Summer Theater
Becket  Gourlay is in this production!  See times and information below.
Save the Date
Shelter From The Storm is having its "Antique Road Show & Raffle" On Friday, October 4, 2013 from 5-8 pm at the Jaffrey VFW, Route 202.  One $ 25 ticket admits two persons, and each person may have two items appraised.  There will be wine, refreshments and a cash bar.  The Finley Foundation is providing a matching grant. http://www.shelterfromthestormnh.org/ or contact Shelter from the Storm at 532-8222.
With an eye made quiet by the power of harmony, and the deep power of joy, we see into the life of things.    - William Wordsworth -
---
Just a reminder to those of you who have diligently sent me newsletter submissions for the Cresset: there is no Cresset published during July and August.  These weekly bits will have to suffice, yes?
Be loyal to peace, justice and the social good.  Vanessa