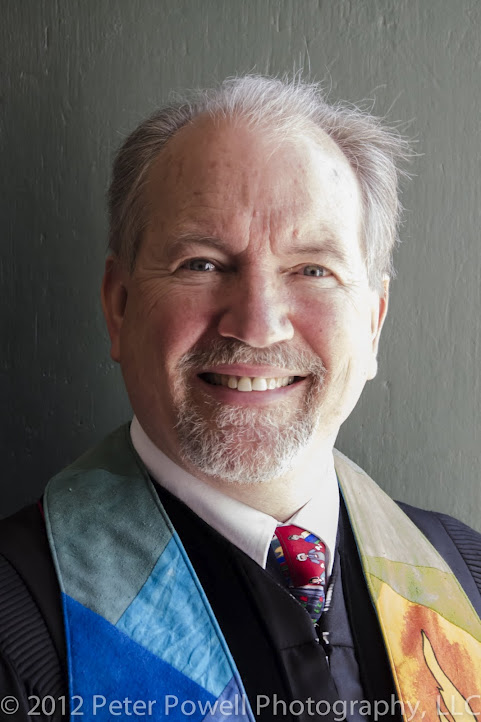 From David
Forty-one years ago I chose to devote my professional life to building community in UU congregations. It is what I most valued in the congregation of my childhood:
A feeling of fellowship with others
Sharing common principles and mission
Respecting each others needs and beliefs
Worshipping and breaking bread together
Caring about each other.
The root of the word community is the Latin word "communis" meaning things held in common.
The Standing Committee is asking us to focus this fall on building community. We are about to go through a ministerial transition and everyone will have qan important role in lifting up and nurturing what we hold in common.
David R
Margret Kolbjornsen has moved to Pheasant Wood, Room 16B where she will continue with rehab. She welcomes and appreciates visitors; best to call first @ 371-8202. Thanks for all your caring and comfort during this past two weeks, which has meant a lot to Mom and to our family. ~ Susy Mansfield
Rummage Sale
We're off to a good start. Word of the September 26 and 27 rummage and white elephant sale is spreading and bags and boxes of donations are appearing at our church, a great start.
Please, everyone, remember that your donations of clothing, toys, books, DVDs, records and CDs, accessories, sportswear and sporting goods, jewelry, dishes, glasses, home decor, cookware, utensils, and whatever you find in good and working condition will be gratefully accepted for this annual fundraiser. No TVs or computers, please.
Hint: if you haven't worn it or used it for a year it is time to donate it to a good cause.  That's what the sages say.
Drop off your clean donations at the church on Sunday morning, Monday mornings or Thursday mornings.
Monadnock Summer Lyceum
Sundays at 11 am in the sanctuary-Last one!
August 24-Lois Lowry—One Writer's Journey
Community
Happy August! Here's hoping you are all making the most of the last few weeks of summer, and enjoying this amazing Monadnock Region!
Remember, we are a non-auditioned, fun-loving choir and welcome all interested voices who can commit to regular rehearsals on Sunday afternoons from 2:30 - 5. Please contact me for more information about this awesome and accessible group!  Our repertoire is challenging, fun, inspirational, poignant, and eclectic.
Email me if you have questions or concerns, and forward this to any friends who may be interested!
All best to you and yours, for a lovely remainder of August.
Cheers, and see you soon!
~ Marybeth
P.S.   If you want to just "check us out," with no strings attached, you are welcome to attend the first rehearsal. If it feels like this group is the right match, then join us! Please RSVP if you'd like to visit. 
Rehearsals are held Sundays 2:30-5 PM in Peterborough.
Rehearsals begin Sunday, Sept 7, 2014, and run through November 30, 2014.** 
**Please note: no rehearsal Sunday, November 16,
 pre-concert rehearsal Saturday, November 22, 2:30 - 5 PM and Sunday, November 30, 2:30 - 5:00.  
Concerts are Sunday, November 23, 2014 and Sunday, November 30, 2014.

Two Rivers Community Choir is a non-auditioned choir; no music reading is required.  All that is required is a love of singing, a willingness to learn, and a commitment to be at rehearsals.

This is the choir's sixth year bringing multicultural and community song to life, in a nurturing yet inspiring and challenging setting. We sing many genres, full of passion, intrigue and energy, not limited to contemporary, Renaissance, Gospel, Shape note, and music from the Republic of Georgia. 
Singers have fun while learning and growing together in both community and song. 
Our concerts are fund raising events for local non-profits. 

This is a mixed choir (SATB), all voices (ages 17 and up) are welcome to join.
There is no formal audition, but a requirement to be present at rehearsals to prepare for a performance at end of the semester (concerts are Sunday, November 23, 2014 and Sunday, November 30, 2014). 
There is a fee for membership, which includes music, rehearsal space.
Scholarships available! Contact me for more info!
For more information, or to join the group, contact the director,  at keysofmb@gmail.com or 603-924-9527.  http://keysofmb.squarespace.com
Ok, it's the last stretch of summer. Those kids will be back in school next week. Enjoy the weekend, be loyal to peace, justice and the social good.  Vanessa
Church Office Summer Hours:  Monday & Thursday  8 am – 1:00 pm.
-----------------------------
To unsubscribe go here. 
Check the box marked Weekly Bits. Enter your email address in the box provided, and click unsubscribe. You will be sent an email to confirm your choice.
Thanks!