This Sunday- April 6
Sermon: "The Poet Maxine Kumin"– Rev. David Robins
Greeters: Phil Jones and Bo Dean
Community Hour:  Canvass Committee- Canvass Celebration
Flowers: Bryan and Linda Field in memory of Linda's mother Paula Leeds.
---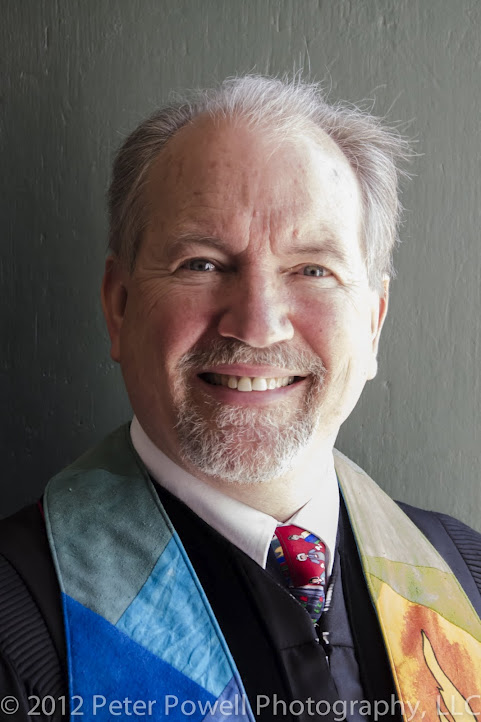 From David Robins
In Remembrance: Constance Bastille, age 88, passed away on Friday March 28 at Pheasantwood. The service for Connie will be at PUUC on Saturday April 26, 1pm. David Robins will co-officiate with the Rev. Tim Johnson of St. Mary's Old Catholic Church of New Ipswich, where Connie was a communicant.
The Old Catholic Church is a worldwide body whose roots are embedded in the teachings of Jesus and the ancient church. It is democratic and egalitarian for both laity and clergy. It is Universalist Christian in theology, believing that God withholds grace from no one. They welcome LGBT persons into matrimony and offices of deacon, priest and bishop. Celibacy is not observed. Women are welcomed into the positions of deacon, priest and bishop. They celebrate diversity and ecumenism.
Retirement
I want to keep you up to date on my plans for retirement. The Standing committee and I have agreed that the best plan for all of us would be for me to work full-time and then retire on December 31, 2014. This would make for a clean transition to an interim minister for 18 months, followed by a successful call of a new permanent minister.
Please call or email me if you have any questions.
A Tantalizing Story
Once upon a time, in the year 2014 to be exact, a UU congregation with a beautiful home in the region called Monadnock held its annual pledge campaign so they could continue to grow and thrive. The Committee for Fun Pledge Campaigns (CFFPC) invited everyone to join in and gave out yummy cupcakes and cheerful stickers. Very quickly the Big Green Church Thermometer rose. By March 30 the green gauge was nearing the rooftop. 87% of their goal had been reached with small gifts and medium gifts and large gifts! $13,000 remained.
It happened that a fun party with music and UU jokes and silly songs was planned for Sunday, April 6 right after church. Could the CFFPC get everyone to help? Would they reach the goal that Sunday? Would they reach the steeple top and hoist the rainbow flag?  --TO BE CONTINUED. 
Informational Meeting
Sunday, March 30, 2014
Following the Morning Service (est. 11:45)
The Standing Committee will discuss plans for the Rev. David Robins' retirement, for the search processes for an interim minister and for a settled minister, and will answer questions from the congregation.
Child care will be available.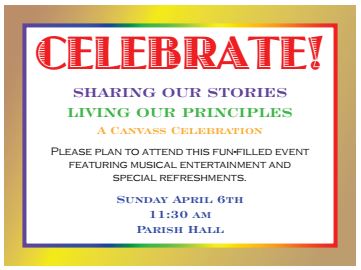 This Sunday, April 6th at 11:30 am after the church service we will have a Canvass Celebration. Please plan to attend this fun-filled event featuring musical entertainment and special refreshments.
Welcoming
Allow people to not answer your questions.  Sometimes each of us asks questions that others may choose not to respond too for a variety of reasons.
April 4th Parish Hall Open Stage features Eric Blackmer
Eric Blackmer is the featured performer at the April 4th Parish Hall Open Stage. This is an intimate coffeehouse atmosphere, a laid back comfortable venue for listening to local musicians. Eric, a regular, runs the sound and plays a couple of tunes nearly every month. This will be an excellent opportunity to experience more than just one or two songs and to appreciate more of the depth and range of his musical repertoire.
Eric is a multifaceted musician. He is primarily an acoustic guitarist who sings, but he started out as a rocker in original bands around Boston. He has been a street performer, a busker, playing folk music. He often accompanies other musicians, especially playing Celtic music with flutist Chaz Beauleau. As a solo act he plays mostly original songs which range across many genres, styles and emotions.
Blackmer has two CDs of original music under his belt. How I Survived the 00s is a retrospective album, recorded from '05 to '10, containing original songs spanning 40 years. He says "This music is literally what I did to survive that difficult decade." At the End of the Carpool Tunnel by Alight is a joint effort with songwriters Lisa Murray of Temple and Charlie Metzler of San Francisco. Both CDs will be available for special prices at the show.
Another facet of Eric Blackmer is his expertise as a recording and live sound engineer. His local clients include Animaterra and Trip to Nelson. He runs sound for the Monadnock Summer Lyceum and does festival sound for the Maine Celtic Celebration and Free Range Music Festival. He served for seven years as director of Sales and Marketing at Earthworks Audio in Wilton, and worked for Guitar Center as a regional Pro Audio sales trainer and product expert covering Colorado, Utah, Nevada and Idaho, before returning to work in their New England stores.
But wait there's more! He also builds recording studios. Across the years he has done building work for such notables as Steve Tyler, Joe Perry, Tom Sholtz, WGBH, Marley Marl and Daddy Yankee. Most recently he built a 2 car garage conversion called Sound Shuttle in Boxford Mass, and a 2,500 square foot facility in Boston called Soundscape Productions. Eric spent last summer working to resurrect his barn on Grove Street which he hopes to turn into a music performance space and recording studio.
 On April 4th sign up for performers begins at 6:30. Music starts at 7:30 and the feature comes on around 8:30. There is a suggested donation of $5 at the door to benefit the PUUC and a hat will be passed for the feature performer. If you haven't yet been to the Parish Hall Open Stage, you really should. The Monadnock region is blessed with a wealth of musical talent many of whom show up for this First Friday event. An evening spent at this venue is never dull. 
Cleanliness is Next To.....
Thank you to the crew who began cleaning the sanctuary on Saturday, March 22, 2014: David, Dwight, Ed, Joy, Julie, Marsha, Phil, Sarah, and Wayne.  Both the camaraderie and the pizza were of the highest quality. 
The next opportunities to help out  are scheduled  as follows:  
Walk Through Inspection 9:00 AM  Sunday  April 13, 2014
Inside Cleanup #2   9:30 AM  Saturday  April 19, 2014
Outside Cleanup    9:30 AM  Saturday May 3, 2014
Inside Cleanup #3 (If needed)  9:30 AM Saturday  May 24, 2014
Community
CELTIC FIDDLER..... 
HANNEKE CASSEL
featuring: Mike Block, cello & Christopher Lewis, guitar
Friday April 4, St Paul's Church, Newburyport
Saturday April 5, The Peterborough Unitarian Universalist Church
Tix & Info: www.HeptunesConcerts.com

"Exuberant and rhythmic, somehow both wild and innocent, delivered with captivating melodic clarity and an irresistible playfulness..." ---Boston Globe
Come join fiddler Hanneke Cassel & her band for an evening of Scottish/ Celtic influenced fiddle music with America's leading interpreter of the musical genre in two of New England's landmark meetinghouses. Her charismatic fiddling has brought the native Oregonian many honors and awards. She is the distinguished 1997 U.S. National Scottish Fiddle Champion; she holds a Bachelors of Music in Violin Performance from Boston's prestigious Berklee College of Music; and she has performed and taught across North America, Europe, New Zealand, Australia, China, and Africa. Hanneke has recently joined the illustrious faculty at her alma mater, Berklee.
Hanneke and her cellist, Mike Block, were married in January and were very fortunate to have their friend, Yo Yo Ma, perform at their wedding.
Hanneke's latest release, Dot the Dragon's Eyes (December 2013) features an all-star cast of musicians, including Mike Block, Rushad Eggleston of Crooked Still, Jeremy Kittel formerly of Turtle island String Quartet, Ryan McKasson, Cali McKasson Kovin, Christopher Lewis, and Keith Murphy. Influences from Scotland to China, along with grooves and musical innovations from the hip Boston bluegrass/Americana scene, fuse together to create a uniquely American approach to Scottish music.
Hanneke will be joined by cellist Mike Block and guitarist Christopher Lewis. HAILED BY YO-YO MA as the "ideal musician of the 21st Century", Mike Block is a pioneering multi-style cellist, composer, and educator living in Boston. A graduate of the Juilliard School, Mike is an Associate Professor at the Berklee College of Music and performs with many groups, including Yo-Yo Ma's Silk Road Ensemble, and he performed on Mark O'Connor's Appalachian Waltz. Canadian-native Christopher Lewis provides the driving guitar sound in the group. In addition to his work with Hanneke, he has been involved with album production and performance in the Boston indie rock scene. These three musicians create a sound on the cutting edge of the acoustic tradition, while retaining the integrity and soul of traditional Scottish music.
Hanneke's Website: http://hannekecassel.com/
Youtube Video LInk:jhttp://www.youtube.com/watch?v=i3UzpNFIUro
Part time work
We are looking for a driver of a dump truck (operator's license) to make deliveries in the Monadnock region one or two days per week for 4 to 6 weeks, starting approximately mid-April.
Please contact Mike Lombard: 924-5050 or Milo3458@gmail.com
Film: Inequality for All
This film, released in September 2013 features Robert Reich, professor, author, and former US Secretary of Labor, demonstrating how the widening income gap is having a devastating impact on the American economy. Using humor and a wide array of facts. Reich explains, how the massive consolidation of wealth by a precious few threatens each of us, our workforce, and the very foundation of our democracy.
The film inspires us to consider the question: How do we as people of faith heed the call to care for 'the least of these' among us?
Admission is free, and light refreshments will be available. All welcome!
April 27th, at 6:30 pm at the Union Congregational Church at 33 Concord Street.
Be loyal to peace, justice and the social good.  Vanessa
Times you can usually find someone in the church office
Monday 8:00 to 4:30 pm
Tuesday 8:00 – 10:30 am 
Wednesday mornings you can sometimes find John Richards in the office helping out while David is taking sabbatical days. Call first!
Thursday 8:00 – 4:30 pm
Friday ...closed
-----------------
To unsubscribe go here. 
Check the box marked Weekly Bits. Enter your email address in the box provided, and click unsubscribe. You will be sent an email to confirm your choice.
Thanks!