October 6, 2015
October our color is red, representing the theme: "Respect the importance and value of every person"
as a reminder to covenant to affirm and promote the inherent worth and dignity of every person.
If you're not seeing the pictures, click the download link at the bottom.
---
This Sunday: October 11, 2015
Sermon: "The Challenge of Columbus," Rev. Shayna Appel.
Greeters: Bo Dean and ???  We need another volunteer to help Bo this Sunday.
Community Hour:  Please consider helping to make coffee for our community time in the Parish Hall.
Flowers: Sydney Wilson-Smith in honor of the life and in memory of Daniel Wilson.
(To sign up, go to:  http://www.signupgenius.com Log in with your login name and password, or click 'Find a Sign Up' at the upper right, use puuc@uupeterborough.org as the email to search. Or you can call the office at 924-6245 or simply respond to this email. If you call me after 12:30 on Fridays, I will not get the voicemail. Email is better.)
Volunteers Needed!  Volunteers Needed! Please call Tom Badgley at 588-2979
Two weeks To Go!
The Rummage Sale and White Elephant Sale dates are approaching fast -- Friday, Oct. 16, from 6-8 p.m., and Saturday, Oct. 17, from 9 a.m. - 2 p.m. Following is a chart that will show you what has to be accomplished in the next two weeks:
This Week
Wednesday -- Drop off items on the two tables between 4 and 6 p.m. on the right as you enter the dining room. Alert! We have had to lock the garages because someone took a golf club from garage #1. Would the person who took the club (a driver) please be thoughtful and return it? It has been spoken for and was put there to help raise money for the church functions.
Friday -- clothes and linens sorted from 9-11 a.m. Donations of clothing linens and white elephant will be accepted during this time.
Sunday, Oct. 11, after Community Hour -- tables to be carried from storage and set up in the Parish Hall, and boxes of white elephant items need to be carried in from garages #1 and #4. Please give us an hour of your time helping to arrange the tables and set out the boxes for volunteers coming in on Monday.
Next week
Monday, Oct 12 - Friday, Oct 16 - 9 a.m. - 1:30 p.m. -- sort clothing downstairs and unpack boxes of white elephant items. Your time and presence are valuable.
Wednesday  Oct 14, after the Community Supper (6:45 p.m.) -- arrange tables in the dining room for the clothing and linens sale.
Friday: the last day for arranging and pricing everything for the sale. Reception eats may be dropped off in the upstairs kitchen between 9 a.m. and 1:45 p.m., or after 5:30 p.m.
Saturday: Sale starts at 9 a.m. At noon, anything on display on sale for $2 a bag. Buy as many bags as you want. At 1 p.m., everything on the tables is free. Clean-up starts at 1:45 p.m., as the crowds dwindle. Sale over at 2 p.m. Volunteers needed to bag the leftovers and help set up the dining room and Parish Hall for Sunday.
Beyond Categorical Thinking – October 18
"The best part of the whole weekend was the way in which the trainer was able to help us see our biases and growing edges." This is what one member of a UU congregation said after attending the Beyond Categorical Thinking (BCT) program. Our BCT worship service and workshop will be held on Sunday, October 18, 2015 from 12:00 noon until 3:00 pm. A trained facilitator will guide us in conversation, and we will have a chance to examine how we can avoid letting prejudice become a part of our search process. Lunch will be provided, as well as childcare. Attendance is encouraged for everyone in the congregation. Please rsvp by October 11 to Laura Gourlay or Ray Dodge. Thank you in advance for participating in a very important part of the settled minister journey! If you have any questions or need additional information, please contact Laura at 547-0180/lkgourlay@gmail.com or Ray at 499-1067/rtdodge78@gmail.com.
Buddhist Meditation
"In the beginning, as the immediacy and complexity of life changed, I struggled with it.  At first I managed only by compartmentalizing -- my own life, his life, work life, play life, house life -- and then, finally, I learned to embrace it as a whole.  Now, for the most part, it's become seamless and I'm just living my life."  -- from One Hundred Names for Love, from The Best Buddhist Writing 2012.
The Buddhist Meditation Group will be meeting at 7 pm this Thursday, October 8th.  Come join us!
Because the last session was cancelled due to illness, we will still be discussing One Hundred Names for Love by Diane Ackerman from The Best Buddhist Writing of 2012 edited by Melvin McLeod and the editors of the Shambhala Sun magazine.  Readings are suggested, but not necessary for the discussion.
Following an hour of silent meditation (both walking and sitting), there will be refreshments followed by a discussion of the reading
Meditation instruction is available for those who wish it.  All are welcome.  NOTE:  We meet in the stage area at the back of the Parish Hall.  The Parish Hall itself is dark, so be sure to come to the back door next to the Kitchen in order to find us!  Though punctuality is helpful, you are welcome to join regardless.  
Please  email  pb.buddhist.meditation.group@gmail.com or call Nori Odoi or Rags Gilmore at 603 547-2650 if you have questions about this or any other issue.
Save the Date-Circle Suppers
One of PUUC's favorite social gatherings "CIRCLE SUPPERS" are planned for the weekend of Oct. 23 - Oct. 25. They are held on Fri. & Sat. evening and Sunday afternoon in members or friends homes. We need to start planning and would like to hear from people who would like to host a supper.  Hosts choose which day they can host, determine the time and plan for the dinner and call guests on a list given to them. There are usually 6 to 10 people at each dinner. Everyone contributes to the meal, so the host does not do all the food preparation. It is a great way to get to know our PUUC congregation on a personal level. If you are interested in hosting a supper at your home, or have any questions please call Linda Scerbinski at 924-7461 or Susan Stanbury at 784-5123. We will have sign-up sheets at church as well, for those who would like to be guests.  
Community
Dear Friends of the Monadnock Chorus,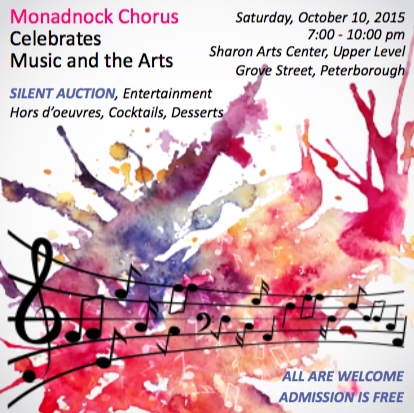 You are cordially invited to join us for our Silent Auction Event.  It will be a very special evening this coming Saturday right in downtown Peterborough.
Date:  Saturday, October 10th from 7-10PM
Location:  The Sharon Arts Center, Grove Street in Peterborough
Auction items include:  Local art, jewelry, pottery, concert tickets, voice lessons, ski lessons, tickets for sporting events, sailing excursions, a vacation getaway, baked goods, quilts, oriental rugs and home furnishings, gift certificates for local restaurants and other businesses, and MORE!
Admission is free!  We'll have appetizers and dessert foods prepared by chorus members, along with complimentary beverages.  Entertainment will be provided by the Monadnock Chorus Chamber Singers, directed by Dr. Daniel Carberg.
To see a sample of items for auction, see the link at our website:
http://www.monadnock-chorus.org/content/2015-auction-items
We hope to see you there!   Sincerely,  The Members of the Chorus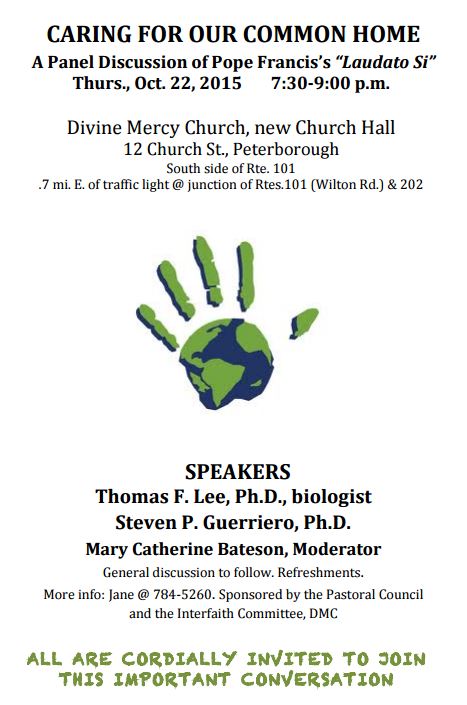 ---
We're all just walking each other home.'
- Ram Dass -
---
Contact Information and Regular Office Hours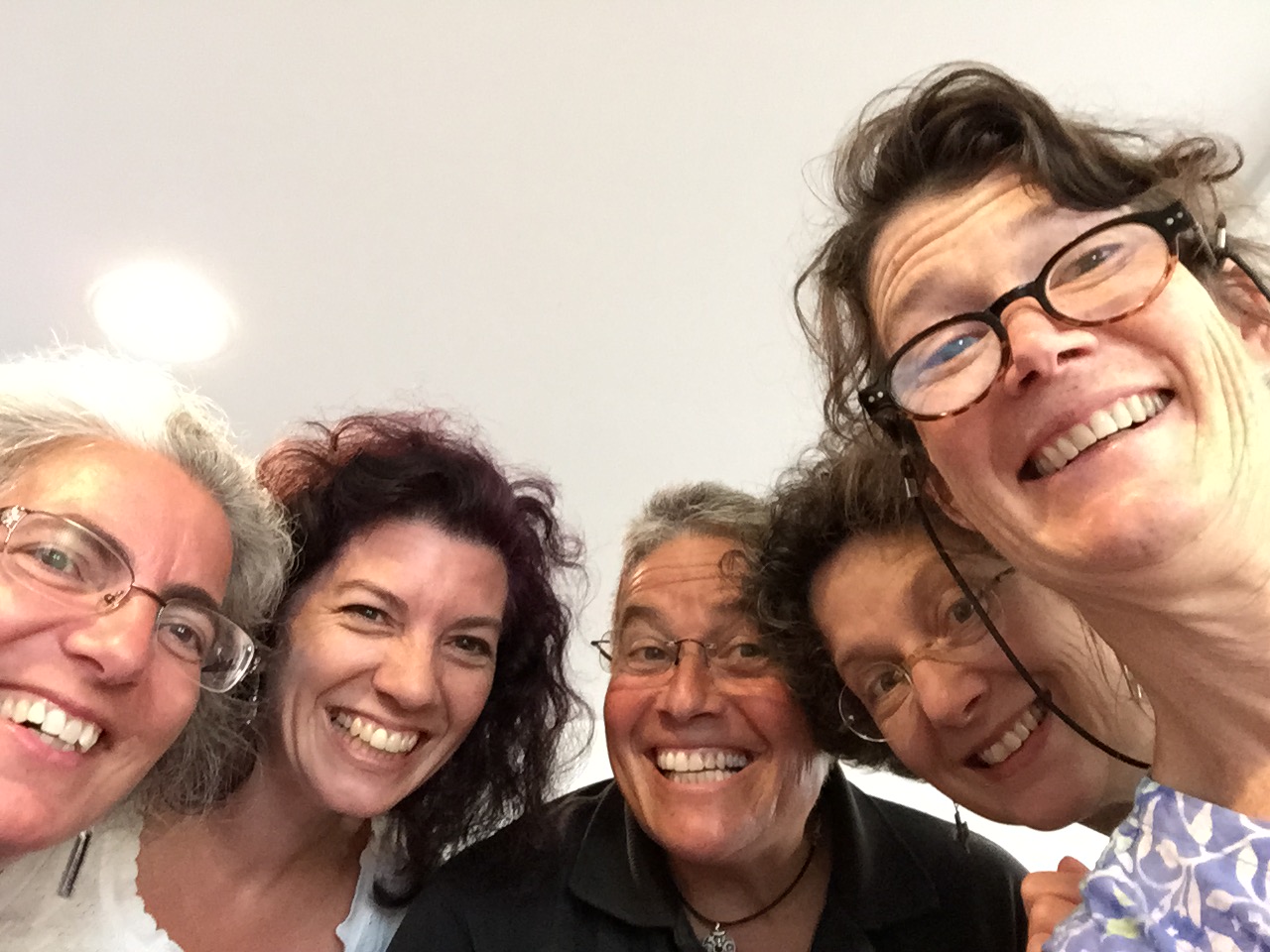 Shayna:  Monday and Thursday 10-2, Wednesday – visitation hours; (802)579-6066 
email: kshaynaappel@gmail.com  
Olivia: (603) 554-2294 
email: oholmes34a@hotmail.com
Vanessa:  Monday through Friday (yes, every day!) 8:00 am – 12:30 pm. 924-6245 
email: vanessa.amsbury@uupeterborough.org
Char:  Monday and Friday 12-4pm and Wednesday 12-5:30pm; 924-6245.  
Email: char.james@uupeterborough.org
Note* Actual times are subject to change dependent on individual schedules.
Red: Respect the importance and value of every person.
Orange: Offer fair and kind treatment to everyone.
Yellow: Yes to spiritual growth and learning.
Green: Grow by exploring ideas and finding your truth.
Blue: Believe in our ideals and voice your vote.
Indigo: Insist on justice, freedom and peace for all.
Violet: Value our responsibility in the web of life.
Our covenant makes a rainbow.
Cool.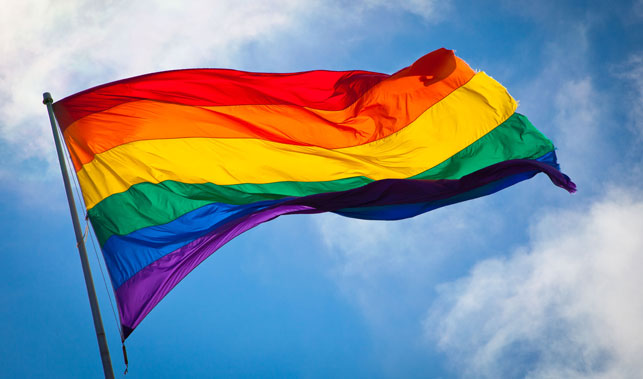 Be loyal to peace, justice and the social good.  Vanessa