Click here to view this as a pdf.  
Sunday Sermon May 24th: Worship Committee – Day of Remembrance
Sunday Service Volunteers - May 24th
Greeters:  Please sign up. Pretty please?
Community Hour:  Merry Stockwell and Rachel Billings
Flowers:  Would you consider bringing flowers for this Sunday? Yes? That would be swell.
(To sign up, go to:  http://www.signupgenius.com Log in with your login name and password, or click 'Find a Sign Up' at the upper right, use puuc@uupeterborough.org as the email to search. Or you can simply respond to this email. If you call me after 4:30 on Thursdays, I will not get the voicemail. Email is better.)
---
MINDFUL MEANDERINGS…...  by Rev. Shayna Appel
Never does hatred cease by hating in return
(reading 597, Singing the Living Tradition)
Unitarian Universalists affirm the inherent worth and dignity of every person,
and justice, equity, and compassion in human relations.
(Unitarian Universalist Principles)
We affirm the inherent worth and dignity of every person. Does every person have inherent worth and dignity? If we're born with worth and dignity, can our behavior change that status? Do murderers retain worth? Do child molesters retain dignity? Are all people worthy of respect, despite criminal actions?
Thus begins an article published by Unitarian Universalists for Alternatives to the Death Penalty (UUADP) in October of 2006. (Author: Rev. Carol Rudisill.)
It is May of 2015 and 21 year-old Dzhokhar Tsarnaev has just been sentenced to death by a jury in Massachusetts.  This sentence came as a surprise to me.  I didn't believe a jury in one of the most progressive states in the nation would return a unanimous decision for death.  Perhaps I am naïve.  But if I am naïve, I am also deeply disturbed by this decision.
Being a congregation of Unitarian Universalists, I trust we are not of one mind on a matter as big and as complex as the death penalty, but I'm also guessing I'm not alone in feeling as strongly about this as I do. 
If executed, the death penalty against Dzhokhar Tsarnaev will be carried out in our name and, presumably, for our collective interest and well-being.  How are you feeling about this?  I'd like to hear from you.  E-mail me, or call.  If there's enough interest in the matter, maybe a few of us should get together and engage in a deeper conversation.
For the record, I'm not looking for agreement here.  What I am seeking is an opportunity to discern my own faith-based values about the death penalty more deeply.   And for that, I need you, my beloved congregation!
Let's talk!  
Shalom-
Shayna
From the Standing Committee
The Standing Committee is delighted to announce that the church has signed a contract with the Rev. Shayna Appel to be our three-quarter time Interim Minister for the upcoming church year.  Rev. Appel will continue to lead many Sunday worship services and to provide pastoral care, and the Standing Committee and congregation look forward to her continued ministry in this time of transition.
Several members of the Standing Committee, in consultation with our transitions consultant, will begin work on revising the by-laws this summer.  Please contact Sarah Dengler if you are interested in assisting in this effort.
Children and the Arts Pancake Breakfast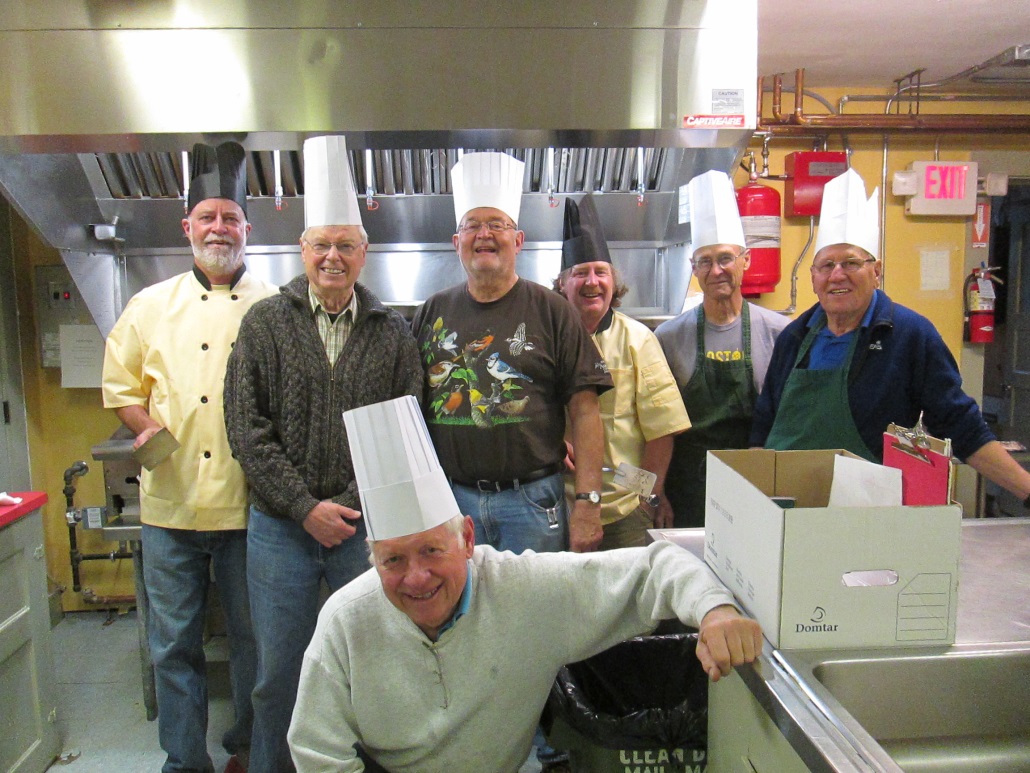 With truly gorgeous and spectacular center pieces by Vanessa, and super competent leadership by our black-hatted master chefs, Mark Makesy and Greg Scerbinski, this year's crew of Jim Fearnside, Peter Harrison, Phil Jones, Ed Morrow, Glen Peterson, and Dwight Schenk served up another successful pancake breakfast in support of the annual Peterborough Children and the Arts Festival.  Eighty-four paying customers consumed six batches of buttermilk pancakes, and forty-two boxes of sausages ( thank you again so much Brooks and Nancy Rice) along with coffee and orange juice.  Many thanks go to all who donated maple syrup and who joined us for breakfast on Saturday morning May 16, 2015.  The event cleared $311.00. 
Church Cleanup Morning
Saturday, May 30th 9-12.  Come help the final push to get the church ready for the summer: painting, raking, tree trimming, storm window removal and good fun. Pizza for all!   ~ Jim Fearnside, Property Co-chair
 
PUUC Search Committee News
We reviewed the Congregational Survey a third time and tested it a second time, so we still think we are ready to begin the Survey taking this Sunday, May 17th.  The Survey period will end on June 17th, but it would help us if you responded in the next two weeks.  Initially, the Survey will only be available on line, so please be looking for an email from us. We will complete a paper survey for anyone desiring that format next week.  Just let us know if you need one.
The importance of responding to the Survey can't be emphasized enough.  We will use your responses to create the PUUC Congregational Record, which tells about our church.  This will help ensure a good match between our new settled minister and our church.
We are being very careful regarding the anonymity of your responses.  We will not track the people who respond, so you may see emails or requests from us to complete the survey, even if you have.  Please bear with us, as we need a good response.  Please help by quickly answering the Survey.
Thanks!  ~ PUUC Search Committee
Youth Group Bake Sale
The Youth Group scored another successful bake sale during the Children and the Arts Festival.  Led by Jonathan and Laura Gourlay, proceeds of the bake sale will benefit Free the Children, an international charity and youth movement founded in 1995 by human rights advocate Craig Kielburger. Funded to a large extent by youth, the organization originally used the motto, "children helping children." A big thank you to everyone who donated homemade treats to sell.
*By the way, if you see the green vintage BRANCHELL platter around, (far right in photo) let me know. It has my name and phone number on it, but it disappeared on Saturday from the chair closet.   ~ Vanessa
Check Your Ink Cartridges!
As part of our ink cartridge recycling program we have many unopened cartridges.  If you can use any of the following, we will trade you for the empty.  HP 17, 22, 23, 25, 26, 29, 33, 45, 78, 98, 100, 901, 920; Kodak 30XL; Brother LC 41; Lexmark 50-70; Dell 21; Epson T008-201, PE-008.  Contact Dwight Schenk.
Welcoming Tips
Invite a newcomer in the sanctuary to go to coffee hour with you.  It breaks the ice of feeling uncomfortable when they go to coffee hour alone.
---
"Don't grieve. Anything you lose comes round in another form." 
― Rumi
---
Be well, be loyal to peace, justice and the social good.  Vanessa
Contact Information and Office Hours
Shayna:  Monday 2-6, Thursday 9-1; (802)579-6066
email: kshaynaappel@gmail.com  
Olivia: (603) 554-2294
email: oholmes34a@hotmail.com
Vanessa:   Monday & Thursday  8 am – 4:30 pm. Tues. 8:00 am-12:00 pm;  924-6245
email: vanessa.amsbury@uupeterborough.org
Char:  Mon, Wed, Thurs, Fri 2-5 pm;  924-6245
Email: char.james@uupeterborough.org
Note* Actual times are subject to change dependent on individual schedules.