If pictures are not displaying properly (problems with Gmail) then click here for the pdf. You'll get it all...
June 30, 2015 
It's Summer!
There are no church services during the summer, but you can come to the Monadnock Summer Lyceum at 11 am on Sundays.  See the listing below for speakers and a link to their website. The Weekly Bits will continue to be delivered to your inbox every Tuesday, unless I'm on vacation, (or if you have a Comcast email!!!).  We're still trying to figure out why Comcast subscribers are not receiving theirs. 
JOB OPENING FOR THE YOUNG AT HEART!   I am looking to hire 2 people who have experience working and playing with infants and toddlers to cover our nursery for the 2015-2016 church year. (Sept.through mid-June)  We provide nursery care for 2 hours from 9:45-11:45am for 24 Sundays.  There will also be an opportunity to provide child care for kids of different ages during church meetings which are usually held 12-1:30pm on a few Sundays during the year.  If you are interested or know anyone who would like to provide care for these young'uns please contact me:  Char James, DRE at 924-6245 or char.james@uupeterborough.org
From Sophia
Hello to my beloved PUUC Family
There are so many reasons to thank you for the care that has come my way since my sister Ginny passed away on May 19th.  Here are some of the things that have made me feel inspired and cared for:
·         I received many great cards with beautiful messages
·         People offered and gave many hugs of "love"
·         Received flowers and phone calls sharing thoughts that were and have been very helpful in this journey
I am also thankful for the amazing generosity of the caring committee – the meals I have been receiving are delicious and filled with healing love.  To be on the receiving end of this kindness is truly humbling.  This church and its members have and are still making an indelible impression on my soul.
I was unable to be at the Service of Remembrance for Tes Johnston, but I was devastated for her family and friends as we all are.  I really loved the closing that Shayna used at the end of this Service of Remembrance of Light -
"A special thanks to all of you for attending this evening.  We are better together". 
Warm regards,
Sophia Rallis
From Deb
Dear PUUC Friends,
I have retired as Organist at PUUC, effective 
June 30, 2015
.  It is hard to believe I was in my tenth year as your organist!
I will not miss the long drive on crummy roads to get there.  I have been incredibly blessed to have had the opportunity to play the finest organ
in the Monadnock area and look forward to filling in on occasion and visiting with all of you.  Have a great summer.
Fondly, Deb

Monadnock Summer Lyceum presents between eight and ten cultural events in the Peterborough Unitarian Universalist Church on Sundays, between the end of June and beginning of September.
Please join us on Sunday mornings to hear world class speakers on social, political, educational, cultural, scientific, economic, environmental and artistic topics.  Enrich your summer in Peterborough, NH in the heart of the Monadnock Region.
Presentations begin at 11:00am. Presentations are rebroadcast by NHPR on the following Sunday at 9 pm.
Presentations are free ~ donations accepted.
Wheelchair accessible.
Parking is available next to the church courtesy of People's United Bank.
Reception following the presentations in the Parish Hall.  Go to www.monadnocklyceum.org for more information.
Sun 7/5/15 11:00am 
Marjorie Heins 
Sex Wars to Red Scare: A Civil Liberties Odyssey
Sun 7/12/15 11:00am 
Dr. Warren Riess 
The Ship That Held Up Wall Street
Sun 7/19/15 11:00am 
Daniel Weeks 
Poor (in) Democracy: How America is Defaulting on Democracy, and the Long Walk to Get it Back
Sun 7/26/15 11:00am 
Dr. Jarrett Byrnes 
Reef Life in Your Back Yard: Kelp Beds, Meadows and Forests
Sun 8/2/15 11:00am 
Meg Petersen 
Reclaiming the Core: Education for Social Beings and Idea Creators
Sun 8/9/15 
MacDowell Colony Medal Day 
No Lyceum
Sun 8/16/15 11:00am 
Skip Gorman and Gordon Peery 
The Sources and Evolution of New England Contra Dance Music: An Annotated Concert
Sun 8/23/15 11:00am 
Rev. Keith L. Magee 
Race in America: Can We Talk?
Community
Dear Friends,
This fundraiser on July 19th (see info below) is to benefit three very active, compassionate, and skillful organizations on the ground in Nepal, who are providing direct aid with no overhead or bureaucratic interference.  After all the immediate disaster headlines have waned, Nepal is entering perhaps an even more critical challenge in its recovery: developing sustainable food sources, shelter, infrastructure, and schools. These organizations are utilizing their able volunteers to "build back better" and develop tools of resilience for the victims of the recent earthquake.  Help is needed now more than ever as they move through this challenge.
Please come and view an inspiring movie about the heart of Buddhist thought and action from nearby Tibet, and its journey to the West.  Nepal was a first stop as the occupation of Tibet by the Chinese forced these profound teachings to travel to our culture. There is a large Tibetan Buddhist refugee community in Nepal, in the mountain regions north of Kathmandu. These are the areas that were most affected by the earthquakes.
The filmmaker is from Amherst, MA and Lama Tsultrim Allione, featured in the film, is originally from Keene, NH.
Please may we ask you to send this announcement to your networks and help us spread the word.
Thanks so much and hope to see you at the Colonial, July 19th at 6pm.
All best to you,
Len Fleischer and Erika Radich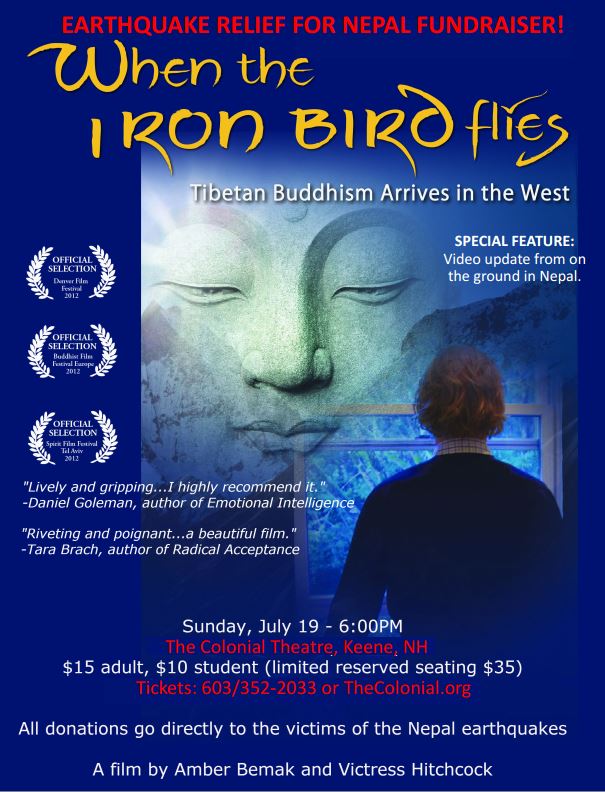 ---
A journey is a person in itself; no two are alike. And all plans, safeguards, policing, and coercion are fruitless. We find that after years of struggle that we do not take a trip; a trip takes us.
John Steinbeck
Be well, be loyal to peace, justice and the social good.  Vanessa
Contact Information and Regular Office Hours
Shayna:  Monday 2-6, Thursday 9-1; (802)579-6066  (no summer hours, please call)
email: kshaynaappel@gmail.com  
Olivia: (603) 554-2294  (no summer hours)
email: oholmes34a@hotmail.com
Vanessa:   Monday & Thursday  8 am – 4:30 pm. Tues. 8 am-12 pm;  924-6245 
Summer Hours: Monday & Thursday 8 am – 2 pm, Tues 8 am – 12 pm. Yep, I'm here.
email: vanessa.amsbury@uupeterborough.org
Char:  Mon, Wed, Thurs, Fri 2-5 pm; 924-6245.  I plan to check my church e-mail on Mondays throughout the summer. I do not have summer office hours.  My regular church office hours will resume on Monday August 17, 2015.  Have a wonderful summer!
Email: char.james@uupeterborough.org
Note* Actual times are subject to change dependent on individual schedules.