This Sunday – January 25, 2015
Sunday Service Volunteers:  
Greeters: Suzy McDonald and ???  Can someone help Suzy?
Community Hour: Jenny and Tony Brinsdon
Flowers: Would anyone like to bring flowers this Sunday?
To sign up, go to:  http://www.signupgenius.com Log in with your login name and password, or click 'Find a Sign Up' at the upper right, use puuc@uupeterborough.org as the email to search. Or you can simply respond to this email. (If you call me after 4:30 on Thursdays, I will not get the voicemail. Email is better.)
Service and Sermon: Worship Committee
---
Mindful Meanderings         by Rev. Shayna Appel
Last weekend during worship, in our time of sharing Joys and Sorrows, I lit a candle for the Unitarian Universalist Church of the Palouse in Moscow, Idaho who now find themselves directly impacted by gun violence.  A young, disturbed man shot four people and three of them died.  One of them was his step-mother, and an active and beloved member of UUCP.
The bones of this story are becoming all too familiar in our society, and as someone who has been directly impacted by gun violence I could easily use this time and space to "speak my mind" about that.  But something else is tugging at me.
After I shared the story of the shooting in Moscow and sat back down it occurred to me that our children were still with us in the sanctuary on Sunday when I shared that story.  I wondered what they might think about a story like that and if it generated any conversations with you, their parents or caregivers, afterwards.  I wondered how the parents of the children felt when the story was being shared.
Violence…truly horrible violence…seems to be everywhere these days.  And much as we'd like to insulate our children from it, I don't think that's really possible.  We can keep the television off or keep it out of our homes entirely, but then our children go to school and they hear things from their friends, or the issue comes up as a topic in current events or on the radio.
As Unitarian Universalists, I believe we have much to offer our beautiful but broken world.  Our 7 Principles are a truly brilliant roadmap towards living harmoniously amidst diversity, and we wrestle to work that out daily in the lives of our congregations.  On matters of social justice we have a long history of standing on the side of love.  Individually, there is no shortage of Unitarians, Universalists, and Unitarian Universalists who have made lasting marks on our nation and on the world.
But is it enough?  Does our faith offer us the kind of hope we need in these difficult times?  Does it inspire us to engage the systems of injustice around us and bend that long arc towards justice?  Can we find here words that comfort, stories of promise, a community of care?  It seems to me that these are all things we seek in times of trial and I believe our children do too.
So, I don't know where I stand on the issue of children hearing about difficult things in church.  But more importantly, I don't know where you stand…and I'd like to.  Let's keep this conversation going, shall we?
Easter Flowers
Anne Twitchell is looking for someone to help order, set up and distribute the Easter Flowers this year with her.  Please call her at 924-3454. 
New Hampshire Rebellion news
Many thanks to the many who set up, lit the stove, baked, cooked, walked, attended the luncheon and cleaned up on Sunday.  The cold and wet marchers got a warm welcome here; there were many exclamations of delight as they saw our offerings!  They left with high spirits with goodie bags of gorp in their pockets.
The march is on! Four marches involving over four hundred registered walkers from all four corners of New Hampshire are making their way to Concord to deliver a message to the presidential candidates: New Hampshire is not for sale!
At 1 pm on Wednesday the 21st, we will converge on the State House for the NH Rebellion's Rally for Democracy We will hear from state and national reform leaders from across the political spectrum and deliver petitions to our elected leaders. In the evening, we will celebrate Granny D's legacy at the Walk the Talk Gala at the Capitol Center for the Arts. All events are free and open to the public.
Julie Flood Page is going to the 1 pm event tomorrow; anyone wishing to join her on the ride to Concord should call ASAP: 899 9759
Buddhist Meditation
The Buddhist Meditation Group will be meeting at 7 pm this Thursday, January 22nd.  Come join us!  Following an hour of silent meditation (both walking and sitting), there will be refreshments followed by discussion of Pema Chodron's book, "How To Meditate: A Practical Guide To Making Friends With Your Mind".  This week we will discuss Chapter 25 "Relaxing with Groundlessness" and Chapter 26 "Create a Circle of Practitioners".  If one hasn't read this material by all means join in the discussion.  Questions often lead in unexpectedly delightful directions. 
Meditation instruction is available for those who wish it.  All are welcome.  After this Thursday, our next meeting will be Thursday February 12th.  NOTE:  We meet in the stage area at the back of the Parish Hall.  The Parish Hall itself is dark, so be sure to come to the back door next to the Kitchen in order to find us!  Though punctuality is helpful, you are welcome to join regardless. 
Feel free to call Nori Odoi or Rags Gilmore at 603 547-2650 if you have questions about this or any other issue.
Historic Boxes for Sale:
A pair of antique boxes that possibly date back to the early 1900's were discovered in the Robing Room.  Abiel Abbott didn't use them, but many of our other ministers probably did. Cobb's Auctioneers has offered the church $250 for both but he appraised them at $350.  The Standing Committee directed that the boxes be made available to the congregation in case someone would like to better Cobb's bid.  The boxes will be available for inspection and silent auction bidding following the service on Sunday, January 25, 2015.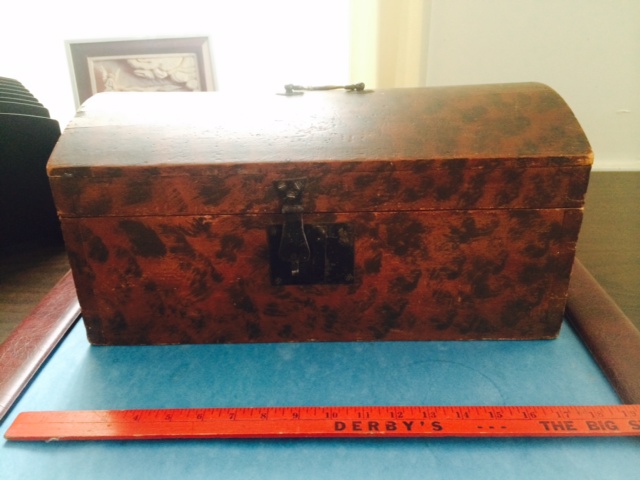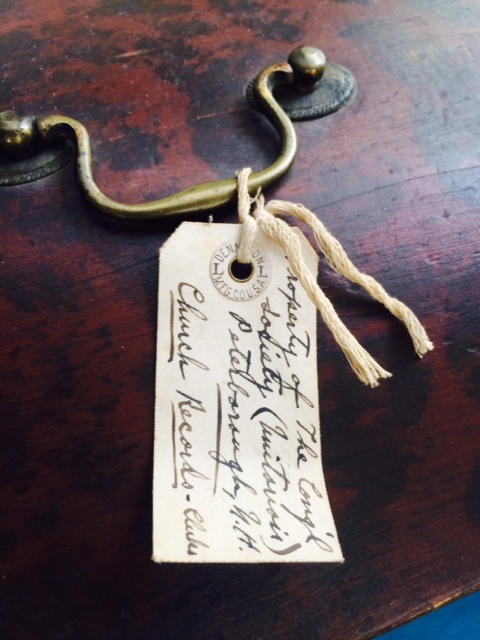 Music Soiree
Here we are, coming up on the fourth Friday in January. Time for another Music Soirée.  If you would like to join us just show up at the Unitarian Church in Peterborough, Friday, Jan. 23, at 7pm. If you have something you would like to share please bring it. If not we have plenty of music and we are very patient with sight readers.
Hope to see you there, Mary Seaver
It is Time for Secret Buddies
What is that?
A short program to help us get better acquainted and to have some fun.
Who is it for?
Everyone in the church – ALL AGES.
How does it work?
Pick up a form in the Parish Hall or email Mark Beal at mark.beal@intrinsix.com.  You fill in the questionnaire at the bottom, cut it off, and return it to the box on the stage in the Parish hall by Feb. 1st. You will receive information in the mail or by email about your Secret Buddy.
What do I do?
You send occasional little notes, artwork, and cards to your buddy through the mail with clues about yourself. You can also leave these on the table on the stage in the Parish Hall on Sunday mornings: Feb.15th, 22nd, Mar 1st, Mar 8th. On March 15th  bring a small handmade gift with a card revealing who you are. We will meet after church in the RE room and reveal ourselves! Remember this is about learning about each other through thoughtful giving, so no store bought presents.
Welcoming Tips
A good way to get new members involved is to pair them with a longtime member to meet other people.  Greet everyone, not just newcomers.
And now some quotes that speak to me in this moment:
"Don't be afraid of your fears. They're not there to scare you. They're there to let you know that something is worth it." 
― C. JoyBell C.
"Confront the dark parts of yourself, and work to banish them with illumination and forgiveness. Your willingness to wrestle with your demons will cause your angels to sing." 
― August Wilson
"Anyone can hide. Facing up to things, working through them, that's what makes you strong." 
― Sarah Dessen
---
Be well, be loyal to peace, justice and the social good.  Vanessa
Shayna's Office Hours: Monday 2-6, Thursday 9-1  email: kshaynaappel@gmail.com
Vanessa's Office Hours:  Monday & Th.  8 am – 4:30 pm. Tues. 8:00-11:00 am 
Char's Office Hours: Mon, Wed, Thurs, Fri 2-5 pm
Note* Actual times are subject to change dependent on individual schedules.