A Time In Between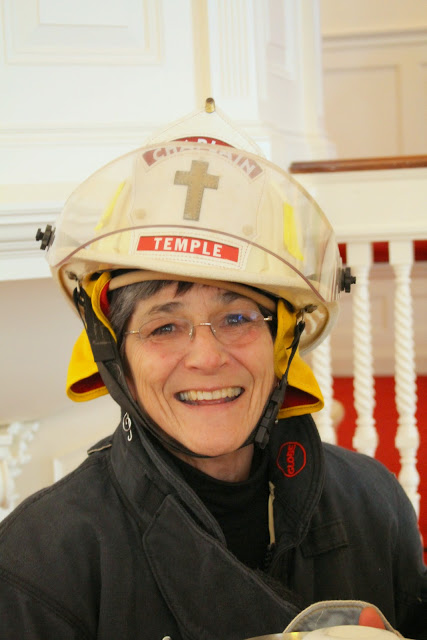 Dear Members and Friends of PUUC,
What a marvelous whirlwind of learning these first few weeks with you have been for me.  Thank you, each and every one of you who was able to make the time to talk with me, to share your insights into the congregation's strengths and challenges in this particular moment of time.
Several people have asked me why the transition has to take a year and a half.  Isn't that an awfully long time, I've been asked.  The answer I would like to guide you to is this:  a transition between settled ministers isn't about the amount of time it takes.  Rather, it's about empowering your Ministerial Search Committee to find the right minister for you, for the long haul.
There is much work to be done before the Search Committee can proceed with assurance.  First, all of you need to come to a shared understanding of who you are as a congregation now, without David's ministry with you.  We've begun with all the conversations of the last two weeks:  conversations with lay leaders, staff, and a number of groups of members.  My report will highlight what I understand as your sense of congregational strengths and challenges.  Once we're sure I've got that right, your Standing Committee and I will be working on priorities for the next few months and beyond.
There are actually a number of steps any congregation goes through in preparation for a new minister.  First there is the grieving, the letting go, the acknowledging that Rev. Dr. David Robins is no longer your minister.  This bit, alone, takes some time.  Then there's the part we've now embarked upon; finding out what you're about as a people of faith, of this UU faith we cherish.  Next, we discover, together, where you want to go as your sense of mission as a church grows and matures.  Then the Search Committee will be surveying the congregation to understand where you all are on the theological spectrum, on the spectrum of welcoming ministers of all types (white ministers, ministers of color, ministers of the variety of sexual orientations, ministers who are differently abled), ministers who bring different skills with them; skills which need to be carefully matched with the skills you believe you need.  Finally, of course, comes the search itself. 
And there is a key reality it is important to understand.  It is better, much, much better, for your Search Committee to have an incomplete search than to recommend to the congregation a minister they don't really believe is well suited to your needs in the years to come.  Last year 16 congregations did not find just the match they were looking for.  It happens.  A great deal depends on who is in search among the clergy and where their interests and expertise lie.
At the February meeting of the Standing Committee, Rev. Olav Nieuwejaar, our Northern New England District Ministerial Settlement Representative and I will be presenting established best practices for the selection of the Ministerial Search Committee.  Stay tuned.
This is not a journey to be rushed through, but to be enjoyed as the birthing time of your future.  Enjoy it.
In faith, Olivia
From the President
In the bustle of the New Year, I missed the deadline for the January Cresset but hope it's not too late to say thank you to every one of you who helped make David and Jean's send off on December 28th a joyous occasion. It was a fitting celebration of a distinguished career, made possible by the generosity of the entire congregation. 
We are well into our first month of transition work with Shayna and Olivia, and we are so fortunate to have two such experienced, gifted ministers serving our congregation.  Many of us have participated in interviews with Olivia, and we look forward to learning the results of those at the service on February 1.    Those interview results will help to determine the work we must do in the coming months, but certainly one of the Standing Committee's most important tasks will be to convene a search committee.  UUA best practice dictates a survey of the congregation to identify candidates for the search committee, and the Standing Committee looks forward to learning more about that from Olivia and Olav Nieuwjaar, our district's Ministerial Settlement Representative, at our February meeting.  Looking out a bit further, on Sunday March 1 Olav will return to lead worship and then meet with the congregation after the service to discuss the settlement process.  The search for a new minister can be an anxious time for a congregation. This meeting may relieve some of that anxiety by helping everyone understand how the search process works, how the members will be involved, and to outline the steps as they will unfold over the next year. Questions will be welcome, so please mark your calendars for this important meeting.
Also in March our annual canvass gets underway. Ray Dodge and Linda Scerbinski have volunteered once again to co-chair the stewardship campaign, for which I am most grateful. We will be looking for the full participation of the congregation as we want to ensure a healthy financial future for our church.
So, as we move into this season of change, I believe that we are well served - on Sunday mornings, throughout the week, and in our transition process - by our interim ministers, our staff, our district representatives and our committees. 
With appreciation and anticipation,
Sarah Dengler 
INVITATION TO MUSIC
'Strike the harp and join the chorus' – join the fun that is before us!
March 29 is the date of the PUUC Music Service, our intergenerational celebration of music in poetry, prose and performance.  If you are interested in participating in this tuneful event, please contact Margaret Warner at 603-588-2097 (or mwarner@tds.net ). There will also be sign-up sheets in the Parish Hall. Bring your talents and let us create music together.
Buddhist Meditation Group
"Everything in your life -- every moment, every struggle -- is the path.  Everything is an opportunity for awakening."  Pema Chodron in How to Meditate
This month, we will be meeting Thursdays February 12th and February 26th.  On the 12th, we will be completing Pema's book How to Meditate, reading chapters 27 "Cultivate a Sense of Wonder" and 28 "The Way of the Bodhisattva.  On February 26th, we will be beginning our new book which will be announced after our next meeting.
As always, we meet at 7 pm in the stage area of the Parish Hall (way in the back).  We meditate for one hour (approximately 25 minutes sitting meditation followed by 10 minutes walking meditation followed by another 25 minutes of sitting meditation).  Meditation instruction is available at the beginning of the session for those who are interested. 
After a brief break for tea and homemade refreshments, we spend the remaining time discussing readings relevant to meditation.  Discussions are generally enriched by Binny Clark, a Shambhala Buddhist practitioner with over 20 years experience. We are a small, friendly, informal, eclectic group -- our members range from beginners to long time meditators. 
There is no charge, but we encourage small voluntary donations to the church in recompense for their donation of the space we use.
Directions: Please enter the church by the back door which is lighted and accessible from the church parking lot. To get to the stage area of the Parish Hall, go up the stairs, turn right to go towards the Parish Hall, then turn left and follow the short corridor to the end.  The stage area is on your right.  Because we often close the door to keep in heat and keep out noise, the area may seem dark and empty.  No need to knock, come in and be welcome!  If meditation has begun, just take a seat silently. Someone will attend to you if you need help.
Contact Nori Odoi or Rags Gilmore (603) 547-2650  or  pb.buddhist.meditation.group@gmail.com for more information.  If you would like to share your email address, we will add you to our announcements email list.  These are sent out at the beginning of the week prior to a meeting -- and are also used if the meeting must be cancelled due to weather or other untoward circumstance.
Easter Flowers
Anne Twitchell is looking for someone to help order, set up and distribute the Easter Flowers this year with her.  Please call her at 924-3454. 
Sunday Service Volunteers
Greeters
February 8 – Need volunteers
February 15- Need volunteers.
February 22 -Need volunteers.  I think we're seeing a pattern here.
Community Hour
February 8-Suzy McDonald and Ed Chaney
February 15-Need volunteers-It's the Valentine's day service. Come on, it's easy, just bring chocolate.
February 22- Anne Fischer and Julia Lennon
Flowers
February 8-Need volunteers
February 15-Julia Lennon in memory of my parents, John and Theresa Bentz.
February 22- Susy Mansfield
Please contact Vanessa to sign up, or go to Sign Up Genius at www.signupgenius.com. You can search by email address. Use to search. Or if you've created an account, click on Login Now. 
Office: 924-6245  email:   website: www.uupeterborough.org
Interim Parish Minister: Rev. Shayna Appel  Mon 2-6, Thur 9-1, email:
Transitions Consulting Minister: Olivia Holmes email: oholmes34a@hotmail.com
DRE: Char James; Mon, Wed, Thur, Fri 2-5 pm, email:
Admin: Vanessa Amsbury-Bonilla; Mon & Thurs 8am-4:30pm, Tues 8-11 am, email: