---
Administrator's Angle – New Format
Hello everyone. When I created the Weekly Bits, I had no idea that it would be a platform of information that would end up usurping the Cresset, but that is exactly what has happened. In this age of easily available information, we find that we digest these bits less on a monthly schedule, but more on a daily or weekly cycle.  As a result, getting submissions for the Cresset has become a challenge, and now I receive so few submissions that it doesn't fill up the four or six page spread that we've been using for years.  Consequently, I will be sending out the Cresset in the same manner as the Weekly Bits, on the first Tuesday of the month.  A big thanks goes out to Jill Shaffer Hammond, who has done a beautiful job formatting the Cresset for years and I will certainly not be able to replicate the style and professional looking issues that we've been able to send to you every month in a collaborative effort.  But you'll still get all the information and I'll do my best to make it look somewhat pretty, given the limited capacity for formatting through our software.
Congregational Announcement and Information Meeting
We are pleased to inform the congregation that our Interim Search Committee has completed the search process and is ready to announce the result.  A letter with introductions and details will be sent out later this week.  In addition, the Interim Search Committee and Standing Committee will hold an informational meeting, with a Q & A session, this Sunday December 7 in the sanctuary at 11:45, following the service and community hour.  We hope that you can join us to learn more about our plans for interim ministry.   
Sarah Dengler, President
From The Minister…David Robins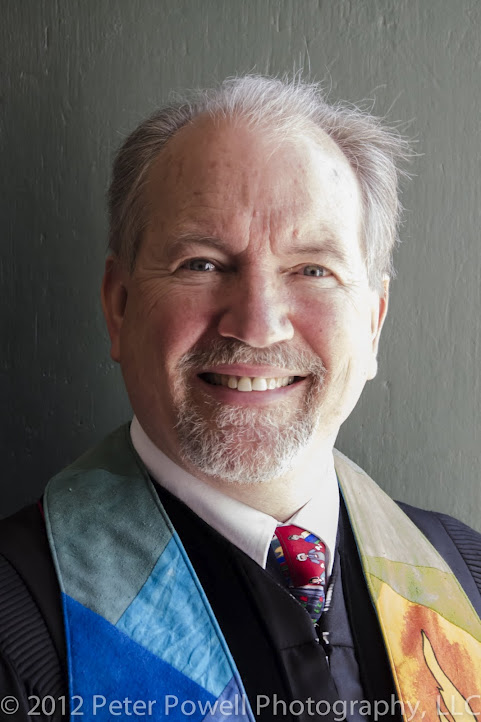 This will be my last newsletter column to you in the year 2014, and as your settled minister. My retirement date is set for December 31, 2014. The past seven and a half years with you have been rewarding and satisfying. I am grateful that you called me to be your minister. What a joy it has been for me to be a part of your lives, and your spiritual and religious journeys. Your faces, and tears and smiles, and stories are living in my heart.
As the retired minister who will be living in Harrisville, NH, I plan to keep a low profile in Peterborough. Since we just moved into a new house, I will spend time unpacking, getting to know the neighbors, exploring the hiking around Sargent Camp, writing, and doing a little woodworking.
When the interim minister arrives, and then again when the newly settled minister arrives, I will meet with them to develop a letter of agreement that places my full trust in the new minister, and hopefully defines a limited role for me as a layperson in the future.
As the season of gift-giving draws near, I think of all the gifts you give to one another, and to the PUUC congregation of time, energy, spirit, and love. Your generosity to our religious community is inspirational. May you always be a light and beacon to one another and to the world!
May Love hold you and guide you….David Robins
SUNDAY SERVICES: The Theme is "Healing"
Sunday December 7…"Healing and Loss": Rev. David Robins. The choir will sing.
Sunday December 14…"Reminders for Healing": Rev. David Robins.
Sunday December 21…"Healing and Faith": Rev. David Robins. The Winter Pageant will be a part of the service, and led by Char James and Victoria Burnham.
Wednesday December 24…Christmas Eve at 6pm. Our service of candlelight, carols, and stories. Please bring a small dish of goodies to share at the reception.
Sunday December 28…"Healing and Hope": Rev. David Robins.
From the President
I hope that all of our members and friends can join us on Sunday December 28 for David's final service, followed immediately by a celebration in the parish hall.  Vanessa has sent an invitation (an electronic evite or a paper invitation) with a request to RSVP.  Please do RSVP electronically or with a call to the church office at your earliest convenience.  I look forward to seeing everyone at the celebration! 
In the meantime, the interim search committee (Mark Beal, Ray Dodge, Meredith Martin) is hard at work setting up interim ministry to begin in January 2015. We will let you know as soon as interim plans are finalized.  The work of the interim search committee reminds me that we will all have work to do in the New Year.  The interim period is a time for the congregation to assess our strengths, needs, and desires as we move into the future.  It will take time and energy from us , and I believe that our efforts will be rewarded by a renewed congregation,  ready to  embrace the opportunities afforded by the  interim period and well-prepared to welcome a new settled minister in the fall of 2016.  I hope that all of our members and friends will join the Standing Committee in the New Year as we reflect, plan, grow, and embrace our future.
Wishing everyone the happiest of holidays!  Sarah Dengler
Holiday Stroll
It took 60 or more people to carry on the tradition of PUUC's participation in the Holiday Stroll.  Guided by members of the Women's Alliance, and challenged by having to use the Dining Room instead of the Parish Hall we raised about $1,300 for the church.  Customers came in droves as the doors opened and headed for the cookie walk organized by Ed and Marsha Morrow.  We ran out of the plentiful and extraordinarily tasty looking cookies by noon!  Windy Row' wreaths, the Peterborough Garden Club's arrangements, our homegrown house plants, small donated gifts, Fair Traded coffee, Bob Walker's photos, David Robins' book, Bryan Field's carved pens,  Meredith Martin's granddaughter Zoey's books, baked cakes, pies, jams, breads and other delicacies all added to our profits as did our rentals.  The cordial atmosphere was enriched by the sweet music coming from Tony Brinsdon, Mary Seaver and friends.  Many thanks to the many hands that played the music, looked after the tables, baked, nurtured beautiful plants, decorated, set up and then reorganized the tables and chairs in time for the Harvest Dinner the next day.
From the DRE
Thanksgiving Letter from Harry  by Carl Dennis
I guess I have to begin by admitting
I'm thankful today I don't reside in a country
My country has chosen to liberate
That Bridgeport's my home, not Baghdad.
Thankful my chances are good, when I leave
For the Super Duper, that I'll be returning.
And I'm thankful my TV set is still broken.
No point in wasting energy feeling shame
For the havoc inflicted on others in my name
When I need all the strength I can muster
To teach my eighth-grade class in the low-rent district.
There, at least, I don't feel powerless.
There my choices can make some difference.
This month I'd like to believe I've widened
My students' choice of vocation, though the odds
My history lessons on working the land
Will inspire any of them to farm
Are almost as small as the odds
One will become a monk or nun
Trained in the Buddhist practice
We studied last month in the unit on India.
The point is to get them suspecting the world
They know first hand isn't the only world.
As for the calling of soldier, if it comes up in class,
It's not because I feel obliged to include it,
As you, as a writer, may feel obliged.
A student may happen to introduce it,
As a girl did yesterday when she read her essay
About her older brother, Ramon,
Listed as "missing in action" three years ago,
And about her dad, who won't agree with her mom
And the social worker on how small the odds are
That Ramon's alive, a prisoner in the mountains.
I didn't allow the discussion that followed
More time than I allowed for the other essays.
And I wouldn't take sides: not with the group
That thought the father, having grieved enough,
Ought to move on to the life still left him;
Not with the group that was glad he hadn't made do
With the next-to-nothing the world's provided,
That instead he's invested his trust in a story
That saves the world from shameful failure.
Let me know of any recent attempts on your part
To save our fellow-citizens from themselves.
In the meantime, if you want to borrow Ramon
For a narrative of your own, remember that any scene
Where he appears under guard in a mountain village
Should be confined to the realm of longing. There
His captors may leave him when they move on.
There his wounds may be healed,
His health restored. A total recovery
Except for a lingering fog of forgetfulness
A father dreams he can burn away.
Reading this helped me to feel grateful for what I have and to remember the power of imagining.  We all have the ability to picture how we would like situations to develop.  During this holiday season I plan to engage in activities and actions that slow me down in order to allow a sense of spirit to travel with me.  ~ Char James    
Schedules for Sunday Services
Greeters:
December 7  Need volunteers
December 14 Suzy McDonald and Ed Chaney
December 21 Need volunteers
December 28 Need volunteers
Flowers:
December 7  Suzy McDonald and Ed Chaney
December 14 Poinsettias
December 21 Poinsettias
December 28 Poinsettias
Community Hour:
December 7  Suzy McDonald and Ed Chaney
December 14 Need volunteers
December 21 Need volunteers
December 28 Need volunteers
Please contact Vanessa to sign up, or go to Sign Up Genius at www.signupgenius.com. You can search by email address. Use puuc@uupeterborough.org to search. Or if you've created an account, click on Login Now. 
Office: 924-6245  email: puuc@uupeterborough.org  website: www.uupeterborough.org
Minister: David Robins; Monday, Thursday, 9am-3:pm  email: david.robins@uupeterborough.org
DRE: Char James; Mon, Wed, Thur, Fri 2-5 pm, email: char.james@uupeterborough.org
Admin: Vanessa Amsbury-Bonilla; Mon & Thurs 8am-4:30pm, Tues 8-11 am, email: vanessa.amsbury@uupeterborough.org