Hello Everyone.  Here is the April Cresset in pdf form. I'm also including here:
April 2015 Newsletter
A Stable Faith by Rev. Shayna Appel
On April 26th, 2015, at 5:00 pm the members of the Peterborough Unitarian Universalist Church will ordain one of our own.  Lisa Mobayed will become The Reverend Lisa Mobayed before the event is over, and as near as anyone can tell, an ordination has never before taken place at PUUC, so this is an epic event!  So epic that a bit of history might be in order.
According to the Manual for Ordination and Installation Services in Unitarian Universalist Churches, the rite of Ordination being conferred by local congregations goes back over 350 years on the Unitarian branch of our family tree.  The rite had a more mixed tradition on the Universalist side, where ordination was often conferred by some denominational body.
Since the merger of Unitarianism and Universalism in 1961 we've hybridized the process some.  Ordination is still a rite that can only be conveyed by a congregation, but candidates pass must a series of requirements and a final examination overseen by the denominational body known as the Ministerial Fellowship Committee.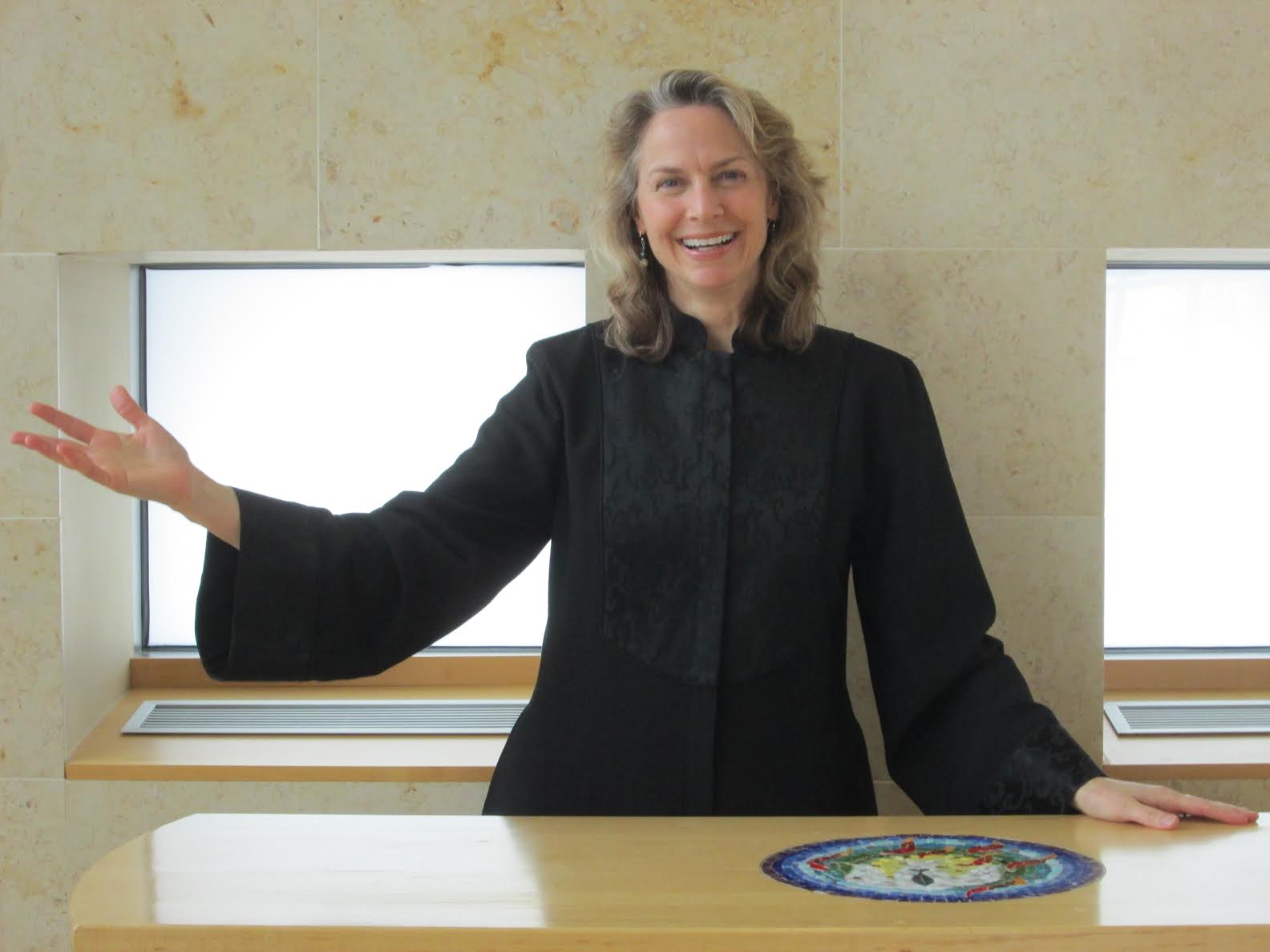 Now, most of you have witnessed a Service of Installation.  By this, a minister is recognized as being "settled" in a particular congregation or society.  But an Ordination is different because an Ordination is the rite by which someone becomes a minister.  Technically, and by strict rule, no one should be entitled to be called "The Rev." until after they have been ordained.  And while we, who are the inheritors of the Protestant tradition recognize the "prophethood and priesthood of all believers", (meaning all of us are called to minister), ordination is the rite by which some are set apart for the work of vocational of ministry.  Ordination binds one to the rich heritage, history, covenants and polity of their respective denomination, and sometimes to laws of the State as well. (For example, some states do not allow marriages to be celebrated by anyone who is not ordained.)
And there you have it – a very brief sketch of the rite of ordination.  But one cannot possibly do justice to this event on paper.  To experience that, one needs to come and be part of it, with all of its pageantry, ritual and celebration.  For most UU congregations the service of ordination is as "High Church" as we ever get.  It is, for sure, the church at it's very best – celebrating its past, present and future all together.  And in this transition time Olivia and I are sharing with you all, I can't imagine anything more perfect.
Please save the date, and think about how you can be part of this historic celebration!
If you would be willing to help transform our dining room from its current state into something really lovely, please contact the Divine Ms. Vanessa at vanessa.amsbury@uupeterborough.org or at 603-924-6245.
If you would be willing to donate food or assist with set-up, serving or take down, please contact the Charming Mr. Dwight Schenk or the Delightful Julie Flood Page at Dwight.schenk@yahoo.com, juliefp@juno.com, or at 603-899-9759.
If you can help out with a monetary donation of any size, please contact me, your Loving Minister and Party Planner, the Rev. Shayna Appel at KShaynaAppel@gmail.com or at 802-579-6066.
Hope to see you all there!   Shalom- Shayna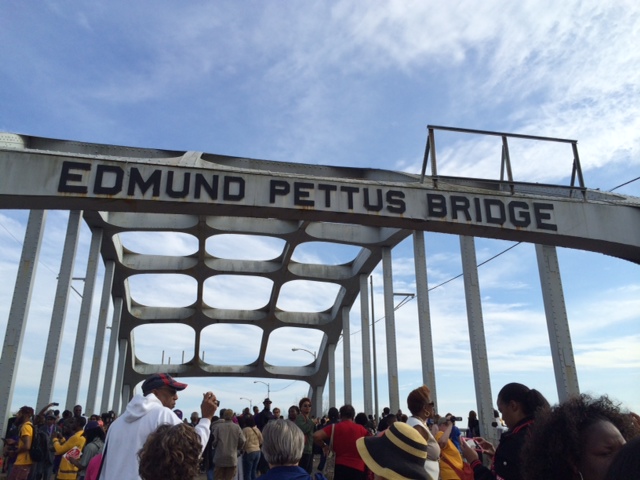 Dear Members and Friends of PUUC,
The Edmund Pettus bridge was built in 1940.  The man whose memory it honors lived between 1821 and 1907.  He was a Brigadier General for the Confederate Army in the Civil War, during which he was captured three times.  Late in his life he was elected twice to the United States Senate as a democratic senator.  It is said that his campaign success could largely be credited to his vehement opposition to freeing African-American slaves.  Edmund Pettus was a Grand Dragon of the Ku Klux Klan.
The bridge named for him is the bridge over the Alabama River where Alabama state troopers and Klansmen stopped the peaceful march for voter rights for African Americans on March 7th, 1965.  They didn't just stop the peaceful marchers, they brutalized them.  Seventeen people were hospitalized that "bloody Sunday."
Sunday, March 8th, 2015, I walked across the Edmund Pettus bridge with some 500 to 600 other Unitarian Universalists all wearing yellow "Standing On The Side of Love" t-shirts and some 120,000 other peaceful walkers.  The entire Boards of Trustees of the UUA, the UU Service Committee, and the UU Ministers Association were all there.  So were the families of Jimmie Lee Jackson, Jim Reeb, and Viola Liuzzo; all killed in that terrible spring of 1965.  Jimmie Lee was shot twice at point blank range by Alabama troopers when he tried to stop them from beating up his mother and his 82-year-old grandfather.  UU Rev. Jim Reeb was clubbed to death by white assailants as he was walking with UU ministers Orloff Miller and Clark Olson back to the Brown Chapel after dinner on March 9th, 1965.  A UU from Detroit, Viola Liuzzo was shot by members of the KKK as she was driving an African-American volunteer for civil rights to the Montgomery airport.
Orloff Miller was there this past Sunday, as was Clark Olson.  So were a number of others who had been there on that same bridge back in 1965.  Some were now assisted by canes, some walkers, some wheelchairs.  It was profoundly moving to be walking with these Unitarian Universalist men and women who had willingly risked their lives to stand on the side of love with their African-American brothers and sisters.  Most of this year's 120,000 walkers were African-American.  I am so very proud of the people of our UU faith for so faithfully showing up to share the hope for a more fair, more just future America.  Truly, Unitarian Universalism is a faith that can heal a bruised and hurting world.     Faithfully, Olivia
April Sunday Services
Sunday, April 5th, "Rise Up" Rev. Shayna Appel
Sunday, April 12th, to be announced, Rev. Shayna Appel
Sunday, April 19, "Compassionate Communications – Yes We Can!"   Rev. Olivia Holmes
Rev. Holmes notes that we humans have relied on fight-flight-freeze responses in conflict for over 2000 years.  She believes we have the tools to respond with more joy and affirmation. All we need is a little practice.  She is grateful to Jonathan and Laura Gourlay who have graciously offered to help her deliver this message.
Sunday, April 26th, to be announced, Rev. Shayna Appel, followed by the Budget Meeting
I Say It Touches Us
By Marni Harmony (adapted)
I say that it touches us that our blood is
    sea water and our tears are salt, that the
    seed of our bodies is scarcely different
    from the same cells in a seaweed,
    and that the stuff of our bones is like the coral.
I say that the tide rolls in on us, whether
    we like it or not, and the sands of time
    keep running their intended course.
I say we have to go down into the wave's trough
    to find ourselves, and then ride her swell
    until we can see beyond ourselves into
    our neighbor's eye.
I say that we shall never leave the harbor
   if we do not hoist the sail.
I say that we have got to walk the waves
   as well as solid ground.
I say that anyone who goes without
   consciousness of this will remain
   chained to a rusty anchor.
May the journey find us worthy. Amen.
It is good to hear the rain and smell the earth once again; to feel my muscles relax after such a long cold winter.  The RE Committee has a special invitation for all of you.  Please join our children:
Victoria Burnham writes:" FREE warm climate excursion!  Are you sick of cold toes and freezing fingers? Do you want to feel warm again and see bright greenery? Here is your opportunity!
Otter Brook Farm is the amazing destination! Our youth get to enjoy the luxury of warmth and greenery every time they venture to the farm. I have participated several times and return feeling revived and soulful. Each week at the farm our youth grow and nurture food for the community supper tables AND food for their minds and souls. Matthew, the steward of the farm, helps them make connections between the process of farming and process of living a good and fulfilling life.
I urge you to move out of your pew on an Otter Brook Sunday, and join our youth on their learning excursion. Matthew welcomes you and wishes to host more inter-generational farming days. This is a great opportunity to warm your fingers and toes, and connect with our youth in a very meaningful and soulful way!"  In April we shall visit Otter Brook Farm on Sunday the 12th and Sunday the 26th.  Let me know you will share the experience with us.   ~ Char James DRE char.james@uupeterborough.org
Earn $$$ for the Community Supper!
We enjoy an affiliation partnership with TD Bank.  They will donate funds to the supper for these eligible TD Bank accounts:   checking, saving, CD's, money market, retirement.
The supper will earn $10 annually for existing accounts, $50 for new accounts, and .1% on savings account balances.
Speak to a teller or phone any TD Bank branch (Peterborough branch: (603) 924-4700).  Just say  "I would like to affiliate my TD bank accounts with the Community Supper."
Thanks are due Peggy Leedberg for discovering this fundraiser.  Contact Greg Scerbinski if you have questions:  gscerb@gmail.com.
Buddhist Meditation Group 
 
"The mind is like a monkey swinging from branch to branch through a forest... In order not to lose sight of the monkey by some sudden movement, we must watch the monkey constantly and even to be one with it.  Mind contemplating mind is like an object and its shadow..The two are one.. Once the mind is directly and continually aware of itself, it is no longer like a monkey.  ." -- Thich Nhat Hanh, The Miracle of Mindfulness.

This month, we will be meeting Thursdays April 9th and April 23rd.  On the 9th, we will be continuing Thich Nhat Hanh's bookThe Miracle of Mindfulness, reading chapter 3 "A Day of Mindfulness".  On April 23rd, we will read Chapter 4 "The Pebble".

As always, we meet at 7 pm in the stage area of the Parish Hall (way in the back).  We meditate for one hour (approximately 25 minutes sitting meditation followed by 10 minutes walking meditation followed by another 25 minutes of sitting meditation).  Meditation instruction is available at the beginning of the session for those who are interested.  

After a brief break for tea and homemade refreshments, we spend the remaining time discussing readings relevant to meditation.  Discussions are generally enriched by Binny Clark, a Shambhala Buddhist practitioner with over 20 years experience. We are a small, friendly, informal, eclectic group -- our members range from beginners to long time meditators.  

There is no charge, but we encourage small voluntary donations to the church in recompense for their donation of the space we use.

Directions: Please enter the church by the back door which is lighted and accessible from the church parking lot. To get to the stage area of the Parish Hall, go up the stairs, turn right to go towards the Parish Hall, then turn left and follow the short corridor to the end.  The stage area is on your right.  Because we often close the door to keep in heat and keep out noise, the area may seem dark and empty.  No need to knock, come in and be welcome!  If meditation has begun, just take a seat silently. Someone will attend to you if you need help.

Contact Nori Odoi or Rags Gilmore (603) 547-2650  or  pb.buddhist.meditation.group@gmail.com for more information.  If you would like to share your email address, we will add you to our announcements email list.  These are sent out at the beginning of the week prior to a meeting.
In Memoriam:  Thelma Francis (French) Clark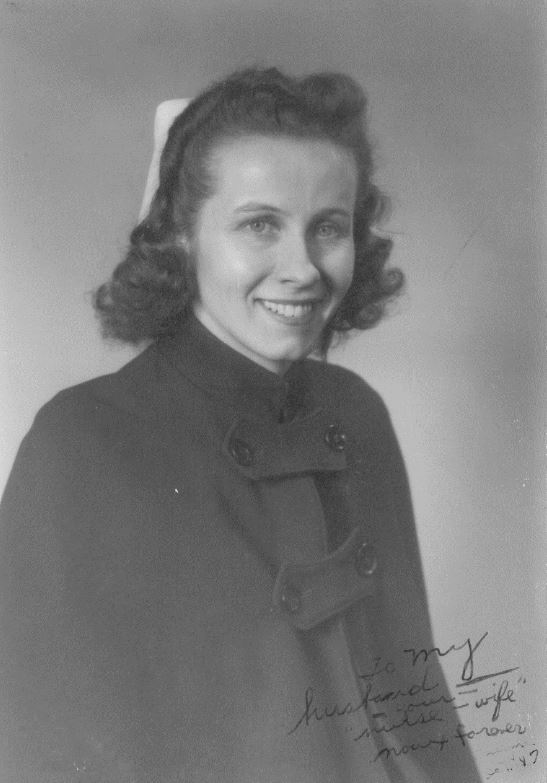 Great are her virtues
And so small is her pay,
She is the graduate nurse,
Working hard night and day.
Divested of feminine frills,
She is my soldier in white,
She battles aches and pains
And is the sick man's light.
If there ever be an angel
In a womanly form,
It'll be the girl taking pulse
And stopping to see if you're warm.
So, Dear Jesus, be kind to her in heaven
To the girl who unselfishly gave her life
Caring for your children here on earth with delight.
She Loved what she did and did it with a Smile,
And that should be enough for you to take care of her now.
We Love You Mom – Thank You for All the Lives You've Touched
Linda, Roland, Rebecca & Loretta
Thelma F. (French) Clark passed away at Pheasantwood Nursing Home on March 2, 2015 at the age of 91. She was the daughter of Fred Ellsworth French and Elizabeth Luella (Tarbell) French. Thelma was born in Montville, Connecticut on January 26, 1924; the family moved to Wilton, NH when she was very young. Thelma grew up in Wilton and graduated from Wilton High School in 1942. She received Cadet Nurse's Training at Nashua Memorial hospital now known as St. Joseph's Hospital in Nashua, NH. On October 10, 1947, she married Leslie R. "Joe" Clark of Peterborough and for the next 67 years resided in Peterborough.

She worked as a nurse at Monadnock Community Hospital before getting married. In addition to raising a family, her various jobs included taking care of the elderly so they could stay at home, private caregiving, and working in some of the local nursing homes - Belmar, Maplewood Manse, Scott Farrar, and Summerhill.

Some of her many hobbies included gardening, knitting, bowling, cooking and canning. She loved watching her children and grandchildren in their sports, camping, and always had time to play a game or two when asked. She was a Girl Scout Leader, Cub Scout Leader, and very involved in the Unitarian Church where she served as Sunday School Director for many years as well as spear heading the annual Rummage Sale. Almost every Sunday she would watch over the nursery so the parents could go to church, this she referred to as "her little piece of heaven". She enjoyed her family and life!

She is survived by her husband Leslie R. "Joe" Clark, daughter Linda and husband Donald Abbott of Francestown, son Roland Clark of Rindge, daughter Loretta and husband George Sterling of Peterborough; seven Grandchildren, fourteen Great Grandchildren and 1 Great Great Grandchild in addition to Nieces and Nephews. She was predeceased by their daughter Rebecca Clark and her brother Retired Brig. Gen. John French.

Following her wishes, there will be no calling hours or funeral services. A private family memorial service will be held.
Greeters
April 5 – Easter Sunday – Joel and Anne Huberman
April 12  Need volunteers
April 19 Need volunteers
April 26  Phil Jones and _____________
Community Hour
April 5  Need volunteers
April 12 Need volunteers
April 19 Need volunteers
April 26 Need volunteers
Flowers
April 5 Woodbury Fund in memory of Mary Elizabeth Day Woodbury
April 12 Jill Shaffer Hammond in memory of Carolyn and Larry Shaffer
April 19 Jean Herron in memory of Jack
April 26  Anne Fischer in celebration of Lorraine Fischer's birthday
Please contact Vanessa to sign up, or go to Sign Up Genius at www.signupgenius.com. You can search by email address. Use to search. Or if you've created an account, click on Login Now. 
Office: 924-6245  email:   website: www.uupeterborough.org
Interim Parish Minister:               Rev. Shayna Appel  Mon 2-6, Thur 9-1, email:
Transitions Consulting Minister: Olivia Holmes email:
DRE:                      Char James; Mon, Wed, Thur, Fri 2-5 pm, email:
Admin:                 Vanessa Amsbury-Bonilla; Mon & Thurs 8am-4:30pm, Tues 8-12 pm, email:
The Cresset
Peterborough Unitarian Universalist Church
25 Main Street
Peterborough, NH 03458
Save trees! Save postage!
Sign up for e-mail delivery
Of the Cresset!
(You'll even get it faster!)