If pictures are not displaying properly, click here for the pdf version.
For April 19, 2015
Sermon: "Compassionate Communications-Yes We Can!" Rev. Olivia Holmes
Rev. Holmes notes that we humans have relied on fight-flight-freeze responses in conflict for over 2000 years.  She believes we have the tools to respond with more joy and affirmation. All we need is a little practice.  She is grateful to Jonathan and Laura Gourlay who have graciously offered to help her deliver this message.
Sunday Service Volunteers
Greeters: Would you be willing to greet on Sunday? Pretty please?
Community Hour: Anne and Joel Huberman.
Flowers: Jean Herron in memory of Jack.
(To sign up, go to:  http://www.signupgenius.com Log in with your login name and password, or click 'Find a Sign Up' at the upper right, use puuc@uupeterborough.org as the email to search. Or you can simply respond to this email. If you call me after 4:30 on Thursdays, I will not get the voicemail. Email is better.)
Music Committee will hold its regular meeting at 11:45 in the choir loft.
---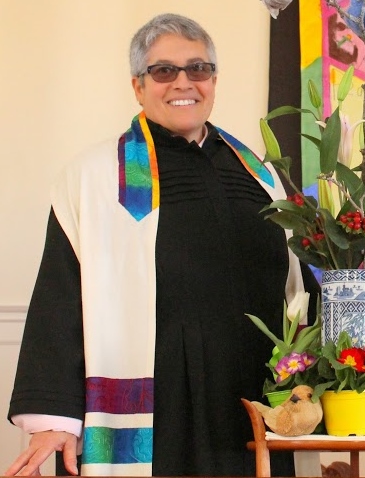 Mindful Meanderings  by Rev. Shayna Appel
A Tomb Is No Place to Stay  by Rev. Richard Gilbert
A tomb is no place to stay,
Be it a cave in the Judaean Hills
Or the dark cavern of the spirit.
A tomb is no place to stay
When fresh grass rolls away the stone of winter cold
And valiant flowers burst their way to the warmth and light.
A tomb is no place to stay
When each morning announces our reprieve,
And we know we are granted yet another day of living.
A tomb is no place to stay
When life laughs a welcome
To hearts that have been away too long.
The words above, by Rev. Gilbert, were our Opening Words for Easter Sunday's worship service.  A number of you have asked me for them, so, with pleasure, here they are.  As an aside, a number of folks have also asked about sermon availability. Vanessa posts mine on our church's website, (usually by Tuesday following the Sunday they were offered to the wider congregation).  However, if you are not a computer person – well, if you are not a computer person, you are not reading this e-newsletter right now!  Let me just say, if you know someone who is not a computer person who is looking for a sermon, or a copy of the Cresset for that matter, Vanessa can make hard copies available.  "Snail-mail" may be slow, but it still works!
As Olivia and I complete the first half of our time with you I think it is time for a proper "Attachurch!"  The amount of institutional heavy lifting you have done in the last 3 months has been an awesome feat to behold.  You have welcomed and adjusted to the two of us – no small feat in and of itself! – successfully elected some really extraordinary folks to serve on not one, but two search committees, (one for the next interim minister and one for the settled minister), hosted community suppers and a stewardship campaign, and on April 26th, this congregation will ordain one of its own members, Lisa Mobayed, to UU Ministry.  We have explored God and the legacy of Jesus in worship and the sanctuary is still standing.  U-rah church! Way to go!  A tomb is no place to stay, indeed!
BUT WAIT!  THERE'S MORE!
With all of this success and great forward movement, it would be easy to take a moment to sit back and admire all our good work.  Looking is OK…let's just not stare!  Because for all the good work that has been accomplished, there is still a good deal more ahead of us.  Olivia and I have identified a couple of key areas in which a significant shift in "the way we've always done it before" can open up areas of cooperation, communication and collaboration.  Think of it like a community angioplasty and let's keep at this interim work until ALL the plaque has been removed from the vessels that sustain us.  Because, before long, some awesome minister seeking a church is going to come looking, and when that day comes, I pray you radiate the health and vibrancy I believe is your core!
Shalom and BIG Love-
Rev. Shayna
From the President
Dear Members and Friends,
            On behalf of the Standing Committee, I invite you to participate in a discussion in the Sanctuary immediately following the service this Sunday, April 19, 2015, concerning  a serious dilemma:  we are not in a position to begin the search for an Interim Minister to serve our congregation beginning next September.  We seek your best thinking and advice.
            The problem is that our budget for next year [July 1, 2015 – June 30, 2016] is unresolved, primarily because pledged income to date is insufficient to hire any minister full time and it is important to determine how to define a part-time position.  Further, because we are unable to plan, we will miss the deadline for filing our application [April 17, 2015] with the Unitarian Universalist Association for the first round in which potential applicants are matched to potential churches.  The second deadline is May 18, 2015 and we dare not miss that deadline as well.  The most experienced candidates usually are hired during the first round; the second round goes to candidates who are considered less experienced.
            In the opinion of many who have talked to us, the congregation has been well served by The Reverend Shayna Appel.  Many have suggested that we should see if she can stay for another year, perhaps with continued support of The Reverend Olivia Holmes, our Transitions Consultant.  Shayna and Olivia have challenged us, we have responded, and there is a clear sense of new momentum, but the same problem exits -- there is an immense amount of work to be done in a successful interim ministry, and we do not have the funds available in the 2015-16 budget  to discuss this possibility with Shayna, Olivia or any other candidate. 
            So, this is an important meeting.  It is an important time for our church.   If we are unable to attract a good Interim Minister this year, we will have an even greater dilemma next year attracting a good and permanent Settled Minister.  Please attend the meeting this Sunday and help find a solution. 
            Thank you,
            Sarah Dengler, Congregation President
Our Stewardship Campaign as of April 10th.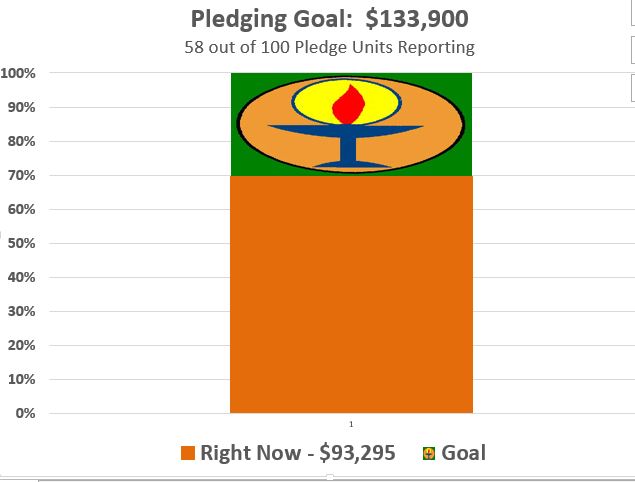 Members and Friends,
We are in the fourth week of our Stewardship Campaign  We have made good progress.  With over half of pledge units committed, we are at 70% of our revenue goal!  We can do this!  Let's get Real!
Please fill out your pledge card and return this Sunday at church or Monday in the office, either in person or in the mail.
Thank you.  Susan Stanbury, Treasurer
Ordination
For those of you who may not have been able to see the invitation for Lisa Mobayed's ordination, of which you are all invited. Click here to go directly to it on our website.
TEAL DEAL ends Sunday. Here's your final chance to contribute for the supplemental hymnals. The table will be in the Parish Hall after the service, so drop by, sign up (or pay up if you haven't done so already). If you won't be in church, contact Margaret Warner by phone (588-2097) or email ( mwarner@tds.net ) to add your name to the contributors list.
Upcoming Youth Group Events
The Youth Group will be running a car wash on Saturday, May 2 from 9 am to noon at the church. Proceeds will go to Free the Children. Come on down and have your vehicle spiffed up for Spring!
We will also be having a bake sale table on the church lawn at Children & the Arts Day, Saturday, May 16, and would like to ask church members if they would like to supply baked goods for us to sell. People were very generous last year, and we were able to raise over $250 for Free the Children. Thanks to any and all who can help! Please contact Laura Gourlay at 547-0180 or lkgourlay@gmail.com to donate.
Social Justice Committee
The annual  'Walk A Mile in Her Shoes', a walk to end domestic and sexual violence against women, will be held this Saturday, April 18th at Keene State College; goal is to raise $25,000.   If you would like to sponsor a walker, please visit the link:
 http://www.firstgiving.com/fundraiser/LaurenRamseyWAM/walk-a-mile-in-her-shoes-2015
All proceeds go to MCVP and our support services to survivors of sexual assault and to our prevention efforts with children, teens and youth.
Did you know that 1 in 4 girls and 1 in 6 boys will be sexually assaulted by the time they are 18? I hope we can someday change that. They need our help.
The Glory Hole key is missing. If you used it last week and forgot to return it, please bring it back to the office. Please check your pockets and purses. Thank you.
Welcoming Tips
When you meet new people, leave the theological door open.  Let others tell you their theology, rather than anticipating it.
 Sign Up for the Amazing Decluttering Sale
Alert to all PUUC members and friends. Now is the time to plan for the next THREE weeks! Rummage must be sorted and white elephant donations need to be identified and organized. Volunteers are needed for the following tasks (People who have signed up will be included in this notice):
VOLUNTEERS NEEDED -- CLOTHING: 9 - 11 a.m. Wednesday, April 15, Friday, April 17; Monday, April 20, Wednesday, April 22, Friday; April 24, Monday, April 27, Wednesday, April 29, Friday, May 1; Monday, May 4, Wednesday, May 6, Friday, May 8. 
SET UP TABLES IN PARISH HALL: We have to change the time on Sunday, May 3, to 5 p.m. Tables will be put up in the Parish Hall. MEN, WOMEN AND CHILDREN NEEDED.
VOLUNTEERS NEEDED - SET UP DINING ROOM: DWIGHT SCHENK is the coordinator. He will need a crew of volunteers at 6:15 p.m., after the Community Supper.
VOLUNTEERS NEEDED -- WHITE ELEPHANT (HOME DECOR, BOOKS, PRINTS, CDS, DVDS, KITCHENWARE, DISHES, GLASSES, FLATWARE, APPLIANCES, GAMES, PUZZLES, 21st-CENTURY OFFICE SUPPLIES) Week of May 3- 8. The items are CHECKED and PLACED on the tables in the Parish Hall. PRICERS will decide on value attach price stickers.
PRICING; JENNY BRINSDON, KAREN DUDRA, JOYCE FEARNSIDE, SARAH SHERBURNE; ANNE FISCHER
SILENT AUCTION: NEED a volunteer to set one eight-foot table with items and place bidding sheets next to each item, which will be identified by a number. The bidding will be open from 6-7:15 p.m., when sheets are collected and bidding winners are identified. NEED SOMEONE TO MONITOR THE TABLE FROM 6 - 7:30. Two people may split the time.
DONATINONS NEEDED -- REFRESHMENTS: NEED CHEESES, GRAPES, DIPS, BREAD CHUNKS OR CHIPS/CRACKERS, SPREADS, SWEETS, NUTS. Sign-up Sheet in Parish Hall on April 19 and 26 and on May 3.
BAR: JONATHAN AND LAURA GOURLAY
VOLUNTEERS NEEDED - SANDWICH BOARD ASSEMBLED AND BANNER HUNG: May 3
CASHIERS NEEDED: two each for downstairs, Parish Hall, entrance (collecting $5) Friday evening (6-8) and Saturday, 9 a.m. - 1:30 p.m. 
OUTSIDE, SIGNS: RHONDA BARKLEY, TOM BADGLEY AND ANNE FISCHER
VOLUNTEERS NEEDED - DISPOSAL OF LEFTOVERS: 1:30 p.m., GREG SCERBINSKI, DAVID AND JOY FLEMMING (ATTENTION: MORE ABLE BODIED MEN, WOMEN AND CHILDREN NEEDED!
A chart of information will be displayed in the Parish Hall.
Also: We are running out of room!
The great news is that a great number of household and white elephant donations have come in. The not-so-great news is that we are running out of storage space.
The solution: keep bringing in your for-wearing-in-warm-weather clothing donations -- we still need those -- but please hold onto your white elephant and sporting goods until Sunday, May 3. If you would box or bag your items and hold them at home until then, it would be very helpful.
Community
Two Rivers Community Choir
Marybeth Hallinan, Director
presents     Walk Beside Me-Songs of Peace, Love, and Hope from around the world.
Two free benefit concerts in Jaffrey and Peterborough, NH.
Sunday, April 19, 2015
6:30 PM
United Church of Jaffrey
54 Main St, Jaffrey, NH 03452
(Benefit for Shelter From the Storm)
Sunday, April 26, 2015
6:30 PM
Union Congregational Church
33 Concord St
Peterborough, NH  03458
(Benefit for the Foley Family)
We celebrate the return of spring with songs of peace, hope, and renewal from world cultures. Featured are original compositions and arrangements from local singer/composer Steve Schuch. Including music from the American shape note, Georgian and South African traditions, this program offers a broad spectrum of  songs from myriad cultures and musical styles.
The concert promises to be poignant, uplifting, and inspirational!
Each concert brings music to life through the magical blending of the men and women who comprise Two Rivers Community Choir. 
Admission is free; donations accepted for aforementioned charities.
Two Rivers is an SATB (4-part) choral opportunity for men, women, and teens (17 and up), dedicated to bringing people together to make fabulous, energetic, community music.
Two Rivers Community Choir is in its seventh year of bringing multicultural and contemporary music to singers and audiences in the Monadnock Region, fostering compassion and tolerance,  and building communities through song.
For more info, contact Hallinan, at keysofmb@gmail.com or 603-924-9527.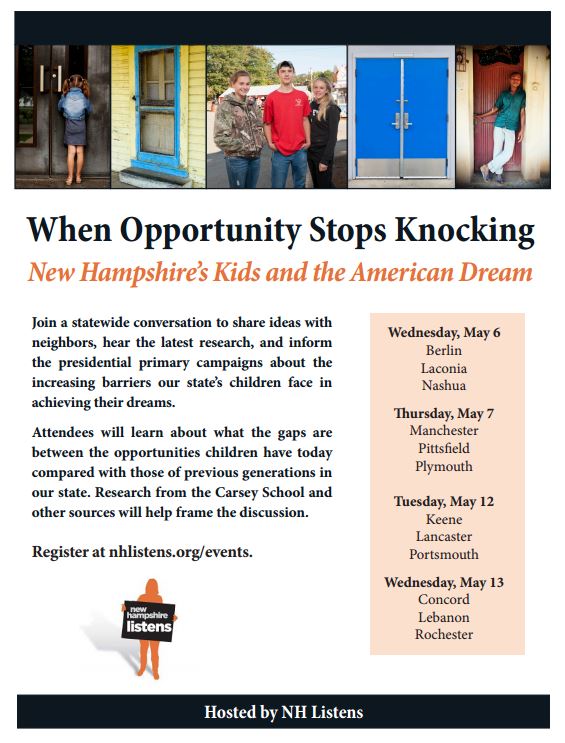 ---
"My heart is moved by all I cannot save. So much has been destroyed. I have to cast my lot with those who, age after age, perversely and with no extraordinary power, reconstitute the world." (Adrienne Rich)
I'm too busy to be witty or come up with anything other than my usual closing - so, be well, be loyal to peace, justice and the social good.  Vanessa
Contact Information and Office Hours
Shayna:  Monday 2-6, Thursday 9-1  email:    802-579-6066
Vanessa:   Monday & Thursday  8 am – 4:30 pm. Tues. 8:00 am-12:00 pm
Char:  Mon, Wed, Thurs, Fri 2-5 pm 
Note* Actual times are subject to change dependent on individual schedules