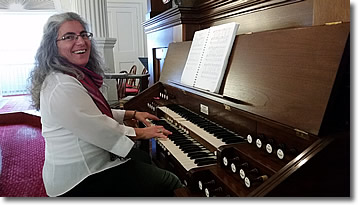 A seasoned vocalist, musician, teacher, pianist, singer/songwriter, Marybeth Hallinan has operated a teaching studio for over 25 years in the Monadnock Region.

As accompanist/organist for PUUC, Marybeth provides theme-based musics for various services, accompanies the choir and other musicians, and provides solo piano and singing to augment the worship service.

Marybeth founded and directs Two Rivers Community Choir, based in Peterborough, TraverSing hospice and palliative choir, as well as Choral Union at Franklin Pierce University.  Additionally, she has accompanied for Grand Monadnock Youth Choirs, South Meadow School, Great Brook School, and ConVal High School.

Marybeth is energetic and positive, drawing out the very best in those around her. She has a long-standing reputation as a teacher/director/pianist with talent, energy, and enthusiasm.