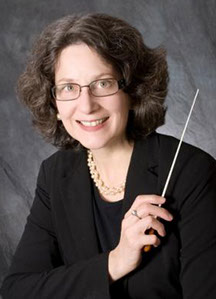 Maria Belva and her young children were swimming at Willard Pond during the summer of '94 when she saw that David Usher was there with his daughters.
"I had sung solos in the church on several occasions before that, and I knew David Usher," she said. "He told me there was an opening for a music director at PUUC and encouraged me to apply. So, I did."
Altogether Maria has been the church's music director for more than 17 years, beginning in September of 1994. After marrying David Vernier in 1996, she founded and launched the Peterborough Children's Choir (PCC) in the summer of 1997. With all that the new venture entailed she decided to leave her post at the church.
"I felt I needed to focus fully on the children's choir, and so I gave up the PUUC Music Directorship," she said. "Then in 2000, Ward Stoops (a former, longtime member) approached me to see if I would come back, and I did." Since then she continues to direct the PUUC church choir and has been a member of either the Worship Committee or Music Committee.
Besides the Music Directorship at PUUC, and her full time job of managing and directing all of the PCC choirs, Maria teaches private voice lessons at her home and at the Peterborough Music Company in the Peterborough Plaza. Her students' abilities vary "from timid beginners to advanced, ages 12 and up. My oldest student was 72," she said. "Many PUUC children and youths have passed through my choirs or are currently members."
Born in Rochester, New York, she is the daughter of Italian-American parents. Her mother, Joyce Belva, lives in Peterborough with her husband, Chuck Culotta. Maria's father, "a golden baritone with a voice similar to Jose Carreras," passed away in 1990.
When Maria was 7, her family moved to Binghamton where Maria attended public school. "I made a habit of singing in every choir possible," she said. "I studied the violin and ballet, and performed in many musical theater productions."
She attended college "in the very affordable SUNY system, where I studied Psychology, Early Childhood Education, and Pre-Med," Maria said, and added, "I ended up in Medical School at Michigan State in University 1980, but stayed only one year."
Maria noted that her own three children, Molly Skye Cowan, Asher Cowan, and Joseph Cowan "are the light of my life." Molly is married and lives in Exeter, NH. She presented Maria with two grandsons, Benjamin, born in 2011 and Samuel born in 2013. Asher is married and lives and works in Boston. He just presented Maria with a granddaughter, born in December 2014. Her youngest, Joseph, is a Captain in the U.S. Marine Corps and is stationed in Washington, DC.
Maria studied voice and vocal pedagogy at Longy School of Music in Cambridge, Massachusetts. She completed a certification program as a voice technician at the McClosky Institute of Voice at Emory University in Atlanta. She has a Master of Music degree in Choral Conducting at the University of Maine in Orono.
Maria says, "My children, and now my grandchildren, have given me the greatest joy. I love them with all my heart, and I feel very blessed with each of them. I am also delighted that I have several choirs full of children—I get to watch them grow up, and I get to teach them something that I love. I am very lucky."
In her spare time, she has several interests. "I love to sing," she said, "and I belong to the Peterborough Chamber Choir, directed by my husband, David Vernier." Maria is also a soprano soloist and often performs locally. "I also enjoy walking or snowshoeing in the woods. My husband and I share a large vegetable garden with friends in town. We are now beekeepers, too! I am an avid birder, I devour books, and I love spending time with my family—cooking, laughing, and eating."
"Everyone who loves to sing is welcome to join the PUUC choir," Maria adds. "We rehearse Sunday mornings from 8:45 until 9:45. You do not need to know how to read music. It is a great group of people and we have a lot of fun!" Maria also manages the Sunday service music. If you play an instrument and would like to share your musical gift with the congregation, or if you would like to join the choir, please contact Maria.